Best Technology offers wet benches for semiconductor manufacturing and chemical handling of various applications, including electro-chemical processing, acid processing and chemical wet process applications. Typical construction materials include polypropylene, stainless steel, PVDF, PVC-C as well as Teflon®, PFA, and  ECTFE (HALAR®) depending on the chemical handling properties. Our semiconductor wet bench equipment conforms to UL2360/FM4910 standards if required for the application.
Semiconductor Wafer Chemical Processing FM4910 Wet Bench & Fume Hood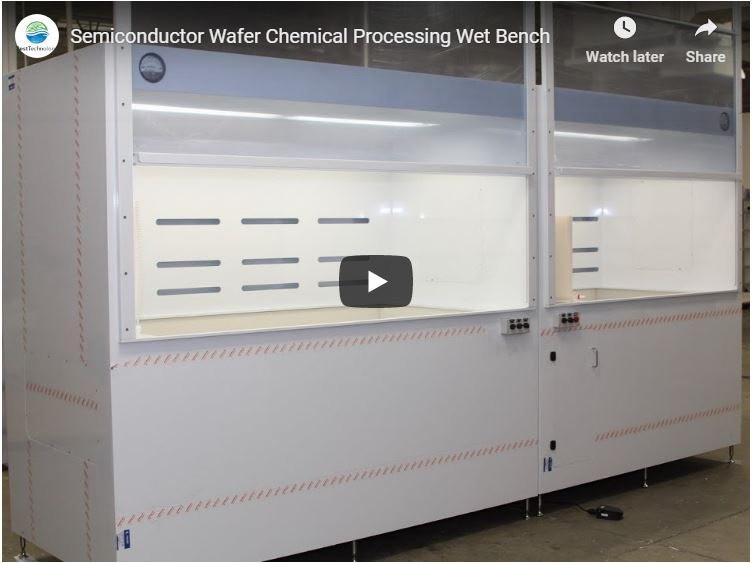 This integrated semiconductor wet bench has in-tank cross flow exhaust allowing for cleaning, rinsing, acid processing and final rinsing in an open top wet bench.

What are UL2360/FM4910 standards?
Increasingly complex manufacturing processes are required to continue innovation of smaller and smaller semiconductor circuit boards and chips. Contamination of cleanrooms of any kind can be catastrophic and contamination caused by fire and smoke is no different.
FM-4910 designation is given to a material that passes the Factory Mutual test for fire propagation, and smoke density. Even the most advanced expensive fire suppression systems of the past could not contain the contamination caused to other processes and products in neighboring areas. Proportionally increasing insurance costs to protect manufacturers in the event of fire and mass contamination have become equally expensive and have driven the construction of wet benches to use less flammable materials and eliminate the costly fire suppression systems.
The Cleanroom Materials Flammability Test Protocol (Class 4910) contains the method for conducting tests. Now, wet bench manufacturers and users can apply the cleanroom protocol to develop plastic materials and equipment capable of resisting fire, emitting little, if any smoke, and producing little, if any, corrosive by-products.
Materials passing the cleanroom protocol, subsequently, can be listed in the Approval Guide, a publication of FM Approvals. Materials that have been approved by Factory Mutual FM-4910, and have been certified include:
Most Common

PVC-C Polyvinylchloride
PVDF

Others

CP7-D Polypropylene
Takiron PVC and CPVC
Boltaron PVC
Halar
Enclosed Wet Bench for Semiconductor Chemical Processing  with Exhaust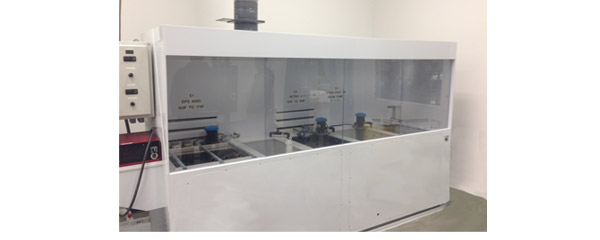 Above enclosed semiconductor wet bench allows for post-clean chemical processing, rinsing, nitric acid neutralization, and a final rinse.
Enclosed Acid Wet Bench Hood with Rear & Top Exhaust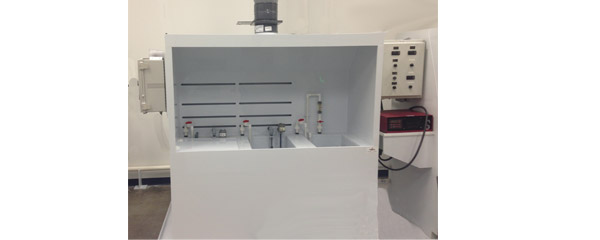 This system includes cascade overflow rinse stations and side flow and top exhaust.
Integrated multistage wet benches allow for complete part processing through various wash, rinse, and chemical wafer processing steps.
Common Applications for Semiconductor Wet Benches and Chemical Handling Benches
Common Configurations
Since wet bench equipment is made from highly customizable materials like polypropylene, stainless steel, PVDF, PVC-C as well as Teflon®, PFA, and  ECTFE (HALAR®), Best Technology is able to easily build a wet bench to fit the customer specific wet processing chemical requirements.
Specific material grades are required for FM4910 and UL2360 compliance.  FM 4910 and UL 2360 testing protocols were adopted in the 2002 NFPA Standard 318, section A.10.5.1.2 and have driven the industry to new materials used for equipment manufactured for flammable chemistry processing as described above. Our wet benches ensure well-ventilated process enclosures for repeatable surface treatment processes for semiconductor, medical device and aerospace metal parts.