With the high cost per pound or gallon of today's engineered solvents like
3M Novec
, minimizing solvent losses from a
vapor degreaser
is critical to reduce operating costs.
Minimizing solvent loss from vapor degreasers can be accomplished with a combination of:
Eliminate/reduce air flows in and around the system
This includes air vents, HVAC returns, draft hoods, etc. as air movement acts like a chimney on the degreaser, "pulling" the solvent vapors out of the degreaser.  A good test for air turbulence is holding a Kleenex tissue above the degreaser and watch for movement.  Any movement can cause significant solvent losses which are costly over time.
Reduce fast motion of parts into/out of the degreaser
Often operators are rushed and quickly place parts in/out of a degreaser.  This quick movement can cause air/vapor disturbance similar to a "piston" effect of displacing the vapor in the degreaser with the air from above the degreaser. The vapor degreaser solvent then escapes the degreaser, causing solvent losses, and new vapor must be formed from boiling solvent.  Automated hoists and baskets which use a slow and constant feed rate into and out of the degreaser eliminate operator variation.  The extra cost of automation for a degreaser can be realized in solvent conservation very quickly. The video below shows such automation.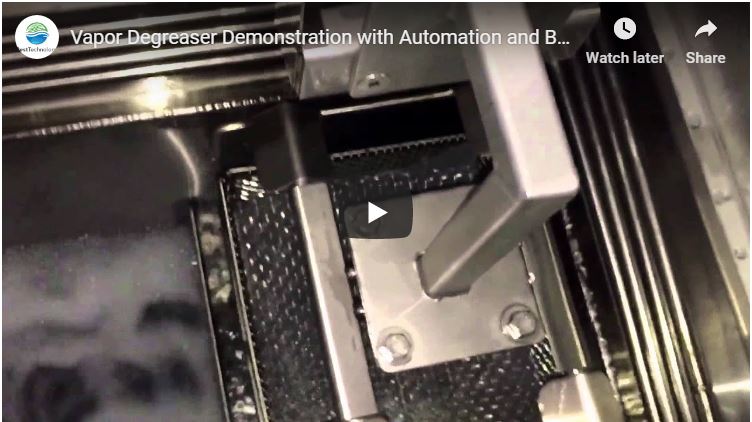 Reducing / recapturing any solvent vapor trying to escape the top of the degreaser
This is accomplished increasing the freeboard height of the degreaser and by sub-zero Fahrenheit secondary chilling/cooling coils.  Older degreasers and some smaller, lower-cost newer degreasers have short freeboard and no secondary coils to reduce cost of the equipment.
Short freeboard (length from top of cooling coils to top of degreaser divided by the width or shorter dimension of the degreaser opening) can cause significantly increased solvent losses even with an idle degreaser. The NESHAP minimum requirement is 75% freeboard but 100% is preferred and even 125% freeboard aids in significantly reducing solvent losses. For example, a degreaser with 100% freeboard will have about 15% less solvent emissions when idle than one with 75% freeboard.  These losses are known as diffusion losses, or movement of solvent from areas of higher concentration to areas of lower concentration.
Secondary cooling coils/chiller operating below 0 °F allows for the primary coils to operate at 30% of boiling temperature per NESHAP recommendation, but conserves energy of the primary coil trying to operate at lower temperatures. Many of today's solvents boil at much lower temperatures (70-120 °F) than older generations; therefore, adding secondary coils at 0 °F or colder located just above the primary condenser coil can reduce idling losses by 70%.
In summary, reducing internal and external air flows, extending freeboard and secondary subzero cooling coils can significantly aid in minimizing solvent losses from open top vapor degreasers.  These are just some of the examples of the engineering that Best Technology incorporates into our vapor degreasers to ensure optimal performance; others include automated sliding covers, superheat of vapor and advanced automation movements.