Benchtop multi-tank ultrasonic parts cleaner systems offer the benefits of a complete package of high-precision ultrasonic cleaning processes, including:
Other industrial processes such as passivation or electropolishing are often integrated into an ultrasonic parts cleaner system.
All-in-one ultrasonic cleaning systems offer the convenience and efficiency of combining the washing, rinsing and drying into a single, unified piece of equipment, while maintaining high standards of precision cleaning.
Tank capacity for benchtop multi-tank ultrasonic parts cleaners can range from 1.25 gallons to 5 gallons per tank, with custom sizing available. Our all-in-one multi-tank systems feature 2 or 3 ultrasonic chambers, plus a hot-air parts dryer.
Benchtop multi-tank ultrasonic cleaning systems are designed for production environments where low volumes of small parts, such as medical devices or cutting tools, require high-performance cleaning.
Small 5-Quart Wash – Rinse – Dry Ultrasonic Parts Cleaner System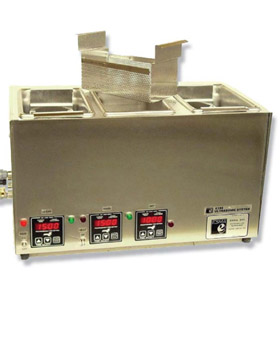 The Model Series 386 is a 5-quart wash-rinse-dry ultrasonic cleaning system that is especially well suited for cellular manufacturing parts cleaning and placement next to machining centers.
Ultrasonic Washing
Benchtop ultrasonic cleaning systems combine washing, rinsing and drying. The process typically moves from left to right, and the first tank is the ultrasonic parts washer.
In the ultrasonic washing tank, high-frequency ultrasonic waves enhance and accelerate chemical cleaning through cavitation. The self-tuning ultrasonic generator outputs square-wave sonic energy at a primary frequency of 38 kHz. (Higher-frequency 80 kHz ultrasonic generators are also available on some models.)
The cleaning tank is optionally equipped with a pump filter system, which provides 5-micron filtration of the cleaning solution.
In addition, each tank has its own digital timer. Heater options include an internal or external mount for the thermostat, with temperature ranges from 85 – 180 °F.
Ultrasonic Rinsing
An ultrasonic rinse tank combines ultrasonic action with flowing water. Ultrasonic waves drive the drag-out chemistry to the surface of the rinse tank. Water flows in from the bottom of the rinse tank, and pushes the chemistry to an overflow weir, which drains through a standpipe. This surface-skimming action flushes away any remaining cleaning solution or traces of debris.
Flowing Rinse for Ultrasonic Parts Cleaner System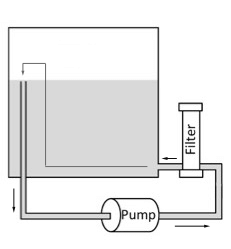 Configurations for multi-tank systems fall into two categories:
Individual Feed. In an individual-feed rinsing system, each rinse tank has its own inlet and drain, separate from other tanks. This approach is not as efficient as cascade overflow.
Cascade Overflow. In a cascade overflow rinsing system, the clean rinse water flows in from the bottom of the last rinse tank, and then cascades over the weir into the previous rinse tank, moving in a direction opposite to the flow of work. Also known as counterflow rinsing, this approach is more efficient than individual feed, and greatly reduces water consumption.
Hot-Air Drying
The final piece of equipment in a benchtop ultrasonic parts cleaner system is the hot-air dryer. Our hot-air parts dryers use a combination of high heat and high air flow to dry parts. The thermostatically controlled temperature can be set between 140 – 180 °F. Drying time is generally less than 10 minutes, depending on the number of parts, the temperature of the final rinse, and whether the dryer cover is in place.
3.5-Gallon Wash – Rinse – Rinse – Dry Ultrasonic Parts Cleaner System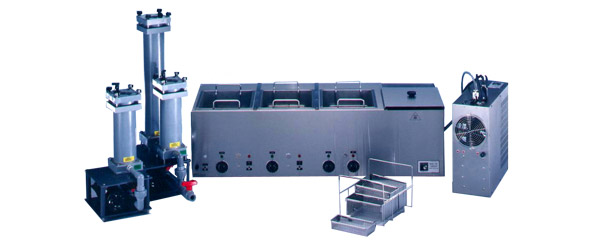 The Model Series 782 can be ordered as a 3.5- or 5-gallon system with two rinse tanks, forming a wash-rinse-rinse-dry ultrasonic parts cleaner system. The additional rinse tank is useful for applications where high-performance rinsing is required.
Alternatives to Benchtop Ultrasonic Cleaning Systems
As the name implies, a benchtop cleaning system sits on a bench or table. Some larger systems incorporate the bench itself into the equipment design, forming a floor-standing console, also known as a wet bench. Wet benches offer the portability of an ultrasonic cleaning system on wheels that can be moved to another room if needed.
For heavy-duty parts cleaning, check out our agitated immersion parts washers for large ultrasonic parts cleaner jobs.
Manual systems like the benchtop ultrasonic parts cleaner systems on this page still require an operator to move baskets of parts from one tank to the next. For an automated alternative, please see our automated ultrasonic parts cleaning equipment.
Common Applications for Ultrasonic Parts Cleaners
Ultrasonic part cleaning of water-soluble machining coolants, chips, particulate, and true machining/cutting oils, buffing, polishing and lapping compounds
Medical device stainless-steel parts cleaning
Aerospace parts cleaning
Ultrasonic part washing for machine centers
General washing for maintenance, manufacturing, rework and/or remanufacturing.
Common Configurations
We can easily make any bench top ultrasonic tank size required for your application with little to no additional cost for custom sizing. Below are a few common configurations for benchtop ultrasonic parts cleaner systems.
Model Series
Liquid Capacity per Tank
(gallon)
Inside Working Zones
(l x w x h)
386
1.25
9.5″ x 5.5″ x 6″
782
3.5
12″ x 10″ x 8″
499
5
15″ x 10″ x 8″
Ready to start your benchtop ultrasonic part cleaning project? Contact an ultrasonic cleaning expert at Best Technology today to discuss your project and receive a free proposal.