Ultrasonic cleaning applications that require several tanks or tanks over 5 gallons can benefit from the efficiency of a floor-standing ultrasonic cleaning console, also known as a wet bench. These industrial ultrasonic cleaning machines allow for plumbing and electrical connections in and out at one easy location, rather than wiring and plumbing each tank individually.
The all-in-one design of ultrasonic multi-tank console systems stands in contrast to benchtop systems that sit on a bench or table. With a console system, the bench is built-in. And the rollers on our console systems make them portable, so they can be wheeled from one area to another if needed.
3.5-gallon Wash – Rinse – Rinse – Dry Ultrasonic Cleaning Machine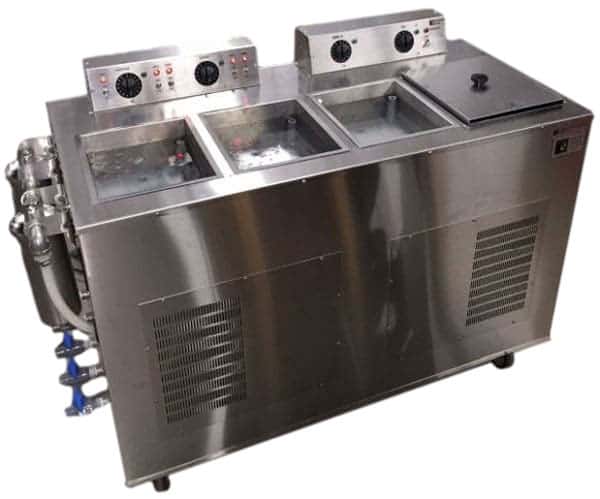 The Model 782 Series console system features a stainless-steel console and standard-size tanks of 3.5 or 5 gallons, but many other size options are available. Console systems allow for a wide range of custom sizes, providing a custom all-in-one ultrasonic cleaning system tailored to the specific application.
The example above shows an all-in-one wash-rinse-rinse-dry ultrasonic cleaning system. The additional rinse tank is useful for applications where high-performance rinsing is required. Other features include pump-filter systems and digital controls for timers and temperature.
Ultrasonic cleaning machines are ideal for processes requiring multiple process steps. While these industrial ultrasonic cleaning systems are completely flexible, some of the most common configurations are benches that integrate ultrasonic parts cleaning with other chemical processes like passivation or electropolishing.
18-gallon Ultrasonic Cleaning Machine Console with Citric Passivation and Data Tracking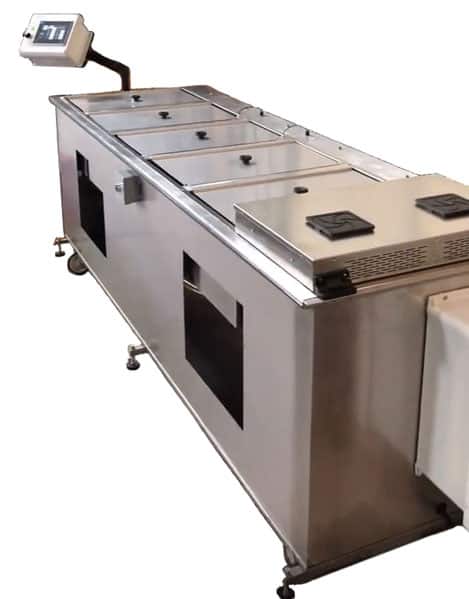 This 6-station, 18-gallon ultrasonic cleaning and passivation system offers data tracking through a PLC screen. When an operator starts a job, they enter the job number, employee ID and basket number. The system then logs the time each basket spends at each station, and the temperature at the beginning of each process step. The console also features LED lights that blink to cue the operator when to move each basket to the next station.
Data tracking empowers quality control managers to quickly identify causes of failures, and to provide proactive feedback to prevent potential failures.
Tank capacity for each tank in this system is 18 gallons. Each ultrasonic generator has a watt density of 100 watts per gallon, for a total of 1800 watts per ultrasonic tank. The hot-air dryer features a 150 CFM fan with 3000 watts of heat.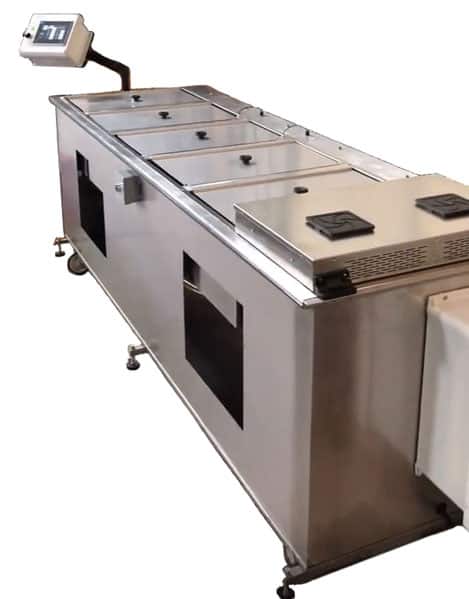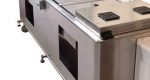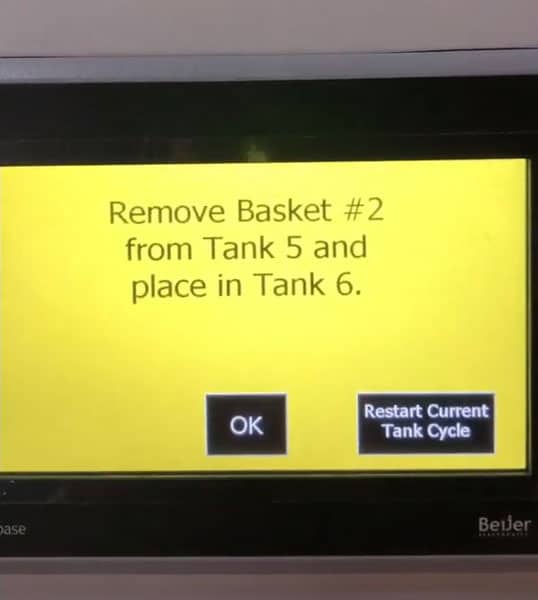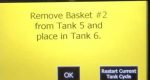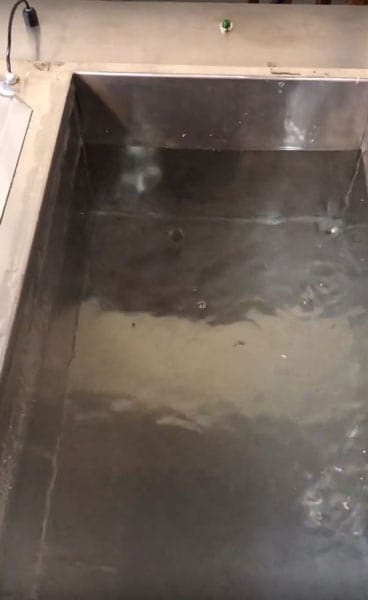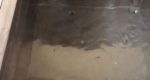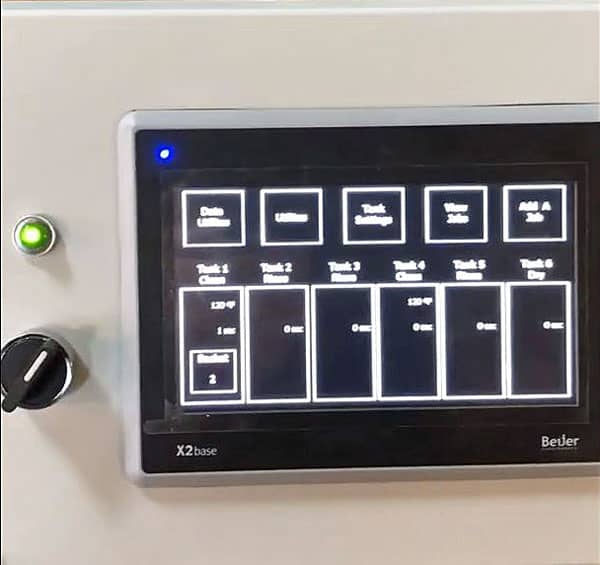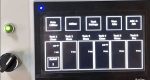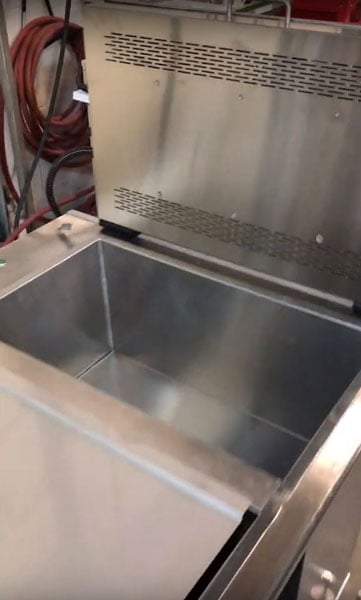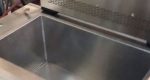 Example process steps for heated ultrasonic cleaner equipment:
Heated ultrasonic alkaline cleaning
Rinse #1 – Double cascade rinse using RO water or DI (deionized) water
Rinse #2
Heated ultrasonic citric passivation
Single rinse
Hot air drying
6-gallon Ultrasonic Cleaning Machine Console with Electropolishing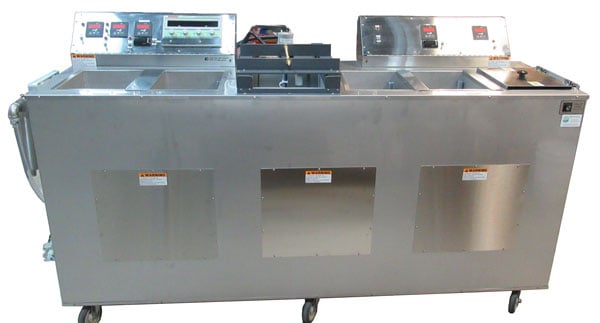 This 6-station industrial ultrasonic cleaning machine integrates electropolishing with ultrasonic cleaning. Tank capacity for each tank is 6 gallons. Each ultrasonic tank has a watt density of 100 watts per gallon, or 600 watts per tank. The hot-air dryer features a 110 CFM fan with 1500 watts of heat. The system includes digital controls for temperature and timers for each heated tank.
The ultrasonic rinse tanks are designed to connect to a water source and drain. Activating the timer also activates the inlet solenoid valve to allow fresh rinse water (preferably DI water) to enter the tank. Needle valves for the rinse water inlets serve as flow regulators for rinse tanks.
Example process steps for ultrasonic cleaning and electropolishing:
Ultrasonic alkaline cleaning – Removal of any oils, grease, fingerprints, etc.
Ultrasonic rinse – Removal of alkaline solution
Electropolish
Drag out (Dip) – Also known as dead rinse or static dip, this is a cascade overflow rinse for initial removal of drag-out electrolyte
Ultrasonic rinse – Removal of additional electrolyte
Hot-air drying – Removal of byproducts of sulfates, phosphates and chromates of heavy metals, which are difficult to remove by water rinsing alone.
For more information on integrating electropolishing with ultrasonic cleaning, please visit our page on Electropolishing Wet Benches.
8-Tank Ultrasonic Cleaning Machine Console with Multiple Frequencies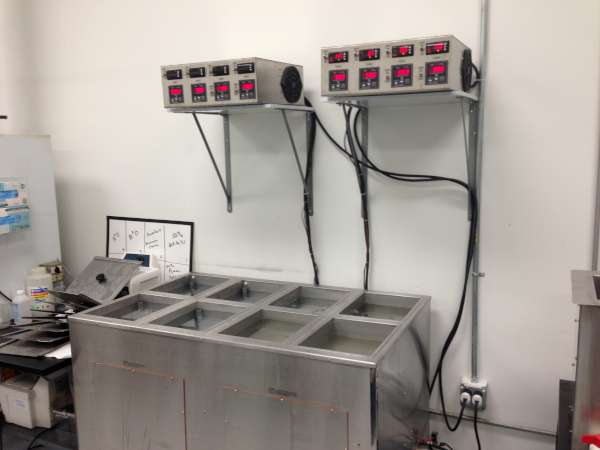 For applications requiring multiple ultrasonic frequencies (28 kHz, 40 kHz, 80 kHz, 120 kHz, etc.), the floor-standing ultrasonic console systems are fully customizable according to customer requirements. For example, the above system is an 8-tank floor-standing industrial ultrasonic cleaner. It features 4 ultrasonic wash tanks and 4 ultrasonic rinse tanks using 40 kHz and 80 kHz ultrasonic frequencies to provide both coarse and fine ultrasonic cleaning.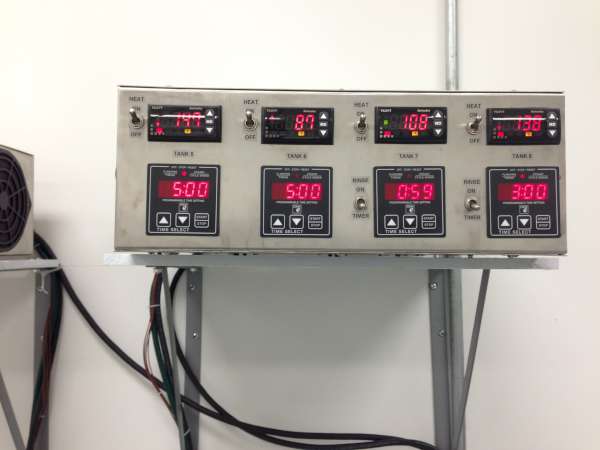 Each ultrasonic tank has a digital timer and temperature control, with a temperature range from 80 to 180 °F. Timers on each ultrasonic rinse tank allow for timed overflow of incoming DI (deionized) rinse water via solenoid connection to a facility DI water inlet.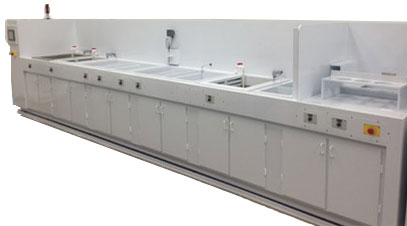 As an alternative to stainless-steel consoles, we also offer a full line of custom polypropylene wet benches. These can include ultrasonics and can be built to offer cabinet-style storage below the tanks in some cases.
Other alternate construction materials include PVDF (also known as Kynar®) and CPVC (also known as Chlorinated PVC or PVC-C), depending on the chemical-handling properties required for the application.
Above is a typical ultrasonic cabinet layout featuring ultrasonic wash, triple cascade counterflow rinse, passivation, rinse overflow and drying stations. Since the nitric acid in this system requires ventilation, the system has in-tank lip ventilation to provide a channel for pulling vapors from the tank solution surface. The lip ventilation allows for an open-top wet bench design.
Need an enclosed console or fume hood? Check out all our wet bench fume hood consoles.
Common Applications
Medical device cleaning, passivation and etching of stainless steel and titanium parts
Job shop general washing for broad range of part sizes
Aerospace aluminum cleaning and anodizing.
Common Configurations
Free-standing industrial ultrasonic cleaner consoles offer great flexibility in sizing. Below are a few common configurations for ultrasonic cleaning machine consoles. Other sizes can be customized based on the requirements of your application.
Liquid Capacity per Tank
(gallon)
Inside Working Zones
(l x w x h)
3.5
12″ x 10″ x 8″
5
14″ x 9.5″ x 9″
9
18″ x 10″ x 12″
18
20″ x 12″ x 18″
Manual systems like the ultrasonic parts cleaning machine consoles on this page still require an operator to move baskets of parts from one tank to the next. For an automated alternative, please see our automated ultrasonic parts cleaning equipment.
When you're looking for industrial ultrasonic cleaning equipment, look to Best Technology. Contact an ultrasonic cleaning expert today to receive a free proposal for your project.