How Does Ultrasonic Cleaning Work?
Ultrasonic cleaning works through high-frequency sound waves transmitted through liquid to scrub clean the surface of immersed parts. The high-frequency sound waves, typically 40 kHz, agitate the liquid solution of water or solvent, and cause the cavitation of solution molecules.
What is Cavitation?
Think bubbles. Cavitation "bubbles" form when sonic energy creates a void (or cavity) which gets trapped as a bubble in a liquid solution of water or solvent. These microscopic bubbles implode with such force that contaminants adhering to surfaces are dislodged. An ultrasonic parts cleaner scrubs surfaces clean through implosions of tiny bubbles.
How Do Ultrasonic Cleaners Work?
Ultrasonic cleaners are suitable for cleaning a wide variety of materials, including metals, glass, rubber, ceramics and some hard plastics. An ultrasonic parts cleaner is especially useful for removing tightly-adhered contaminants from intricate items with blind holes, cracks and recesses. Examples of contaminants removed through ultrasonic cleaning include dust, dirt, oil, grease, pigments, flux agents, fingerprints and polishing compound.
The fluid used in an industrial ultrasonic cleaner can be either water-based (aqueous) or solvent-based. Both types of cleaning solutions contain wetting agents (surfactants) to reduce surface tension and increase cavitation. Aqueous cleaning solutions are generally more limited in cleaning effectiveness but better for the environment than solvent cleaning solutions.
In ultrasonic parts cleaning, the parts are typically placed in a basket or tray and then immersed in the ultrasonic cleaning tank. On occasion, parts may be racked and the rack is lowered into the tank. Items with blind holes may benefit from a rotating basket in an ultrasonic parts cleaner.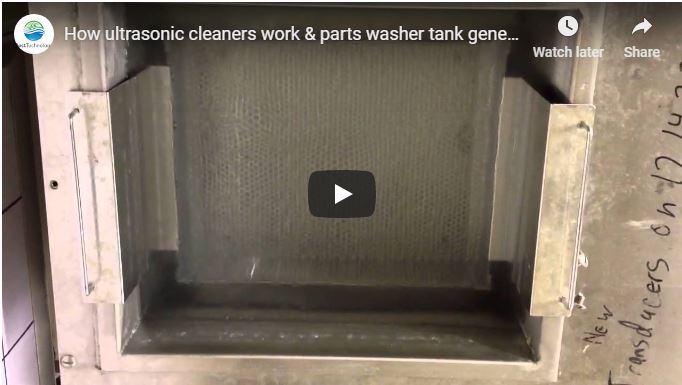 What is an Ultrasonic Bath?
An ultrasonic bath is another name for an ultrasonic cleaner. The "bath" part of ultrasonic bath refers to the liquid or solvent solution in a tank, while "ultrasonic" refers to the method of cleaning using high-frequency sound waves.
How to Use an Ultrasonic Cleaner
Ultrasonic cleaning machines are widely used in many industries, including medical device, automotive, aerospace, dental, electronics, jewelry and weapons. Ideal items for ultrasonic parts cleaning include medical and surgical instruments, carburetors, firearms, window blinds, industrial machine parts and electronic equipment.
The time required for ultrasonic cleaning depends on the material and soils, but typical cleaning times range from 3 to 6 minutes. Some delicate items such as electronics may require a longer cleaning time. Higher heat helps loosen dirt and chemical bonds faster, so most industrial parts cleaners apply heat in the range of 135 – 150 °F.
It should be noted that cleaning in an ultrasonic bath cleaner does not sterilize items. In medical applications, sterilization typically follows ultrasonic cleaning as another process step.
How Does an Ultrasonic Cleaning Machine Work?
An ultrasonic cleaning machine, sometimes called an ultrasonic bath machine or ultrasonic washer, includes the following basic components: ultrasonic cleaning tank, ultrasonic generator, and ultrasonic transducer.
Ultrasonic Cleaning Tank – The ultrasonic cleaning tank holds the fluid of the ultrasonic bath and the items to be cleaned.
Ultrasonic Generator – The ultrasonic generator transforms AC electrical energy to an ultrasonic frequency.
Ultrasonic Transducer – The transducer converts the ultrasonic electrical signal to mechanical energy.
What is an Ultrasonic Transducer?
The ultrasonic transducer is the key component in an ultrasonic cleaning machine. The ultrasonic transducer is a device that generates sound above the range of human hearing, typically starting at 20 kHz, also known as ultrasonic vibrations.
An ultrasonic transducer consists of an active element, a backing and a radiating plate. Most ultrasonic cleaners use piezoelectric crystals as the active element. The piezoelectric crystal converts electrical energy to ultrasonic energy through the piezoelectric effect, in which the crystals change size and shape when they receive electrical energy.
The backing of an ultrasonic transducer is a thick material that absorbs the energy that radiates from the back of the piezoelectric crystal.
The radiating plate in an ultrasonic transducer works as a diaphragm that converts the ultrasonic energy to mechanical (pressure) waves in the fluid. Thus when the piezoelectric crystal receives pulses of electrical energy, the radiating plate responds with ultrasonic vibrations in the cleaning solution.
What is an Ultrasonic Generator?
The electronic ultrasonic generator is a power supply. It transforms AC electrical energy from a power source such as a wall outlet, to electrical energy appropriate for energizing a transducer at an ultrasonic frequency. In other words, the ultrasonic generator sends high-voltage electrical pulses to the transducer.
The ultrasonic generator working principle is to send electrical energy pulses to the transducer, which transforms energy into mechanical (pressure) waves in the cleaning fluid for vibratory ultrasonic washing action.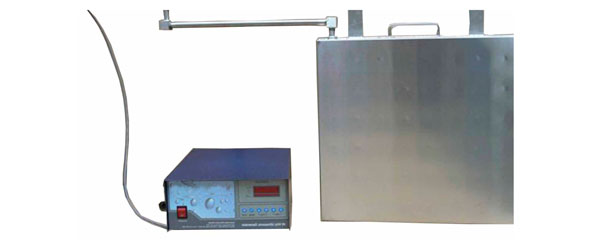 While the ultrasonic frequency of 40 kHz is by far the most commonly used frequency for ultrasonic parts cleaning, some applications do require a lower or higher frequency for best results. For example, larger, heavily soiled items may use a frequency of 20 kHz since this yields bigger, stronger cleaning bubbles but fewer bubbles per second. At the other end of the spectrum, some very small, delicate items may require higher ultrasonic cleaning frequencies, up to 200 kHz. In general, a higher frequency permits a higher level of intricate detail to be cleaned.
What to Look For in Ultrasonic Cleaners
High-quality ultrasonic cleaner machines differ greatly from low-quality "off-the-shelf" ultrasonic cleaners. The broad reach of the internet and overseas manufacturers have brought "off-the-shelf" ultrasonic cleaning machines to the United States. To offer the lowest prices, these manufacturers often sacrificed quality. Many end users don't understand or recognize these sacrifices in quality, so they purchase the low-priced ultrasonic tank thinking it is the same as a U.S.A.-made ultrasonic parts washer or ultrasonic cleaning tank. Unfortunately, that couldn't be further from the truth.
Let's look at a few of these sacrifices:
Piezoelectric crystal transducers can vary greatly in quality. Due to the nature of the crystalline formation, transducers will naturally decay over time (3-6 years typically) in their ability to convert electrical energy to mechanical/sound energy. Inexpensive, lower-quality transducers will decay much faster than those made with higher-quality crystals. This degradation or decay will greatly change the cleaning quality of an ultrasonic machine. Inexpensive ultrasonic washers which seem to perform well when new can often show decreased cleaning quality in as little as 3-6 months.
Ultrasonic generators may be made from electrical components that lack the longevity an end user expects. Combined with accelerated piezoelectric transducer decay, these low-quality ultrasonic generator components can lead to extreme variations of ultrasonic parts cleaner performance over time. This cleaning variation in turn leads to more scrapped and reworked parts. This represents not only a major cost problem for a business, but also can cause the process to fail validation protocols and specifications in medical device, aerospace, and other fields.
Low-powered ultrasonic transducers can significantly reduce the cost of an ultrasonic cleaning machine, but this sacrifice can also reduce cleaning effectiveness. Low-powered transducers in an ultrasonic bath cleaner can also compromise the ability to cavitate a solution evenly.
Tank thickness matters. Frequent application of ultrasonic energy to a tank causes tank erosion over time, and can erode through the bottom of the tank. Signs of ultrasonic wash tank erosion include a gray appearance in stainless steel, and pits in the bottom of the tank. Low-quality sonic cleaners use a thinner gauge of stainless steel that can show wear in a matter of months.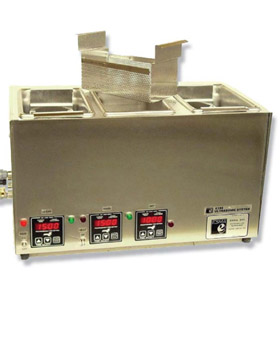 How Are Best Technology's Ultrasonic Cleaners Different?
High-quality piezoelectric crystals. Our ultrasonic transducers are made of the highest-quality piezoelectric crystals. While the price to produce the transducers is more expensive due to raw material cost, our transducers last much longer. Manufacturers using our transducers can expect 5+ years of use before the transducers begin to decay.
Self-tuning ultrasonic generators. Our ultrasonic generators are self-tuning, which means they can sense the load of parts in the ultrasonic cleaner tank, and adjust power output based on the load. This also means that when generators sense decay in a transducer, they increase power output so that parts receive the same level of ultrasonic cleaning as when the transducer was new.
High-quality ultrasonic generator components. Our ultrasonic generators are made with MOSFET transistors and other high-quality components that are designed for continuous manufacturing use, not just occasional laboratory use.
No under-powered ultrasonic transducers. Ultrasonic transducers are measured by power output, but a more relevant measurement is watt density, measured as power/volume or watts/gallon. For any tank under 20 gallons, we typically configure the ultrasonic cleaning system for 100 watts per gallon. This ensures that the ultrasonic energy is properly transmitted and distributed over the entire volume of the tank. Tank geometry can play a critical role in smaller ultrasonic tanks, and the 100 watts per gallon eliminates tank geometry effects.
Square-wave ultrasonic generators. Many ultrasonic generators use a sine-wave pattern, but ours use a square-wave pattern. A sine-wave generator creates ultrasonic cavitation bubbles in evenly-spaced lines, which leads to dead spots between the lines and uneven cleaning performance. As a workaround, sine-wave generators "sweep" the frequency to reduce the effect of dead spots. Square-wave generators, in contrast, provide an output with harmonics at several frequencies. The multi-frequency output offers consistent, even distribution of vibrations and increased cleaning effectiveness.
Thick-gauge stainless steel. Our stainless steel ultrasonic wash tanks are built with a thicker gauge of stainless steel that can withstand the long-term impact of ultrasonic vibrations.
Ultrasonic Tank Myths
Myth #1: Frequency sweeping will clean your parts better. Frequency sweeping or slightly varying the frequency produced by the generators will help even out the ultrasonic cavitation throughout the depth of the tank. However, this approach is a workaround to compensate for low-quality ultrasonic transducers. Low-quality transducers may have widely varying resonant frequencies from one ultrasonic cleaning device to another. Frequency sweeping seeks to match the resonant frequency of a given transducer by trying all frequencies. This is a waste of energy.
Our transducers are tested and matched based on exact resonant frequency and the ultrasonic electronics are then tuned to this exact frequency.
Myth #2: More movement or agitation on the fluid's surface is better. Many think that surface "dancing" means a lot of power in the ultrasonic wash tank, but surface movement is just ultrasonic energy reflecting off the fluid's surface, and has nothing to do with the uniformity of the ultrasonic energy. The easiest way to test uniformity of ultrasonic energy is to hang a piece of aluminum foil in the tank and observe the cavitation pin holes in the foil throughout the depth of the ultrasonic bath.
Myth #3: As long as tanks have ultrasonics, power doesn't matter. Having the right ratio of watts per gallon is essential to proper distribution of energy throughout an ultrasonic cleaning tank. Many low-priced ultrasonic washers sacrifice cleaning power for the sake of price, with a power ratio of less than 50 watts/gallon.
Our ultrasonic cleaning tanks feature a power ratio of 100 watts/gallon, for tanks under 20 gallons. (Higher ultrasonic tank volumes do not require as high power density due to tank geometry.) The higher watt density means better saturation of the ultrasonic tank with cavitation bubbles, leading to faster cleaning times and a better, more consistent result on the cleaned product.
Ultrasonic Cleaning Equipment
Looking for a commercial ultrasonic cleaner? Ultrasonic cleaning equipment is available in a variety of shapes, sizes and configurations, from small tabletop ultrasonic cleaning tanks to industrial cleaning systems with tank capacities of hundreds of gallons.
For the simplest applications, a tabletop or benchtop ultrasonic cleaning tank may be sufficient, with rinsing done in a sink or separate container.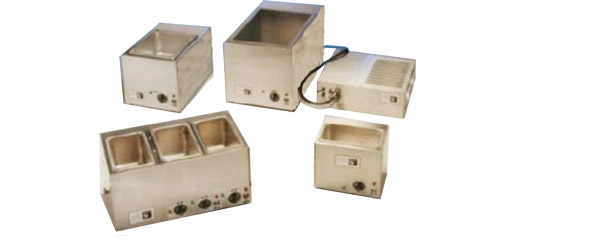 Most industrial applications use a multi-tank approach to ultrasonic cleaning that includes a series of tanks for washing, rinsing and drying. Multi-tank ultrasonic cleaning systems are available in several form factors, including benchtop and console (also known as wet bench).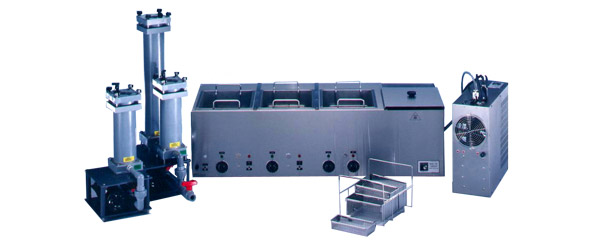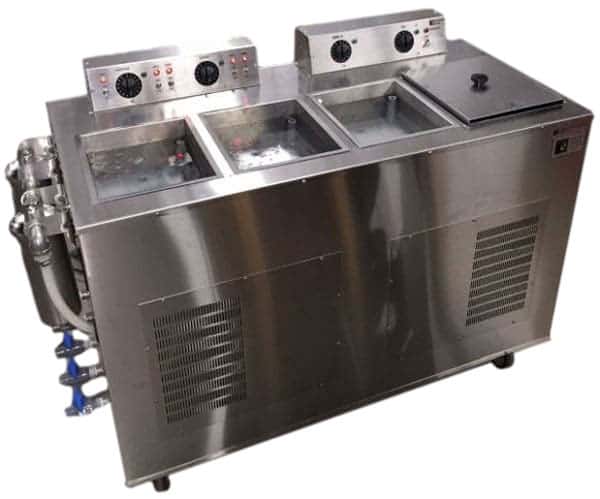 For even greater efficiency, many industrial ultrasonic cleaning systems add automation. Automation permits the user to wash, rinse and dry with a single press of a button, like a dishwasher, rather than manually moving baskets of parts from one tank to the next.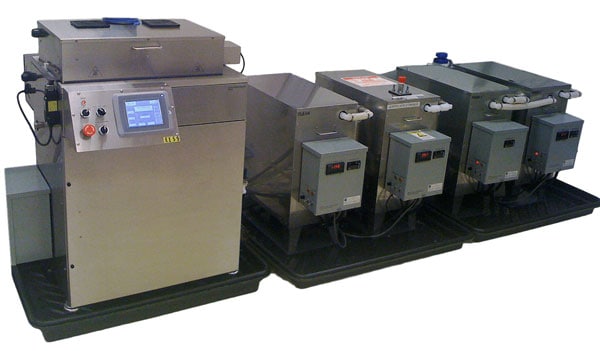 To learn more about the types of commercial ultrasonic cleaning equipment offered by Best Technology, please see our Ultrasonic Cleaning Systems and Parts Cleaners page.
How Do Ultrasonic Cleaners Work When It Comes to Integrations?
Industrial ultrasonic cleaning systems integrate well with other process equipment. For example, an ultrasonic cleaning system may be integrated with an electropolishing line or a passivation line. In addition, immersible ultrasonic transducers may be added to existing cleaning tanks to improve cleaning performance. To learn more about integrating ultrasonic cleaning machines into your process equipment, contact one of our application engineers today!