A benchtop ultrasonic cleaner delivers high-performance precision cleaning, using cavitation to scrub surfaces at a microscopic level, in a unit that fits on a tabletop.
Ultrasonic cleaners provide a time-saving, cost-effective alternative to having personnel scrub parts and possibly miss hard-to-reach areas. Instead, items can be placed in an ultrasonic cleaning tank and the ultrasonic cleaning machine evenly removes contaminants from the surfaces of the parts. Ultrasonic cleaning is particularly useful for cleaning intricate and complex items, including blind holes, cracks and recesses.
Benchtop Ultrasonic Parts Cleaners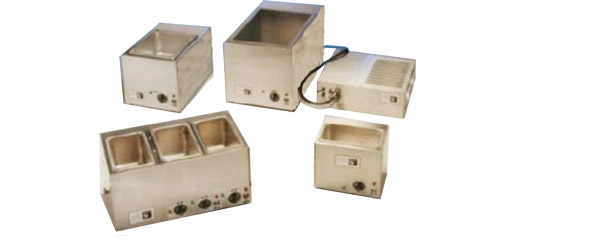 Our single-tank benchtop ultrasonic cleaners feature sturdy stainless steel construction for years of reliable service. The automatic tuning adjusts the primary ultrasonic frequency of 38 kHz for changes in loads and liquid levels. All tanks include a built-in drain with valve, a built-in fan for cooling the electronics, and filters to correct electromagnetic interference. The modular circuit board allows for quick repair should the need arise. A timer lets the user control how long the ultrasonic energy is applied, while the optional heater includes a thermostat to control the temperature of the liquid for better cleaning performance.
Avoid costly replacements with self-tuning ultrasonic generators
Not all ultrasonic cleaners are created equal. Over time, piezoelectric ultrasonic transducers decay or fade. This gradual ultrasonic cleaning transducer degradation can affect the consistency of cleaning results. This issue can lead to users replacing their ultrasonic tanks every 2-5 years, which can be a costly ongoing expense.
Fortunately the bench top ultrasonic cleaners from Best Technology provide a feature that mitigates against piezoelectric decay: self-tuning ultrasonic generators. Our ultrasonic generators have circuitry that monitors piezoelectric decay and adjusts the ultrasonic power output accordingly. This more than doubles the expected life of the ultrasonics. In addition, the self-tuning circuitry monitors and adjusts for the load level and the level of liquid in the tank, so that the effectiveness of the ultrasonic cleaning is consistent for every batch.
Video: Self-Tuning Ultrasonic Cleaning Tank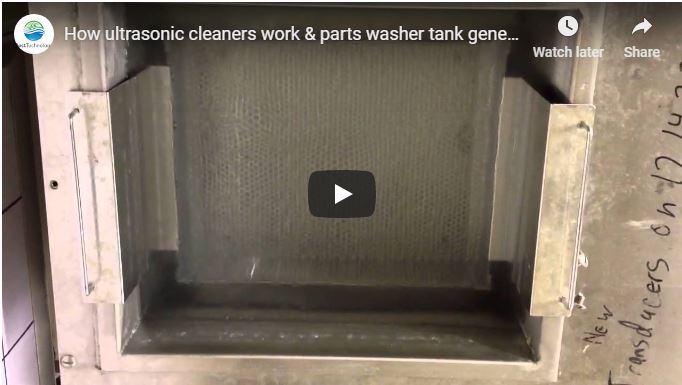 Getting the best results with ultrasonic cleaning
The optional heater in our benchtop ultrasonic tanks helps loosen dirt and chemical bonds faster, and thus reduces cleaning time. In general, higher heat reduces cleaning time, but higher heat also risks damage to softer metals such as aluminum, or delicate electronics.
Another risk that comes with high heat is evaporation or chemical breakdown of the cleaning solution. Some cleaning processes, such as removing burnt-on carbon, require temperatures as high as 180 °F, but most industrial applications function best in the range of 135 – 150 °F.
In addition to temperature, the chemistry of the cleaning solution plays an important role in effective cleaning. In general, the more alkaline the cleaning solution, the more effective. But higher pH also risks damage to softer metals like aluminum, or delicate electronics such as copper filaments. For metals subject to rust, it is appropriate to add a rust inhibitor in a water-based solution.
Check the manufacturer's recommendation for your cleaning solution to make sure that your process uses the most effective temperature and chemistry for your benchtop ultrasonic cleaning application.
For more advice on getting the best results with your ultrasonic cleaning system, contact an application engineer at Best Technology today.
Ultrasonic Parts Cleaner Systems
Our benchtop ultrasonic parts washer tanks can be combined with ultrasonic rinsing and hot-air drying tanks for a complete cleaning system that ensures quality cleaning and efficient operation.
Benchtop Ultrasonic Parts Cleaner System – 9-Gallon Wash – Rinse – Dry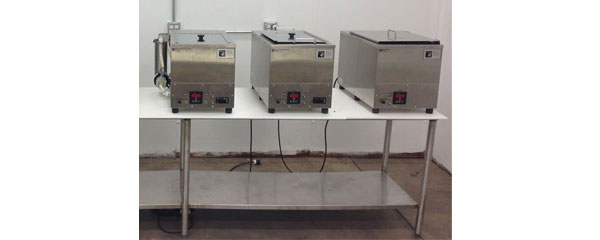 The Model Series 188 is a 9-gallon benchtop ultrasonic parts cleaning system with wash, rinse and dry. This system is ideal for multi-stage part washing processes which require wash filtration, cascade overflow rinse and heated parts drying.
Ultrasonic Rinsing
Rinsing after ultrasonic parts cleaning is an often underrated process step. Since a part is only as clean as its final rinse, it's important to get this step right.
When an operator removes parts from the ultrasonic washing tank, the dirty solution contains debris in suspension, which it redeposits on the cleaned parts.
The dirty solution that is carried over into the rinse tank is called drag-out. Manual rinsing is time-consuming and subject to human error. That's why ultrasonic rinsing is the effective method for precision-cleaning applications with blind holes, delicate parts or intricate detail.
An ultrasonic rinse tank combines ultrasonic action with flowing water. Ultrasonic waves drive the drag-out chemistry to the surface of the rinse tank. Water flows in from the bottom of the rinse tank, and pushes the chemistry to an overflow weir, which drains through a standpipe. This surface-skimming action flushes away any remaining cleaning solution or traces of debris.
For a spot-free finish, the use of deionized water (DI water) is recommended.
Protect your investment in ultrasonic cleaning equipment
Our benchtop ultrasonic cleaners are built to last. Protect your investment and ensure long-lasting function by following these common-sense guidelines:
Ensure that liquid covers all items to be cleaned in the ultrasonic tank before activating the ultrasonic generator. Never operate the ultrasonics without liquid in the tank, as this can quickly cause the transducers to overheat beyond repair.
Avoid placing objects directly on the bottom of the ultrasonic cleaning tank, since this will block cavitation action on the portion not in contact with the cleaning solution. Instead, place parts in a wire mesh basket or similar container so that the entire surface of the part is in contact with the cleaning solution.
Do not place the ultrasonic cleaning unit on a towel, paper or loose fabrics. Because our benchtop ultrasonic cleaners draw air from the bottom of the unit for the cooling fan, such materials may cause blockage. Blockage of the cooling fan may lead to overheating of the electronics.
Benchtop Ultrasonic Cleaner – Small 1.25 Gallon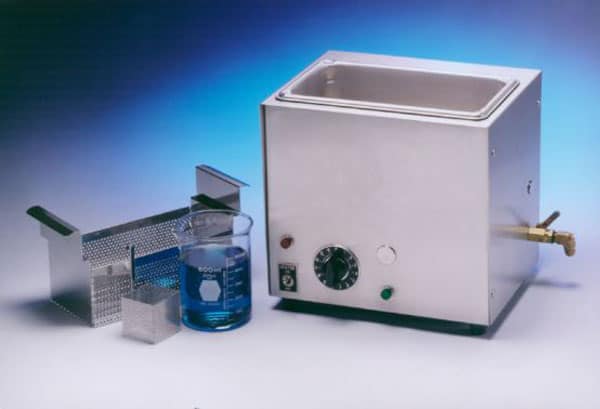 Safety concerns
Do not use flammable liquids. Our benchtop ultrasonic cleaners are not designed for use with flammable liquids such as isopropyl alcohol or acetone, regardless of whether the optional heater is included. Even without a heater, an ultrasonic generator increases the temperature of the solution.
Proper electrical grounding. Do not operate bench top ultrasonic cleaners without proper electrical grounding.
Do not put your hand in the solution during cleaning. Doing so could cause burns due to temperature, as well as discomfort and skin irritation. A better way to test the uniformity of ultrasonic energy throughout the tank is to suspend a piece of aluminum foil in the fluid and observe the cavitation pin holes in the foil at various depths.
Common Applications
Dental and jewelry industry
Valve bodies and manifolds with small internals not accessible for cleaning by forced spray or mechanical removal
Medical device stainless steel ultrasonic cleaning
Aerospace parts cleaning
Ultrasonic part cleaning of water-soluble machining coolants, chips, particulate, and true machining/cutting oils, buffing, polishing and lapping compounds
Ultrasonic part washing for machine centers
General washing for maintenance, manufacturing, rework and/or remanufacturing.
Common Configurations for Benchtop Ultrasonic Cleaners
We can easily make any bench top ultrasonic tank size required for your application with little to no additional cost for custom sizing. Below are a few common configurations for a benchtop ultrasonic parts cleaner.
Model Series
Liquid Capacity
(gallon)
Inside Working Zones
(l x w x h)
283
1.25
9.5″ x 5.5″ x 6″
888
3.5
12″ x 10″ x 8″
499
5
15″ x 10″ x 8″
598
7.5
36″ x 8″ x 6″
188
9
18″ x 12″ x 10″
487
12
24″ x 12″ x 10″
300
15
24″ x 24″ x 6″
592
18
24″ x 14″ x 12″
1001
26
25″ x 18″ x 14″
29
29
36″ x 14″ x 14″
Prefer a benchtop ultrasonic cleaner with multiple tanks?
For all-in-one convenience, check out our multi-tank benchtop ultrasonic cleaning systems that combine ultrasonic washing and rinsing with hot-air drying in a single benchtop unit.
Better yet, this technology can be easily automated for a wash, rinse and dry system.
Start your benchtop ultrasonic cleaning project now
Contact an ultrasonic cleaning expert at Best Technology today to start designing your ultrasonic cleaning system.