What is Alodine®? Also known as chem film, Alodine® is a chromate conversion coating that is primarily used to protect aluminum from corrosion. In chromate conversion coatings, the outer portion of the metal surface is chemically transformed into a protective layer.
Chromate conversion coating is a chemical conversion process. It is often referred to by its trademarked names Alodine®, Iridite® coating, or Yellow Iridite®. The Alodine® coating leaves a base on the surface finish for organic coatings, provides aluminum corrosion protection, and can also protect against the loss of electrical conductivity.
Chromate conversion coatings are used for heat sinks, automotive wheels, and everyday aluminum hardware and components. In aerospace applications, chromate conversion coatings are used on aircraft hulls, including shock absorbers, side and torsion struts, landing gear, and flight control systems such as rudder systems and wing parts.
The coating is applied by dipping, brushing or spraying, and the chromate conversion coating thickness does not change the dimensions of the part. Conversion coating on aluminum can also improve the adhesion of both paint and primer if it is applied to an aluminum surface prior to the primer.
Large-Scale Alodine Line

How does chromate conversion coating work? What is the Alodine process?
There are various types of chemical film available that can vary in chemistry and shape but the typical process for most chem film applications falls under Type I or Type II in the MIL-DTL-5541 standard.
Alodine Aluminum Treatment Process

MIL-DTL-5541 Type 1 contains hexavalent chromium, also known as hex chrome. This was the customary process for many years, known as "chromate conversion" and was used until safer chemicals were introduced.
Exposure to hexavalent chromium is now tightly regulated in the United States by both the EPA, as an environmentally hazardous chemical, and by OSHA, as a carcinogenic chemical. If using Type 1 for MIL-DTL-5541 spec work, be sure to check with your state or county for processing permits that pertain to proper venting and disposal of hex chrome.
Type 1 Chromating process (typically 9 steps):
Clean:

A general washing in a cleaning solution takes place as a pre-process step. This ensures that dirt, oil, and any residue formed from prior manufacturing or packaging processes is removed before the coating begins. Then a rinse and dry takes place.

Rinse:

Ensure any alkaline detergents are removed from the part. A water-break-free test is often performed.

Etch:

If there are any areas that the chem film should not be applied to, the etching process covers those areas.

Rinse:

Ensure any etching chemistry is rinsed to stop the etching process.

Deox:

Deoxidation of the part occurs next, to remove any excess materials and oxides, contaminants and chemicals.

Rinse:

Remove any deox solution.

Chem film coat:

The surface conversion process takes place when the aluminum is immersed in the tank. The chromate conversion coating gets applied immediately. The period of time that it remains in immersion varies based on the method of the application, the composition of the film and the composition and size of the part itself.

Rinse.

Warm rinse.
Though the time varies according to the part and process, it typically takes each part ten minutes to a half-hour to go through the chromate treatment cycle.
Video: Chem film line – Type 2 –  How to prevent aluminum corrosion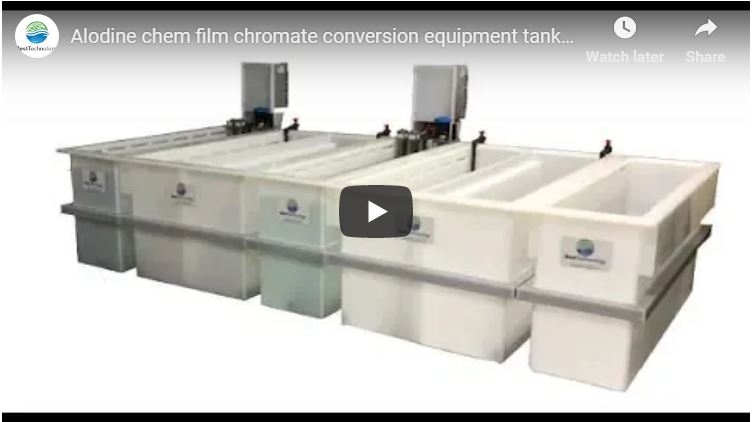 MIL-DTL-5541 Type 2 is known as hex-free chromating. In this type the hexavalent chromium has been replaced with titanium, zirconium or trivalent chromium and it is typically accepted as the standard across many industries. Chemeon, an industry leader in hex-free trivalent chromium coating chemistries, offers a hex-free product named TCP-HF (hexavalent free) that has approvals for many aerospace and military applications.
The hex-free coating can result in a faint blue color appearing almost unchanged color from bare material. eTCP is a colored version of TCP-HF developed to exhibit visual identification for quality control purposes.

Advancements in trivalent chromium coating technology allow the process to have many benefits over type 1:
Faster to apply
Room temperature to apply. This saves on electrical energy that would otherwise be needed to heat the tanks. Lack of heated tanks also eliminates concerns about evaporative losses.
Fewer process steps (typically 5 steps vs. 9 steps for hexavalent chromium, type 1)
Type 2 Chromating process (typically 5 steps):
The Type 2 hex-free chem film surface conversion process with TCP-HF has 2 variations, Acid Clean and Alkaline Clean.
Acid Clean process
Acid Clean
Rinse
Trivalent chromium, hex-free chrome coat
Rinse
Second Rinse is used in the type 2 method of surface conversion coating known as TCP-HF.
The alternative Type 2 hex-free chem film conversion process is known as Alkaline Clean process (7 steps).
Alkaline Clean process
Alkaline Clean
Rinse
Deox
Rinse
Trivalent chromium, hex-free chrome coat
Rinse
Second Rinse is used in the type 2 method of surface conversion coating known as TCP-HF.
It's important to deoxidize the part prior to trivalent chrome processing. While deoxidizing is inherent in the Type 2 Acid Clean process, the Type 2 Alkaline Clean process requires 2 additional steps to deoxidize and rinse the part prior to trivalent chrome processing.
Best Technology can build equipment for Type 1 or Type 2 chromate conversion coatings.
Type 2 Chem Film / Chromate Conversion Coating Tank System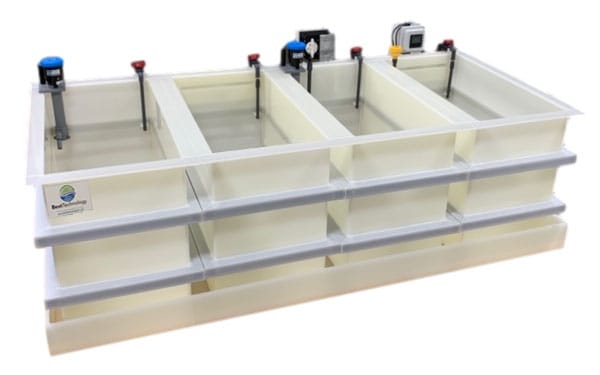 Classes of Chem Film and Chromate Coating
Class 1A: This class of coating tends to be much thicker than other classes, as well as darker, which provides a high grade of corrosion protection for unpainted items. It also improves adhesion of paint finish systems on aluminum and aluminum alloys. The military uses chemical agent-resistant coating (CARC) paint on a wide variety of vehicles and equipment as added protection against chemical agents.
Class 3: This class of conversion coating has two objectives: It is designed not only to protect against corrosion, but also to reduce interference with electrical conductivity. These coatings are usually thinner than Class 1A, and they have a lighter coating weight. Alodine conductivity is technically an incorrect term as the coating itself is not conductive; rather, the Class 3 coating is thin enough to permit the aluminum to retain its conductivity.
The type, or composition, of the film determines how effective the film will be on any material. It also indicates any safety considerations to account for during processing. Additionally, the class, or purpose, of the film typically helps to determine the process by which the chem film should be applied to the metal surface for the alodine treatment.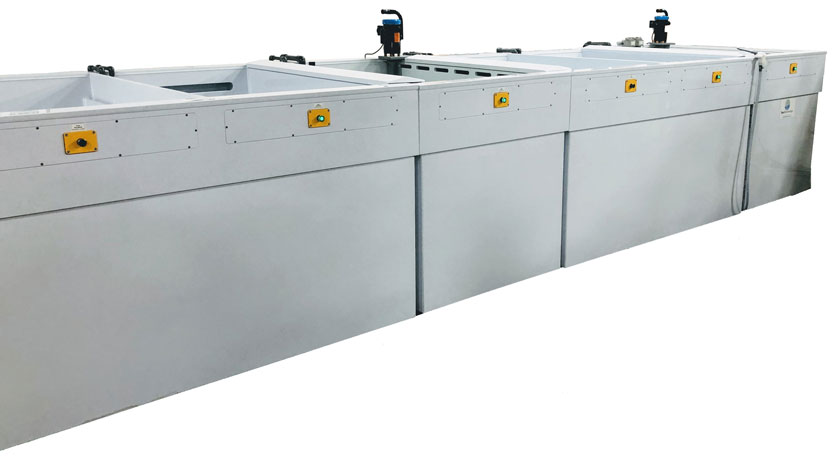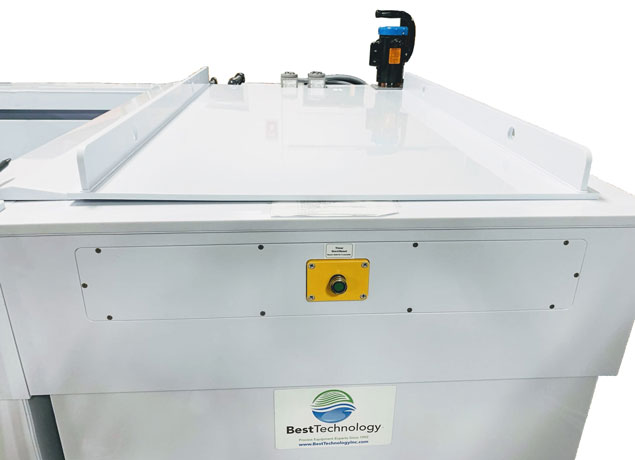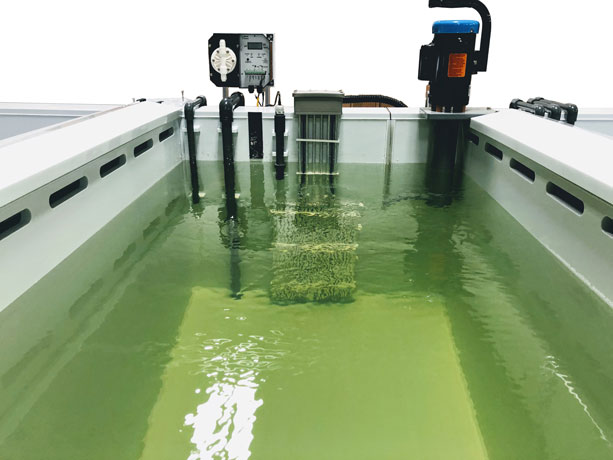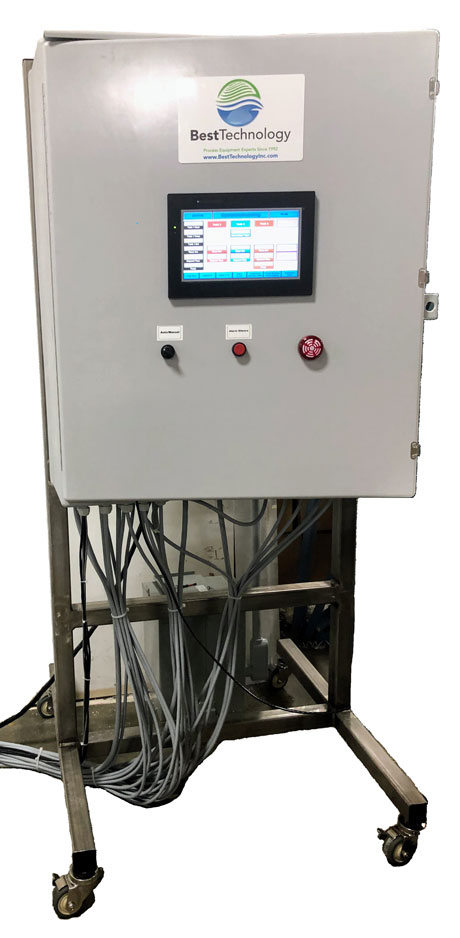 Testing per MIL-DTL-5541F specification
The U.S. Department of Defense was the first to use TCP-HF (trivalent chromium, hex-free) and this trivalent chromate conversion coating has become such an accepted standard that a detailed specification, MIL-DTL- 5541, included it. Test cycles according to this standard usually run 168 hours in a salt-fog chamber, using a five-percent salt spray. Tests are usually performed by companies on a monthly basis, with test panels, because the test is a destructive procedure.
The current revision is the MIL-DTL-5541F spec, which replaced the MIL-C-5541E spec in July 2006. The primary difference between MIL-DTL-5541F and MIL-C-5541E is that the newer spec includes Type 2 coatings with no hexavalent chromium.
Anyone wishing to do work with the U.S. government and military will need its product to undergo two years of Naval testing and validation, and, meeting or exceeding requirements, will become QPL (Quality Parts List) certified. Another certification to look for is Nadcap (National Aerospace and Defense Contractors Accreditation Program), which has very stringent requirements to get certified.
The TCP-HF (Hexavalent Free) conversion coating aluminum equipment offered by Best Technology and TCF-HF chemistry by Chemeon are both QPL-listed and Nadcap-certified.
Whether your needs are Type 1 or Type 2 (TCP-HF), call on Best Technology for all of your chemical conversion coating equipment needs!
What industries can benefit from using chem film coating? What is a conversion coating used for?
Aerospace: Aircraft travel at very high rates of speed. The high speed coupled with atmospheric gases at extremely high altitudes contributes to corrosion of aircraft parts. As a result maximum protection is necessary for as many parts as possible. Even passing through clouds can cause corrosion of aircraft parts. Aluminum corrosion protection is critical to aerospace metal finishing applications and an alodined coated or an aluminum chromate aerospace part can prevent surface exposure to such elements.
Maritime/Naval: Watercraft, large and small, need to be as resistant to corrosion as possible. Boat interiors and mechanical parts can be impacted by water damage, especially boats meant to be in saltwater. Conversion coating allows parts to withstand corrosive saltwater environments and pass salt-spray testing methods.The anti-corrosive properties of chemical films are in high demand for this purpose. The coating's qualities as a paint primer can be useful here too, for custom colors on watercraft.
Military and defense: The U.S. Department of Defense uses chem film in a variety of ways. Such a large number of military parts are primed and protected with alodine chem film coating, that the U.S. military has created a standard for the finishing method, with detailed specifications. The standard MIL-DTL-5541 regulates the chem film chemical coating treatment and places chemical conversion coatings into categories based on their applications. Brushed-on chem film is also used to repair surfaces and components that have been anodized.
Electrical industry: Electricians appreciate the corrosion protection when they apply a surface conversion coating to wire housing, which holds and/or protects wiring. This helps to prolong the life and performance of the wires. Alodine coatings in the electrical industry provide not only corrosion protection to wire housings and panels but also reduction of electrical conductivity losses.
How can I get the best results? How to protect aluminum from corrosion?
The quality of the material, and the material type, go a long way to determine the outcome of the surface conversion. Variations in the purity or overall quality of the material, will affect the final appearance after the alodine process steps. The class of the chem film will also have an effect on the chromate finish: Class 1A chem film is thicker and darker than the lighter, thinner Class 3 chem film.
The preparation stages of chromate conversion coatings are important too. Ineffective rinses can lead to contaminated tanks. Improper acid activation or pH levels in tanks can reduce quality of the results. Allow the experts at Best Technology to handle the details and build a chem film line for you, so that parts get cleaned and your chromate conversion coating process meets the highest standards.
Other materials protected from corrosion by chem film
While Alodine® on aluminum is what is typically used for chem film, other metal alloys such as copper, magnesium, cadmium and tin also benefit from the protection against corrosion that chromate conversion coating offers.
Steel and iron are not compatible with chem film when applied directly. But zinc-plated steel can be treated with chem film to achieve added durability and protection against white corrosion. On iron substrates, a chromate conversion coating can be added to improve the durability of a phosphate conversion coating.

Aluminum corrosion treatment products
Product
Manufacturer
Sample Products
Chemistry
Alodine
Henkel
Alodine 1200S,
Alodine 1201,
Alocrom 1200 (U.K.),
Alodine 1132 pen,
Alodine 600
Chromate conversion coating for aluminum, contains hexavalent chromium. Resulting color is iridescent gold or yellow to tan.
Alodine 1000 clear,
Alodine 1001 clear,
Alodine 1500 clear
Chromate conversion coating for aluminum, contains hexavalent chromium. Resulting color is clear.
Alodine 871
Non-hexavalent (hex-free) chromium conversion coating for aluminum
Alodine 5200,
Alodine 5700
No-Chromium (hexavalent or trivalent) alternative treatment for aluminum or magnesium.
Iridite
Macdermid
Iridite 14-2
Chromate conversion film for aluminum and its alloys
Iridite 15
Chromate conversion treatment for magnesium and its alloys
Iridite NCP
No-Chromium (hexavalent or trivalent) alternative to chromate-based treatments for aluminum
Bonderite
Henkel
Bonderite 1020,
Bonderite 1030
Iron phosphate conversion coatings for application to steel surfaces
Bonderite 3410
Zinc phosphate conversion coating for application to steel, zinc and aluminum
Bonderite NT-1
Zirconium-based, non-phosphate alternative to traditional iron phosphate, for application to steel, zinc, and aluminum
TCP-HF (Hexavalent free)
Chemeon
TCP-HF,
eTCP
Trivalent chromium (hex-free) conversion coating for application to aluminum, magnesium, zinc, zirconium and other alloys
Get your Alodine tank system from Best Technology – Contact us today for a free quote!