High energy centrifugal barrel finishing machines also known as harperizer systems are the fastest and most cost-effective method for deburring and/or polishing mass parts or individual parts.
Small Centrifugal Barrel
Finishing Machine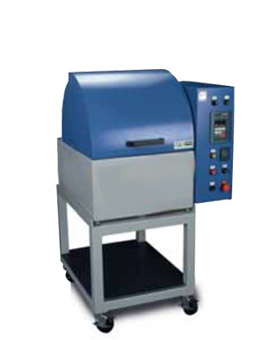 Medium Centrifugal Barrel
Finishing Machine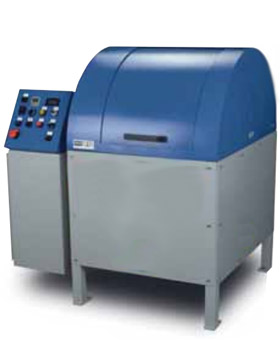 A centrifugal finishing machine / harperizing works on a principle similar to a ferris wheel meaning there are 4 barrels which would represent the seats on a ferris wheel and one large fly wheel. In 1 revolution of the fly wheel results in 1 complete rotation of each barrel.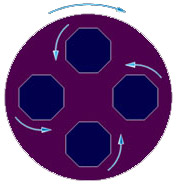 Extremely high centrifugal forces can be generated on parts with this method. Using barrel finishing machines in combination with various types of ceramic and organic corn cob media, virtually any part finish is achieved by this machine — from surface finish polishing at an extremely high level to burr removal.
Large Centrifugal Barrel
Finishing Machine
Applications for High Energy Centrifugal Barrel and Harperizing Metal Finishing Machines
Medical device polishing / deburring of stainless steel, titanium and cobalt chrome implantable and surgical parts
Dental implants and tool polishing
Aerospace deburring and polishing turbine engine parts
General job shop part polishing and deburring
Common Centrifugal Finishing Machine Configurations
Model
Motor (HP)

Total

Capacity

(cu. ft.)

Barrel

Dimensions (in)

Overall

Dimensions

WxLxH (in)

Weight (pounds)
12
1
0.4
8.5×5
34x30x30
460
40
3
1.4
12.75×6.875
47x37x49
1280
60
7
3
25.75×5.875
68x40x90
3000
85
7
3
34×6
75x38x92
3000
120
10
4.0
17.25×10.25
66x54x76
2900
160
15
5.5
20.75×12
70x54x76
3200
220
15
6.8
27.5×11.5
75x54x76
5200
330
25
10.5
42×12
90x56x80
6800