What is a Centrifugal Barrel Finishing Machine?
Centrifugal barrel finishing machines are the fastest and most cost-effective method for deburring or polishing large quantities of metal parts at once. Also known as an industrial parts tumbler, rotary tumbler, metal parts tumbler or harperizer, a centrifugal barrel tumbling machine grinds metal surfaces using a cyclical sliding action. Centrifugal barrel finishing is a type of mass finishing.
What is Mass Finishing?
Mass finishing is a set of manufacturing processes that applies surface finishing to large quantities of parts simultaneously. In mass finishing, loose metal parts are placed in a container, and the motion of the container creates friction on the metal surface. This friction results in a cutting action on the metal surface, which can vary from heavy grinding to fine polishing.
Mass finishing machines fall into two broad categories:
Barrel finishing, or barrel tumbling
Video: Centrifugal Barrel Finishing and Deburring Machine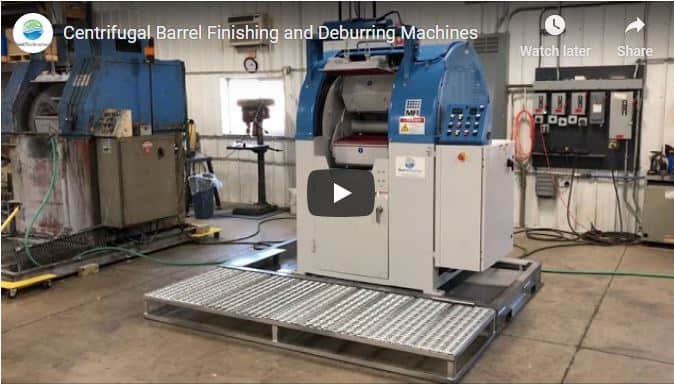 Barrel Tumblers vs. Vibratory Tumblers
Barrel tumblers use rotary movement with abrasive tumbling media to create sliding friction. Imagine putting rocks into a barrel and rolling it down a hill, and you have the general idea. The deburring or polishing occurs as the parts slide against the media and other parts.
Centrifugal barrel tumblers are a specialized form of barrel tumblers in which centrifugal force adds to the effects of barrel tumbling.
Vibratory tumblers use a side-to-side movement to shake a bowl or tub in a circular path, similar to the rock polishing kits that many of us played with as children. The finishing occurs in a scrubbing action as the parts and media shear against each other.
| | | |
| --- | --- | --- |
| | Centrifugal Barrel Tumblers | Vibratory Tumblers |
| Action | Sliding downhill, rotary tumbling | Side-to-side scrubbing |
| Advantages | Fast cutting cycles | Easier to automate |
| Watch For | Small barrels increase handling time | Higher cost |
| Best For | Small parts with small media | Close-tolerance finishes |
How Does a Centrifugal Barrel Tumbler Work?
A centrifugal barrel tumbler works on a principle similar to a Ferris wheel, with smaller baskets mounted on the edges of a large wheel. A centrifugal finishing machine, or harperizing system, has 4 barrels, each barrel representing a seat on a Ferris wheel, and one large flywheel. Each revolution of the flywheel results in one complete rotation of each barrel.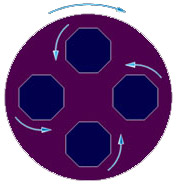 The fast-turning flywheel generates extremely high centrifugal forces, up to 15 – 20 times the force of gravity, causing the contents to slide against each other under high pressure. The increased pressure allows for fast processing times of metal parts, as well as smooth, consistent finishes.
In a centrifugal barrel tumbling machine for metal parts, the operator can adjust the speed of tumbling. This level of control allows for finer finishing and polishing at lower speeds, and aggressive deburring and edge smoothing at higher speeds.
Centrifugal barrel tumbling machines are especially well-adapted for removal of significant burrs and blending lines left by machining. They also offer excellent performance in polishing and burnishing applications. When used with various types of ceramic and organic (e.g., corn-cob) media, a centrifugal barrel machine can achieve virtually any part finish from super-fine surface finish polishing to burr removal.
Centrifugal barrel finishing systems are industry workhorses and are used with many types of metals, including brass, aluminum, steel, stainless steel, chrome, and titanium. Note that this type of system does not deburr plastic parts, because plastic is too pliable for this process.
Centrifugal Barrel Tumbler Deburring Machine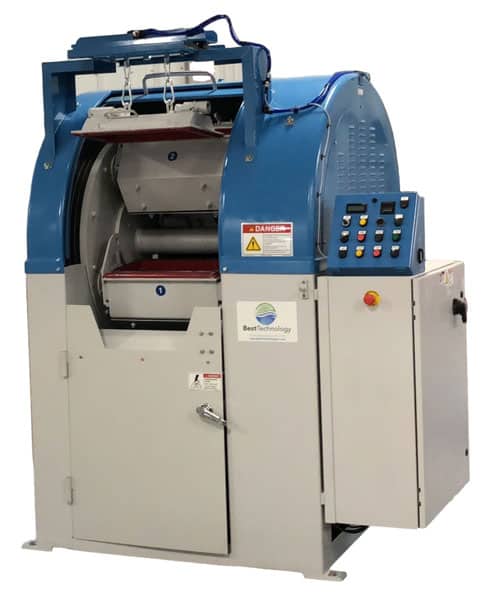 Barrel Tumbler Benefits
A centrifugal barrel parts tumbler can eliminate 95% of the handwork involved in deburring or polishing parts by hand. This reduction of hand sorting dramatically increases production and return on investment. Using a centrifugal barrel finisher reduces the waste and expense of having to use a microscope to identify defects and remove burrs on each part to meet a customer's requirement for metal smoothness.
In addition, using a centrifugal barrel finishing machine increases consistency in quality. Handwork at best yields an 80% acceptance rate, but with a centrifugal barrel finisher you can achieve much higher rates of acceptance. In addition, the surface finish after centrifugal part tumbling is isotropic and consistent in all directions, unlike hand polishing.
Use of a deburring tumbler machine also contributes to worker safety, since it reduces the risk of repetitive motion injury such as carpal tunnel syndrome associated with deburring and polishing by hand. The centrifugal barrel machine is far more ergonomic than handwork. While centrifugal tumblers do require operators to load each barrel manually, the high speed of the machine makes up for this labor intensity.
Common Applications for Centrifugal Barrel Finishing Machines
The centrifugal barrel finishing machine is a versatile tool that is used in a wide variety of industries for metal finishing.
Medical Device: Medical device customers expect consistent, high-quality finishes on metal parts, often with complex geometry. Centrifugal barrel finishing delivers fast performance for polishing and/or deburring of stainless steel, titanium and cobalt chrome implantable and surgical parts. Other applications that benefit from centrifugal barrel finishing include dental implants and dental tool polishing.

See also the case study on mass finishing and deburring of medical device surgical parts.

Aerospace and Defense: Metal smoothness is often a crucial requirement for high-performance aerospace parts. Deburring aerospace parts by hand is not cost-effective, so manufacturers use centrifugal barrel finishers for this task. Examples of parts that benefit from this process include jet engine and turbine blades.
Automotive: The automotive industry benefits from centrifugal barrel finishing machines for smoothing the surface of metal parts. In particular, the automotive industry uses centrifugal parts tumblers to polish engine heads, gears and fasteners.
General Job Shop: At general machine shops, centrifugal barrel finishers provide fast, cost-effective performance for polishing and deburring metal parts.
Small Centrifugal Barrel Tumbling Machine for Metal Parts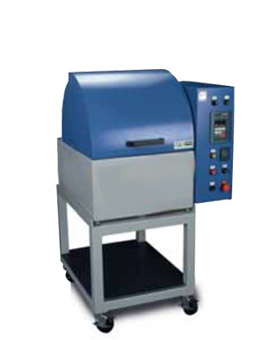 How to Use an Industrial Parts Tumbler
The type of work that an industrial parts tumbler machine performs can be placed into three categories, in ascending order of smoothness:
Deburring. Deburring is the process of removing sharp edges, or burrs, from a metal surface that are left after machining. A common example of deburring is to smooth a sharp corner into a rounded corner in a piece of metal.
Blending machining lines. Similar to deburring, blending smooths the finish on a piece of metal. Blending removes the machine lines left in the process of milling and cutting metal to the correct size and shape.
Polishing. The mechanical polishing process, also called burnishing, takes the part to the next level of smoothness. Polished parts are made shiny and can achieve a mirrored look.
Centrifugal barrel finishing machines can perform each of these three types of work, also called steps. Depending on surface finishing specifications for your product, not all steps may be necessary. Your process might include a single step, two steps, or three steps.
Regardless of the number of steps in your process, each step must be performed separately. In other words, you cannot perform deburring and polishing simultaneously. Instead, deburr first, then polish. If more than one step is required, the steps must be performed in ascending order of smoothness, with deburring first and polishing last.
Video: 2-Step Process Demo of Centrifugal Barrel Finishing Machine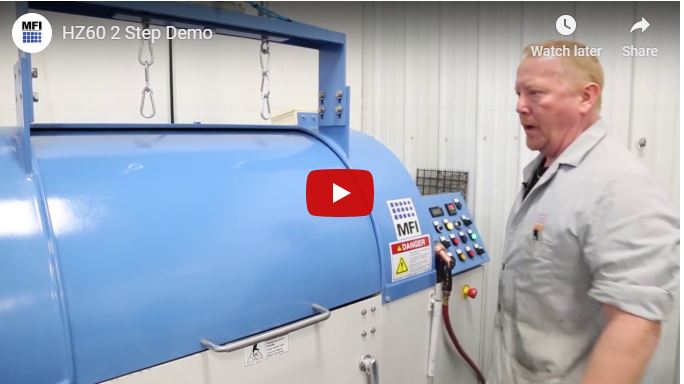 Wet or Dry Processing with a Centrifugal Barrel Tumbler Machine
Mass finishing with a centrifugal barrel tumbler can be performed either wet or dry. Wet processes use a liquid lubricant, cleaner or abrasive, and dry processes do not. Each of the four barrels is loaded to roughly 50-80% of capacity with the following elements:
For wet processing:
Metal parts (the workpieces)
Abrasive media
Water
Cleaning compound (detergent)
For dry processing:
Metal parts (the workpieces)
Abrasive media, may include dry compound
The polishing step is usually a dry process using ground-up corn cob as media, with polishing compound embedded. Ground-up walnut shells are also used as media for dry processing in a metal parts tumbler.
What Abrasives are Used as Tumbler Media?
Tumbler media is the abrasive used in mass finishing that grinds away the burrs and cutting lines on a metal surface. Tumbler media comes in many shapes and forms.
Feature
Tumbler media options
Composition
Ceramic
Porcelain
Plastic
Steel
Corn cob
Walnut shells
Abrasive fillers for ceramics
Aluminum oxide
Silicon carbide
Abrasive fillers for plastics
Quartz
Silica
Shapes
Cones
Pyramids
Cylinders
Spheres
Wedges
Tetrahedrons
and many other shapes
Cutting grades
Fast cut
Medium cut
Mild cut
Polish (non-abrasive)
With the many options available, there is a certain art to selecting the correct media for industrial tumblers. Using incorrect media can cause significant problems, such as media becoming stuck in a hole in the part or damaging the part.
As a general rule, the darker the media, the faster it cuts. For example, if plastic media is very dark, it's likely to be fast-cutting with a more aggressive abrasive. Lighter-colored media is more likely to be mild cutting for mildly abrasive mass finishing.
Tumbler Media for Metal Finishing
Common Configurations for Centrifugal Finishing Machines
Model
Motor (HP)

Total

Capacity

(cu. ft.)

Barrel

Dimensions (in)

Overall

Dimensions

W × L × H (in)

Weight (pounds)
12
1
0.4
8.5 × 5
34 × 30 × 30
700
40
3
1.4
12.5 × 6.875
47 × 38 × 49
1280
60
5
2
25.75 × 5.875
68 × 39 × 94
3000
85
7.5
3
33.5 × 6
75 × 39 × 94
3300
120
10
4.7
17.25 × 10.25
71 × 57 × 75
2900
160
15
7.1
20.75 × 12
70 × 54 × 76
3500
220
15
8
27.5 × 11.5
81 × 57 × 75
5200
330
30
12.8
42 × 12
90 × 56 × 80
6800
Common options for centrifugal barrel tumbler machines include the following:
Barrel dividers: Barrel dividers allow the operator to easily separate each barrel into smaller compartments. This helps prevent part-on-part impingement and damage during processing.
Part and Media Separator: This option is commonly used with larger systems to separate the tumbling media from the metal parts after processing. Without the separator, an operator would need to hand-pick parts out from the tumbling media, a time-consuming chore with smaller parts. The separator uses a vibratory screen to separate parts from media, and screens of different sizes can be swapped out to accommodate media and parts of various sizes.
Processing Table and Sludge Tank: This option is commonly used with smaller systems to trap sediment from the tumbling process. The cascading feature traps the sludge, while water gets pumped out of the tank with a sump pump. Sludge will build up in the three-chambered tank and needs to be cleaned out regularly.
Medium Centrifugal Barrel Tumbling Machine for Metal Parts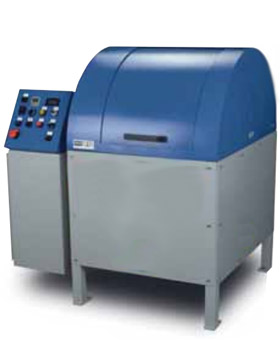 Industrial Tumbler Best Practices
Best practices in centrifugal parts tumbling include the following:
Avoid long cycle times. Be aware that centrifugal barrel tumbling generates a significant amount of heat within each barrel. For example, at 150 rpm a 120-liter centrifugal barrel machine will boil water in 15-20 minutes. Operators need to keep the heat level in mind for safety reasons as well as how it impacts the surface finishing process. Because of the heat generated, very long cycle times are not desirable. Typical cycle times are 5-15 minutes for most parts. Over an hour would be considered a long cycle and not recommended.
Avoid overloading. Putting too many parts in the barrels will result in part-on-part contact that can damage the parts. For cosmetically-sensitive parts, this can be addressed with the use of barrel dividers. Other important factors include the part-to-media ratio in each barrel, and using an appropriate amount of water and cleaning compound.
Balance the machine. A typical centrifugal barrel finishing machine contains 4 barrels. Avoid filling just one barrel on a cycle, as this practice is hard on the bearings and can cause the machine to "walk." If you do have to use an odd number of barrels, then counter-balance the barrel opposite it. If nothing else, fill the opposite barrel with water to help counter-balance the machine.
Communicate. Often a part removed halfway through its expected cycle time will meet a customer's needs. The time savings in production can be well worth the investment in testing and providing samples for the customer.
Centrifugal Barrel Finishing Tips
Don't forget the detergent. You might think that cleaning compound was intended for the metal parts, but in fact the tumbling media needs it. Cleaning compound adds lubricity to keep the pores open in the tumbling media. Once the pores in tumbling media become glazed over, the cutting action of the tumbling media will no longer work and metal parts turn out black. If the parts come out black, you forgot to put in the soap.
Flummoxed by flat parts? Flat parts such as washers present one of the toughest challenges for centrifugal barrel finishing. The parts tend to wick together or stick to the side of the barrel, so only one side gets deburred. The solution is to add glass bead blasting media to the centrifugal barrel finishing process. The beads coat the parts so they can no longer stick to the barrel or each other. Glass beads also work well for parts that tend to cup together.
Want a matte or satin finish? Add aluminum oxide blasting media to your centrifugal barrel finishing process, and the resulting part will be matte instead of shiny.
Reduce the mess. The sludge that builds up in the sludge tank needs to be cleaned out regularly. Here's a tip to reduce the mess. After draining the water, put horse bedding in the sludge tank to absorb the remaining water. This technique makes it much easier and less drippy to remove the sludge with a shovel.
Large Centrifugal Barrel Tumbling Machine for Metal Parts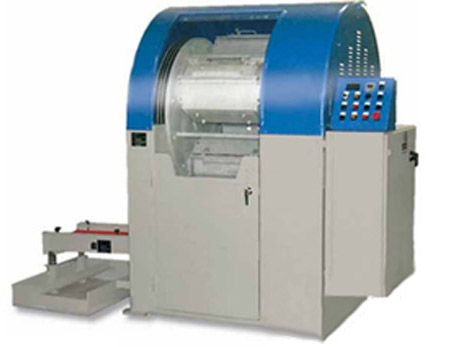 Free parts testing for centrifugal barrel finishing
Use of the correct tumbling media is crucial for centrifugal barrel finishing. The wrong media, particularly the wrong geometry, can double the cycle time for parts. Using cones or cylinders for tumbling media when not appropriate can slow down processing time significantly.
Consult the experts at Best Technology for advice on the best recipe for your application. Best Technology offers free testing of parts and a complete processing recipe – cycle time, RPMs, tumbling media, detergent ratios – with purchase of any centrifugal barrel finishing system.
Put our expertise with centrifugal barrel finishing to work for you, and send in a batch of parts for testing today! Contact us to receive your free assessment.