The chemical or acid neutralization tank from Best Technology automatically adds neutralization solution to facilitate disposal of industrial wastewater. The automated chemical neutralization system takes the guesswork out of determining the correct amount of base or acid to add to industrial wastewater to neutralize it for disposal.
Why Chemical Neutralization?
After passivation, part cleaning or other chemical processes, the passivation acid, alkaline cleaners, and other chemicals cannot be re-used but also cannot be disposed of until they are neutralized to a suitable pH level.
Requirements vary by chemistry and municipality, but commonly a pH between 6 and 10 is acceptable for disposal into facility drains and sewer, assuming there are no hazardous wastes within the used chemistry.
Chemical Neutralization Cart for Industrial Wastewater Treatment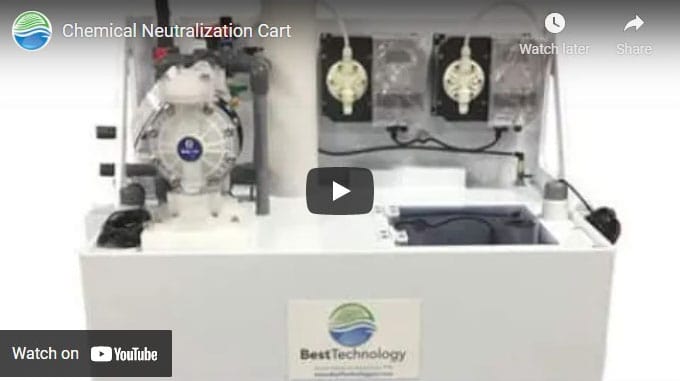 Acid Neutralization Process
The acid neutralization system uses soda ash, sodium hydroxide or similar to make an alkaline solution. When the alkaline solution is added to acid wastewater, it increases the pH in the acid neutralization tank. This facilitates disposal of used acids such as nitric acid for passivation.
Base / Alkaline Neutralization Process
The alkaline neutralization system uses phosphoric acid or similar acid solution to decrease the pH of alkaline wastewater. This facilitates disposal of used alkaline solutions such as alkaline cleaners used for parts cleaning.
Automated Acid Neutralization System
Portable Chemical Solutions Neutralization Wet Processing Cart
The portable chemical neutralization system allows for no-touch neutralization and easier disposal into facility wastewater treatment or municipal sewer systems.
A pump on the neutralization cart transfers used fluid for neutralization to the cart storage tank. A metering pump measures a predetermined amount of neutralization solution from a separate container connected to the cart, and then adds it to the neutralization tank. The solution is constantly circulated and monitored via pH monitor. The metering pump continues adding neutralization solution until the pH is within a preset range.
The cart is on wheels/casters for easy transport to application and disposal locations.
This automated chemical solution neutralization system simplifies disposal of both acids and alkaline solutions.
Video: Mobile Chemical Neutralization Cart for Metal Finishing Tanks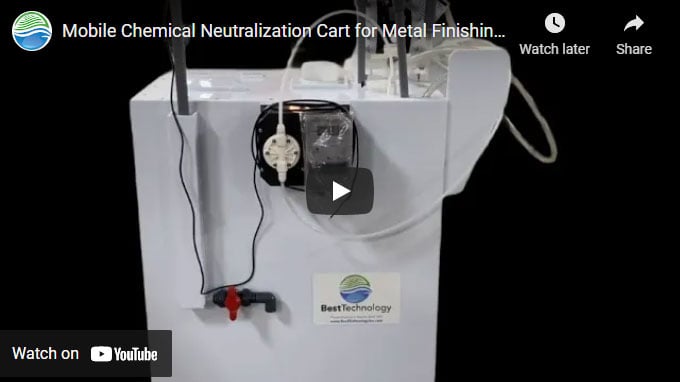 Applicable Systems which can Utilize a Chemical Neutralization Tank
To learn more about adding an acid neutralization tank to your manufacturing workflow, contact an applications engineer at Best Technology today.