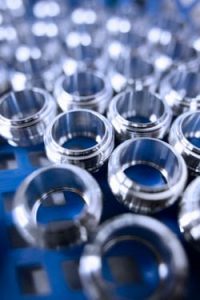 Our service offerings help customers in the medical device, aerospace and other industries who are new to the precision cleaning and chemical processes performed by our equipment. Whether you are new to the various processes or simply short-staffed and need some help, our service offerings are tailored to help you.
On-Site Training Services
Make your equipment implementation seamless by having our applications engineers and process experts train and assist your team. This ensures complete maximization of new equipment usage in minimal time after delivery.
Our equipment training is customized according to worker roles. The following are examples of how our training is tailored to your team:
Operator – For equipment operators, we show how to use the basic functions of the equipment and may run sample parts on the machine.
Engineer – For engineers, we show how to use the admin functions to create recipes, how to make adjustments, edit programs and download data tracking.
Maintenance – For maintenance staff, we go over preventive maintenance routines and schedules for the machine.
Process Validation Templates
Best Technology offers process validation templates with equipment sold by Best Technology. Process validation templates provide a framework for meeting industry requirements. Our process validation templates do 95% of the work of process validation, leaving you to fill in the blanks with your actual results, and then write a summary of findings from your validation.
Our process validation templates are geared for medical device OEMs, so some content may not apply (e.g., references to the FDA) outside of the medical device industry. Such content can simply be removed, since the templates are provided in Microsoft Word format for easy editing.
Process validation templates offered by Best Technology are written to meet ISO standards. The process validation templates include verification of:
Installation Qualification (IQ)
System documentation
Recommended spare parts
Equipment installation checklist (Utilities conformance verification)
Calibration verification
Preventive maintenance
Operational Qualification (OQ)
System documentation
Test equipment calibrations
Power failure test
CFR part 11 eligibility verification
Equipment functional tests
Performance Qualification (PQ)
System documentation
Process qualification tests.
Process validation templates are available for several precision cleaning and chemical processes, including:
Please note, validation templates are available ONLY with equipment sold by Best Technology.
Process Validation Experience and Credentials
Best Technology's experience with process validation includes a wide range of chemical processing and finishing techniques used in the medical device, aerospace, general manufacturing and defense industries. Our engineers and process experts have extensive backgrounds in developing and improving processes that meet or exceed the rigorous requirements of industry standards, including:
Best Technology also offers assistance with equipment selection and room layout for efficient process flow. We match equipment with your needs to optimize available space.
Interested in having Best Technology help with your equipment? Please fill out our Equipment & Process Questionnaire or just fill out our contact form and our Applications Engineers will contact you.