Best Technology is proud to offer ultrasonic parts washers featuring agitated immersion for precision cleaning of particulate from a wide range of components by using water-based detergents and environmentally safe solvent chemistries.
Ultrasonic Parts Washer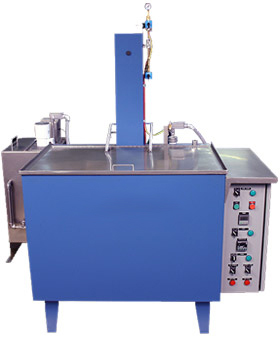 Multi-Stage Ultrasonic Parts Washer
Clean – Rinse – Rinse – Dry System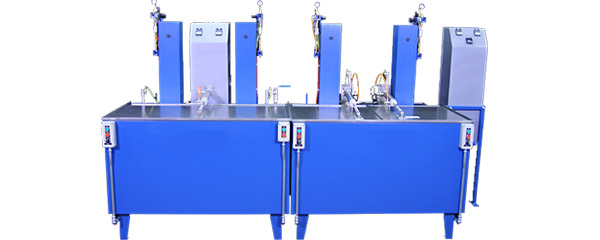 Videos: Wash with Ultrasonics, Oil Removal System, & Turbo-Pump Agitation, Agitated Immersion Rinse, Heated Air Knife Blow Off Dry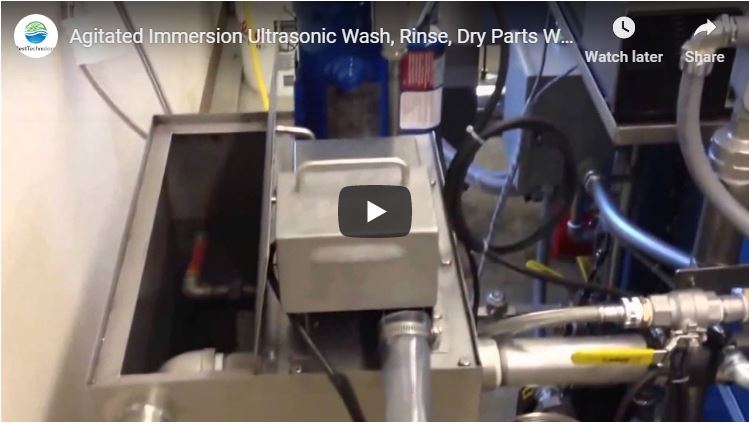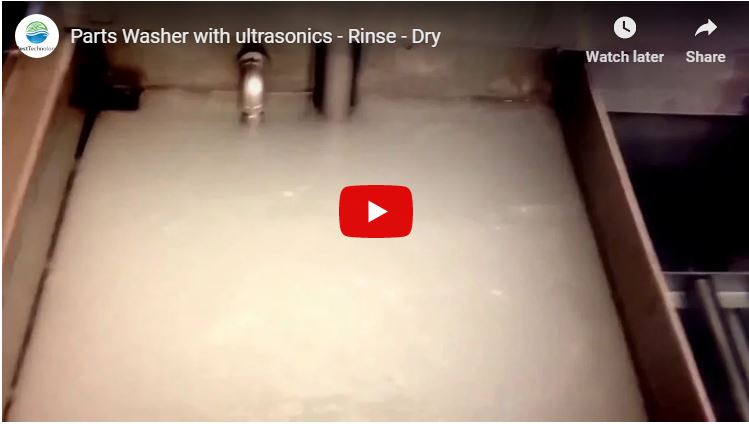 Our immersion ultrasonic parts washers use a simple yet ruggedly-designed, pneumatically-powered reciprocating platform to agitate your parts in the water or solvent-based detergent.  This action coupled with ultrasonics and options like high-flow filtration and turbulation and oil removal systems ensure that all oil and particulate is removed from not only the outside of your parts but also the internal cavities and passages that other types of ultrasonic parts cleaners can't properly clean.

Automated Multi-Stage Ultrasonic Parts Washer
Clean – Rinse – Rinse – Dry System

These ultrasonic parts washers are fully modular so that multiple tanks can be placed side by side. This allows for any application-specific configuration, such as:
Wash, rinse, dry
Wash, rinse, rinse, dry
Wash, rinse, passivate, rinse, dry, etc.
Common Applications
This superior part exterior and part internals flushing action makes these pneumatic parts washers excellent for:
Cleaning of parts with lots of internal passageways like casting and cylinder blocks
Removal of buffing and lapping compounds
Cleaning prior to welding, deburring, brazing, blasting or other post-process applications where surface cleanliness is critical
Precision cleaning prior to assembly or final packaging
General washing for maintenance, rework and/or remanufacturing
Engine rebuilding
Carbon, rust, ink and paint removal
Phosphating or Alodine coating
FPI (Fluorescent penetrant inspection) – preclean, DP dye penetrant inspection process, and post clean.
Typical Configurations
We offer the following 9 standard configurations and custom sizing up to 4000 lbs. load capacity and any working zone configuration.
Model Series
 Weight Capacity (lb)
Liquid Capacity (gallon)
Inside Working Zones
(l x w x h)
Overall Dimensions
(l x w x h)
MK16
150*
40
16″ x 21″ x 16″
21″ x 35″ x 68″
MK24
150*
60
22″ x 21″ x 16″
27″ x 35″ x 68″
MK30
150*
40
28″ x 17″ x 13″
33″ x 29″ x 57″
MK36
150*
90
34″ x 21″ x 16″
39″ x 35″ x 68″
MK48
150*
120
46″ x 21″ x 16″
51″ x 35″ x 68″

* optionally to 300 lb.

CM36
500*
165
34″ x 24″ x 20″
48″ x 46″ x 80″
CM48
500*
255
45″ x 31″ x 20″
60″ x 52″ x 80″
CM60
1000*
445
56″ x 31″ x 27″
72″ x 54″ x 97″
CM72
1000*
585
69″ x 36″ x 27″
84″ x 60″ x 97″
* optionally to 2000 lb. – 4000 lb.