Benchtop passivation systems deliver high-performance parts cleaning, rinsing, passivation and drying, in units that fit on a tabletop.
All-in-One Benchtop Passivation Equipment
All-in-one passivation systems offer the convenience and efficiency of combining the washing, rinsing, passivation and drying into a single, unified piece of equipment. The system houses heated cleaning solution, cascading rinse water, citric or nitric acid passivation solution, a second cascading rinse, and a final hot-air drying step.
Tank capacity ranges from 1.25 to 3.5 gallons, with custom sizing available. These systems feature four ultrasonic chambers, plus a hot-air parts dryer.
1.25-Gallon 386P Benchtop Ultrasonic Stainless Steel Passivation Machine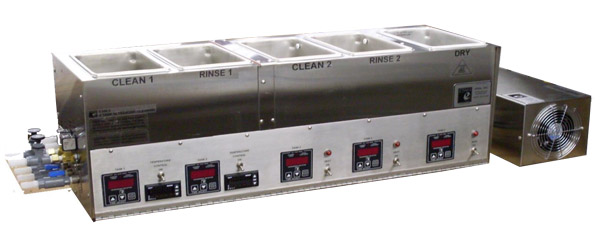 The Model 386P is a 5-quart stainless passivation machine that is designed for low volumes of small parts or for prototyping environments.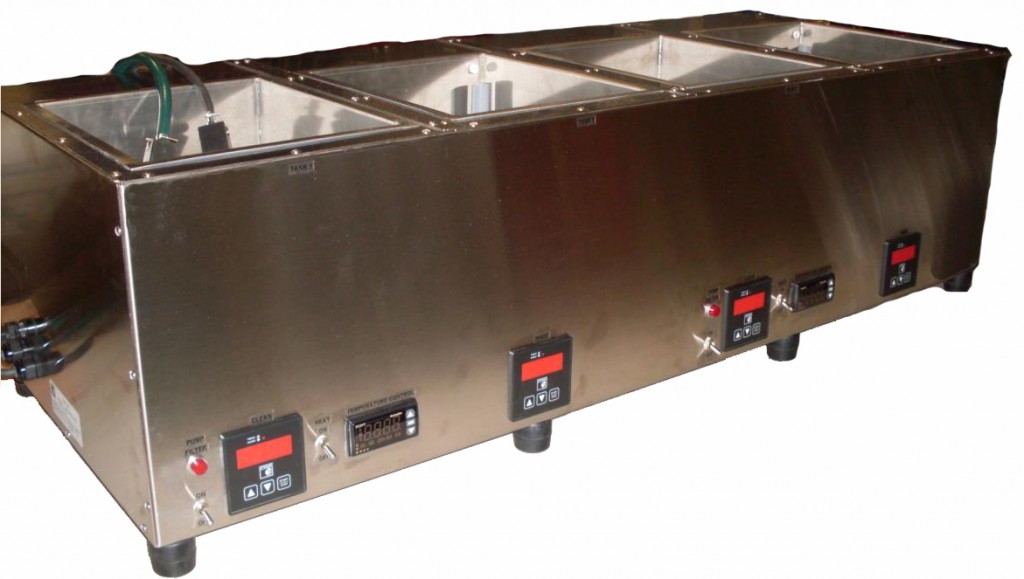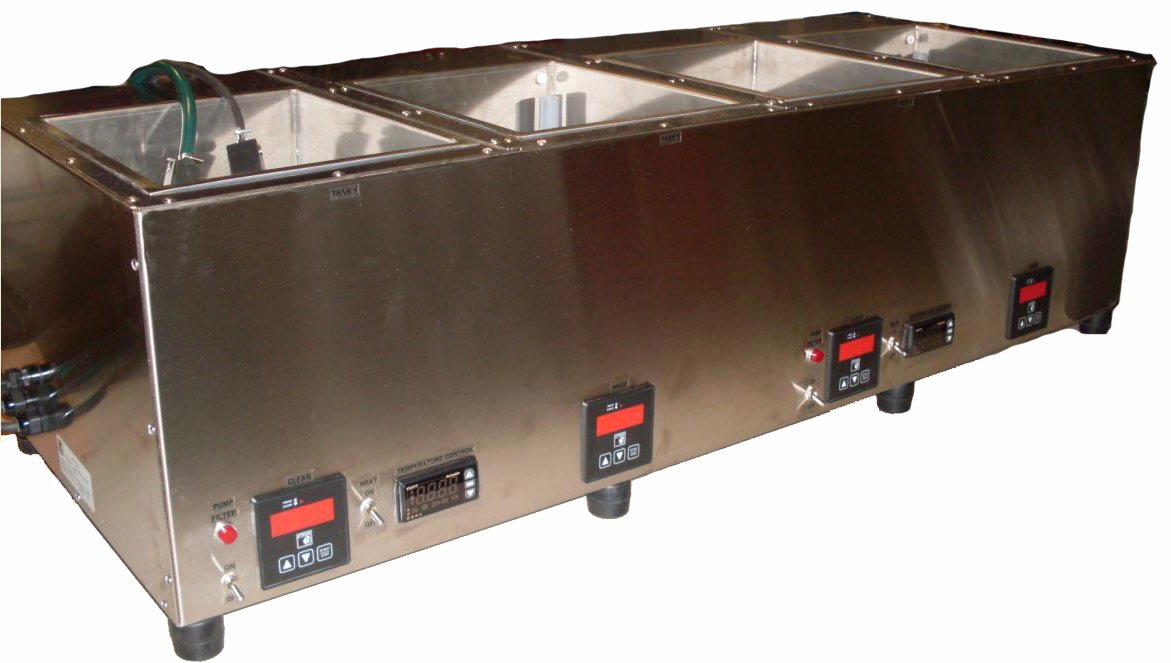 The Model 782P is a 3.5-gallon stainless passivation machine. Like the 386P, the process moves from left to right. Parts are cleaned, rinsed, passivated, rinsed, and then dried. The clean and passivation tanks can be optionally equipped with pump filter systems which provide 5-micron filtration of the cleaning and passivation solution.
Each tank has its own digital timer. Heater options include an internal or external mount for the thermostat, with temperature ranges from 85 – 180 °F.
The ultrasonic tanks use self-tuning ultrasonic generators that output square-wave sonic energy at a primary frequency of 38 kHz. (Higher-frequency 80 kHz ultrasonic generators are also available.)
The ultrasonic rinse system drives the drag-out chemistry to the surface of the rinse tank. Water flowing in from the bottom pushes the chemistry to an overflow weir, which drains through a standpipe.
Flowing Rinse for Benchtop Passivation Equipment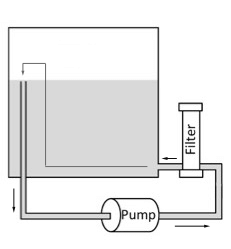 The hot-air dryer in a benchtop passivation system uses a combination of high heat and high air flow to dry parts. The thermostatically controlled temperature can be set between 140 – 180 °F.
Larger Tabletop Passivation Equipment
When you need larger tank capacity in a benchtop passivation system, look to Best Technology for multiple individual tanks. In systems like this, each process step (wash, rinse, passivate, etc.) is a separate tabletop tank. Combined together, 4 tabletop tanks and a standalone hot-air dryer form an effective passivation line.
Tank capacity for individual benchtop ultrasonic tanks ranges from 5 to 29 gallons per tank, with custom sizing available.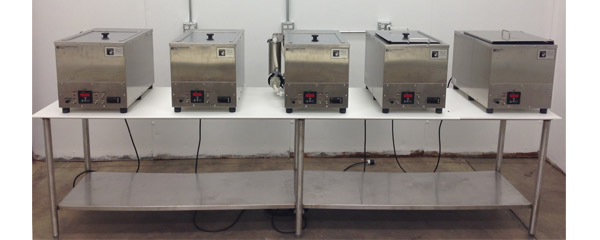 The Model 188P is a 9-gallon passivation line with 4 ultrasonic tanks and a hot-air dryer. This benchtop passivation system includes the following process steps:
Ultrasonic Parts Cleaning
Ultrasonic Rinsing
Passivation
Ultrasonic Rinsing
Heated-Air Drying
Standalone Passivation Equipment
Our all-in-one ultrasonic passivation systems are also available as standalone console units. Check out our passivation wet benches to see our full range of integrated standalone passivation systems.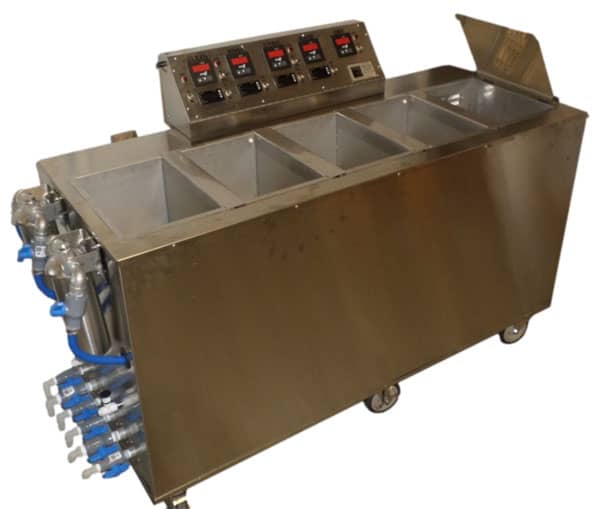 For greater convenience, our automated passivation equipment moves fluids rather than baskets of parts, freeing up the operator for other tasks. The operator simply puts in dirty, dry parts, hits start and returns to cleaned, passivated and dry parts.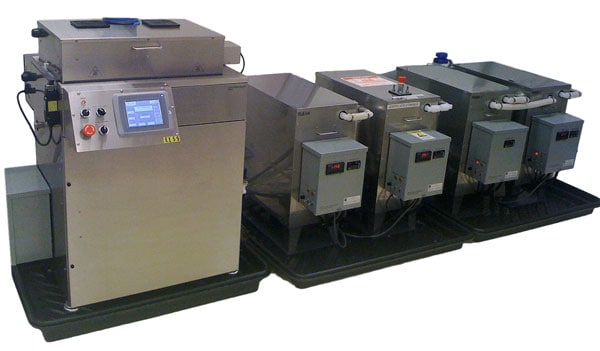 Common Applications for Stainless Steel Passivation Equipment
Common Configurations
We can easily make any bench top passivation tank size required for your application with little to no additional cost for custom size pricing. Below are a few common configurations for benchtop passivation machines.
Model Series
Liquid Capacity
(gallon)
Inside Working Zones
(l x w x h)
386P
1.25
9.5″ x 5.5″ x 6″
782P
3.5
12″ x 10″ x 8″
499P
5
15″ x 10″ x 8″
598P
7.5
36″ x 8″ x 6″
188P
9
18″ x 12″ x 10″
487P
12
24″ x 12″ x 10″
300P
15
24″ x 24″ x 6″
592P
18
24″ x 14″ x 12″
1001P
26
25″ x 18″ x 14″
29P
29
36″ x 14″ x 14″
Start your benchtop passivation project now
Contact a passivation expert at Best Technology today to start designing your benchtop passivation system.