Our automated ultrasonic passivation equipment using nitric or citric acid perform an automated process of cleaning-rinsing-passivation-rinsing-drying by moving the fluids from heated storage tanks into a single ultrasonic process tank, rather than moving the parts basket through a series of tanks.
With this passivation machine, the entire process required to clean, rinse, passivate, rinse, rinse and dry manufactured stainless steel metal parts is performed at the push of a button using user defined cycles via touch panel screen.  The process is PLC computer-controls the fill-and-drain sequence to cycle parts through the cleaning, rinsing, and hot air drying processes; all within a single chambered unit.
Ultrasonic Automated Passivation Equipment
Video: Automated Ultrasonic Passivation Equipment for Citric or Nitric Acid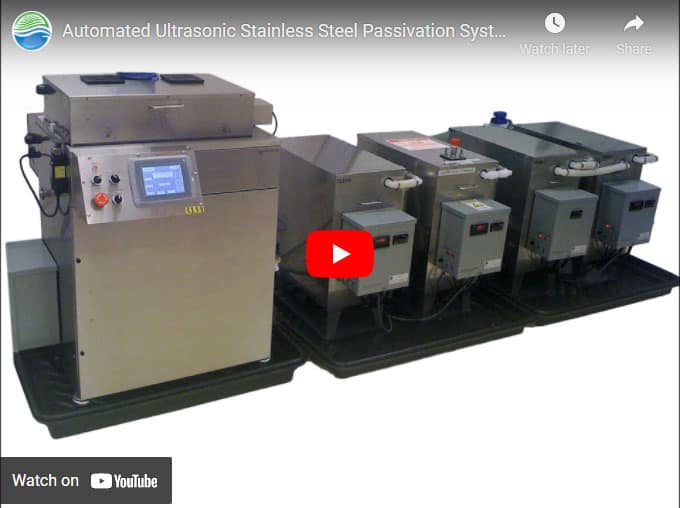 Modular heated storage tanks complete the Ultrasonic cleaning machine for re-use of detergents and rinse water. This system configuration removes operator interaction, variability and eliminates exposure to chemicals. The end result is higher quality cleaned and passivated parts with tighter process controls which can be easily validated for regulated products like medical device and aerospace.  The operator simply puts dirty, dry parts in, hits start and returns to cleaned, passivated and dry parts.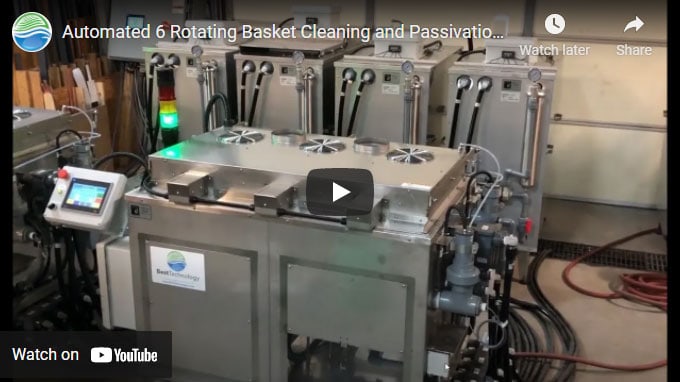 Double production without doubling the cost. Learn how a dual process unit automated ultrasonic passivation system can boost your production. The model shown here features optional rotating baskets for parts.
We move the fluids NOT the parts! Savings of nearly 50% of system cost over traditional multi-tanks with overhead basket carrier automation.

Video: Automated Customizable 3-in-1 Nitric and Citric Passivation System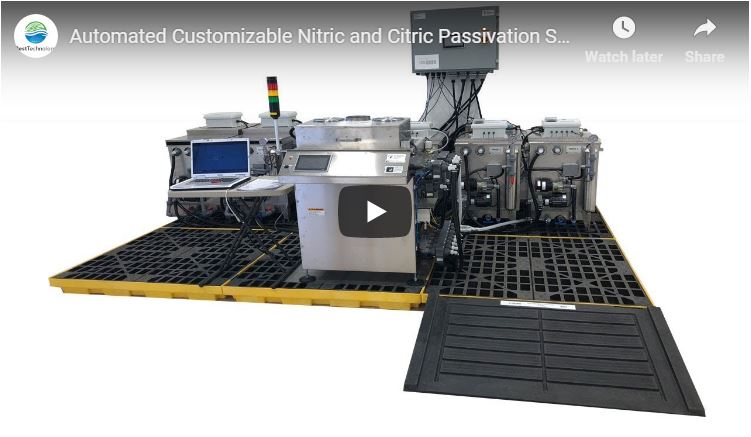 Need BOTH nitric AND citric acid passivation? This system can handle it all. This 3-in-1 system offers 3 different automated passivation options:
Nitric acid
Nitric acid with sodium dichromate
Citric acid
Common Applications for Automated Passivation Equipment
Ultrasonic part cleaning and passivation of water soluble machining coolants, chips, particulate, and true machining/cutting oils, buffing and lapping compounds.
Medical device stainless steel, titanium, tantalum parts cleaning and passivation
Aerospace part passivation
Nitric acid passivation type 1, 2, 3, 4 ASTM A967
Citric acid passivation type 1, 2, 3, 4, & 5 ASTM A967 using Stellar Solution's Citrisurf
General washing for maintenance, manufacturing, rework and/or remanufacturing.
Applicable case study: Automated Ultrasonic Passivation System for Medical Device and General Parts
Typical Configurations
The automated passivation equipment configurations below are most common, but systems of any size from 3.5 to 100+ gallon and 1 foot to 15 foot long can be fabricated based on customer application for little to no custom costs.  Systems can contain pH and conductivity meters to monitor wash, acid and RO / DI rinse solutions.
| | | | | | | |
| --- | --- | --- | --- | --- | --- | --- |
| Model Series |  Liquid Capacity (gallons) | Ultrasonic Power (Watts) | Hot Air Dryer (Watts) | Tank Dimensions (l x w x h) | Main Process Unit Dimensions (l x w x h) | Storage Tank Capacity (gallons ea) |
| 1002P | 3.5 |  300 | 1500 | 12″ x 10″ x 8″ |  24″ x 13″ x 18″ (tabletop) |  15 |
| 700P | 9 |  1200 | 3000 | 18″ x 12″ x 10″ |  28″ x 22″ x 39″ |  15-30 |
| 992P | 18 |  1800 | 3000 | 24″ x 14″ x 12″ |  28″ x 22″ x 39″ |  30 |