Nitric vs Citric passivation: What's the difference?
Many people ask about the differences between nitric acid and citric acid when passivating parts made of stainless steel (SS), titanium (Ti), and other alloys. In the past, manufacturers avoided citric acid due to potential organic growth and molding issues. Today, citric acid has improved leaps and bounds with new formulations for biocides which prevent any organic growth in solution. See our complete write-up on the advancements of citric acid passivation (specifically Citrisurf®). These new advancements in citric acid passivation have allowed smaller manufacturers which had little to no experience with chemical handling and processing to bring their passivation needs in-house.
Today, many companies are taking a second look at citric acid due to its ease of chemical handling, disposal and overall safety for employees, all of which are more challenging when going with nitric acid passivation vs citric acid passivation. Best Technology works closely with many companies in the aerospace and medical device industries and has successfully assisted these companies with converting from nitric to citric acid. Often times, it is as simple as talking with the end customer and showing them the equivalency of the types of passivation.
Comparison of Nitric vs Citric acid
| | | |
| --- | --- | --- |
| | Nitric Acid | Citric Acid |
| Safety | Hazardous handling required | Very safe to use as directed |
| Air Breathing | Emits toxic gases | No toxic gases emitted |
| Ease of use | Chemical handling safety equipment and extreme care required for most use | Minimum chemical handling safety equipment required |
| Passivation | Excellent passivation of most grades of stainless steel | Excellent passivation of nearly all grades of stainless steel |
| Environment | Environmentally hazardous | Environmentally friendly |
| Cost | Low cost raw material, but high cost maintenance and disposal, high cost of a ventilation system for safe use | Lower overall cost to use: lower maintenance, safety and waste disposal costs, lower concentration of chemicals required |
| Passivation Process Duration | 20 minutes to several hours | 5-20 minutes typical |
| Process Temperature | Elevated temperature required for many grades, nitric acid very dangerous at elevated temperatures | Room temperature use for many grades, elevated temperature expedites the process and is safe without ventilation |
| Chemical Process Maintenance | Regular solution monitoring required (titration) | Regular solution monitoring required (titration or pH) |
| Iron Oxide Removal | Slowly removes iron oxides | Readily removes iron oxides |
| Equipment | Long-term corrosive degradation of non-stainless steel metal or polymer-based equipment or components | No corrosive degradation of equipment |
| Process stability | Must control time and temperature closely as danger of nitric oxide gas exists – proper ventilation required | Less prone to time and temperature variation, no hazardous vapors |
| ASTM A967 | Meets requirements | Meets requirements |
| AMS 2700 | Meets requirements | Meets requirements – when approved by cognizant engineering organization |
| ASTM A380 | Meets requirements | Meets requirements as referenced in ASTM A967 |
| AMS QQ-P-35 | Meets requirements as referenced to AMS 2700 and ASTM A967 | Now referenced to AMS 2700 and ASTM A967 |
Video: Automated Customizable Nitric and Citric Passivation System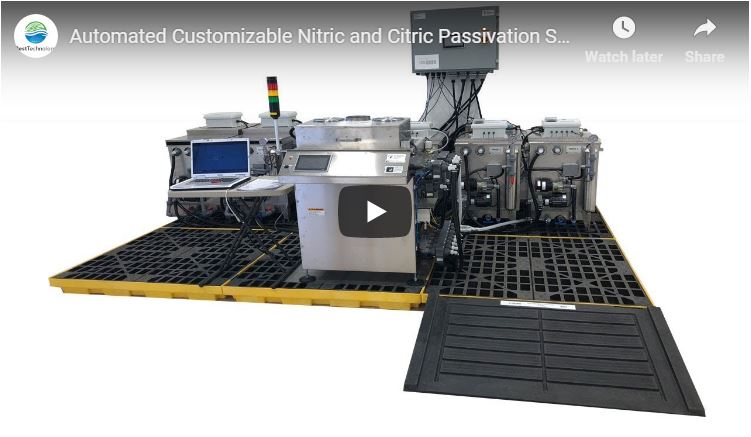 Nitric vs citric acid passivation standards and specifications:
Because of the long-ago issues with citric acid, many industries developed their processes and specifications around using nitric acid. Specifically the medical device and aerospace industries have required many manufacturers to use nitric acid as the passivation solution for their stainless steel, titanium and other alloy parts. Best Technology has seen many long-time nitric acid passivation users start to transition to using citric acid.
Industry Standards
Standard
Title / Description
ASTM A967

Standard Specification for Chemical Passivation Treatments for Stainless Steel Parts

Based on U.S. Defense Department standard QQ-P-35
One of the most common passivation specifications

AMS 2700

Passivation of Corrosion Resistant Steels

Aerospace Material Specification

ASTM A380

Standard Practice for Cleaning, Descaling, and Passivation of Stainless Steel Parts, Equipment, and Systems

Refers to ASTM A967 for specifics of how to perform passivation

AMS-QQ-P-35

(superseded) Passivation Treatments for Corrosion-Resistant Steel

Takes the place of MIL-QQ-P-35, but has since been replaced with AMS 2700

ASTM F86
Standard Practice for Surface Preparation and Marking of Metallic Surgical Implants
ASTM B600

Standard Guide for Descaling and Cleaning Titanium and Titanium Alloy Surfaces

Passivation for titanium and titanium alloys is now recognized in the ASTM standard.

AMS-STD-753
Corrosion-Resistant Steel Parts: Sampling, Inspection and Testing for Surface Passivation
BS (British Standard) EN 2516
Aerospace Series: Passivation of Corrosion Resisting Steels and Decontamination of Nickel Base Alloys
Military Specs and Standards
Standard
Refers to
Title / Description
MIL-HDBK-808
QQ-P-35
MIL-STD-753

Finish, Protective and Codes for Finishing Schemes for Ground and Ground Support Equipment:

Section 5.3.2.4.1
Table II, Finish code numbers F-200, F-201, F-202, F-203, F-204
Table VIII, Finish code number D-200
Refers to QQ-P-35 for passivation of stainless steel, which has since been replaced with ASTM A967 and AMS 2700.
Refers to MIL-STD-753 for testing of passivation, which has since been replaced with AMS-STD-753

MIL-DTL-14072
ASTM A380

Finishes for Ground Based Electronic Equipment:

Table IV, Finish number E300

MIL-DTL-5002
ASTM A967
AMS 2700

Surface Treatments and Inorganic Coatings For Metal Surfaces of Weapons Systems:

MIL-STD-171
ASTM A967
AMS 2700
ASTM A380

Finishing of Metal and Wood Surfaces:

Section 5.1.4.2
Table V, Finish numbers 5.4.1 and 5.5.1