Best Technology offers the highest quality top loading spray cabinet parts washers in industry and the specifications below prove it.  Top load parts washers are excellent for cellular washing and applications where facility space is at a premium.
Top Loading Spray Cabinet Industrial Parts Washer – Closed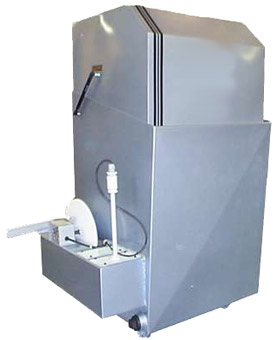 Top Loading Spray Cabinet Industrial Parts Washer – Opened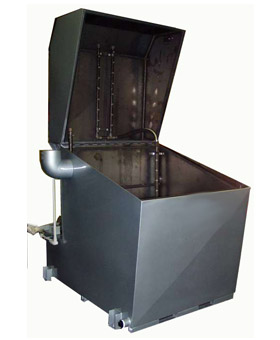 Standard Equipment
Mechanical-
Swing Away Top Manifold ~ Top manifold swivels for easy loading/unloading clearance
Bushed Stainless Steel V-Jet Nozzles ~   Durability and precise 360 degree cleaning coverage.
Mechanical Labyrinth Door Seals ~ No rubberized seals that will leak and need replacing!
Gear Driven Turntable – no turntable slipping from poor quality belt, chain, rubber tire, brush wheel, etc engagement
Strut or Hydraulic Actuated Lid ~ For increased safety and ease of use. 42″ turntable and larger have hydraulic actuated lids as standard
Debris Screen – Keeps tanks free of larger debris.
Electrical-
Low Water Shut-Off – Protect your heat elements from low water conditions – no more burnt out heating elements from running the system dry
Watlow Heat Elements
Industrial Control Panel ~ NEMA rated electrical closure featuring IEC components with rotary illuminated cam switches. Meets NFPA wiring standards for numbering, sizing, color coding, and overload protection.
Various Voltages Available ~ 230v 1-phase, 208v 3-phase, 230v 3-phase, 460v 3-phase, 575v 3-phase, Canadian CSA standards and Industrial Upgrades.
Option Ready – systems come ready for simple Plug-N-Play option installation in-field.
Optional Features:
Fresh Water or Re-circulating Rinse Options
Heated and non heated blow off stages
Stainless steel disc oil skimmer
Oil coalescing systems
Stainless steel construction upgrade – SS cabinet or all wetted components
Auto water fill – ensure the system always has enough water
Filtration system – particulate micron bag filtration
1 or 2 function timers – 24 hour heat and oil skimmer timers
Insulation packages – save energy and prevent solution heat loss
Power disconnect
Pump upgrades – higher pressure, higher flowrate
Heat upgrades – quicker solution temperature recovery when working with large parts
Weight capacity upgrades
Typical Top Load Spray Cabinet Industrial Parts Washer Configurations (Custom Sizing Available)
With over 8 standard top load models ranging from 21″ to 72″ turntable, and custom units with turntable diameters up to 120",  you can choose from one of the most diverse industrial parts washing systems in the industry.
| | | | | | | | |
| --- | --- | --- | --- | --- | --- | --- | --- |
|  Turntable  Diameter (in) |  Inside Work Height (in) |  Load Capacity (lb) | Pump Motor Size (hp) |  Pump Output (psi/gpm) |  Solution Capacity (gal) |  Heat Source (kw) |  Cover Closure |
| 21 | 31 | 500 | 1.5 | 42/24 | 32 | 6 | Strut Assist |
| 25 |  32 |  1,000 | 3 | 52/35 |  85 |  9 |  Strut Assist |
| 31 | 32 | 1000 | 3 | 52/35 | 125 | 12 | Strut Assist |
| 36 | 32 | 1500 | 5 | 80/85 | 170 | 18 | Strut Assist |
| 42 | 36 | 1500 | 7.5 | 75/120 | 220 | 18 | Hydraulic Actuated |
| 50 | 36 | 1500 | 10 | 75/150 | 290 | 36 | Hydraulic Actuated |
| 60 | 36 | 1500 | 15 | 75/200 | 390 | 36 | Hydraulic Actuated |
| 72 | 36 | 1500 | 15 | 75/200 | 530 | 36 | Hydraulic Actuated |