Our F series spray cabinet parts washer systems are engineered and built with far superior quality to the Cuda parts washer spray cabinet. Cuda only makes spray cabinet systems and we offer spray cabinet parts washers and also much much bigger equipment beyond spray cabinets, so we understand what tough environments the systems go through.
Beyond build quality itself, the most important difference is tank and weight capacity.
Below is a comparison of Cuda F2530 vs. our F series F2532 industrial spray cabinet parts washers.
Cuda Parts Washer vs. Our Spray Cabinet Washer
Solution Tank Capacity Differences Explained
Cuda is 40 gallons and our spray cabinet washer is 90 gallons.
This is important for 2 reasons:
The solution will keep its temperature much longer without needing more energy to heat the solution as the solution is only turned over 1 time every 2 minutes (50 GPM pump & 90 gallon tank) vs. Cuda the solution is turned over 2 times per minute.  The Cuda will cost considerably more to keep heated and operate.
How often you change out part cleaning solution is based on how much particulate (chips, debris, etc.) and contaminants (water based machine coolants, true oils, grease, etc.) are in solution.  Our larger tank capacity will allow the solution to last over 2 times as long before needing to be replaced.
Cuda Parts Washer vs. Our Spray Cabinet Washer
Weight Capacity Differences Explained
The Cuda has a 500 lb. capacity and our weight capacity is 1000 lbs..
This is important for 2 reasons:
 Even if you may not be planning on loading up the system with your application, the additional capacity for growth is a plus and our system is built much stronger to hold the additional capacity.
The turntable drive systems are also much different due to the weight capacity; Cuda used to use a small tire to turn the turntable, but more recently they changed to using a slip pulley chain drive. However, based on the number of calls we get from people looking to replace their Cuda systems, it still has problems. Best Technology offers a positive engagement drive system, in which the turntable is a cog and the drive motor is a gear.  This engagement will not wear out like a chain and allows for safety overrides.
Other minor yet important differences:
Our systems are NEMA 1 (F series) and NEMA 12 (PCS series) rated electrical
Working height of  our systems is 32″ vs. 30″ on the Cuda.
Often Cuda offers you a "trade-in" proposal in which they will trade your old system in for a new one.  Our customers have shown us the Cuda proposals and our pricing for our spray cabinet parts washer was less even after taking into account the Cuda "trade-in". What this means is Cuda raises the price of the new system to make the "trade-in" price more in line with their competition, but we still beat the prices and are unmatched in quality.
All in all, you may be able to get into a much better product for even less than the Cuda parts washer – even with the trade-in price.
Either way, our spray cabinet parts washers are much better quality product and we get calls all the time from people replacing their Cuda cabinets.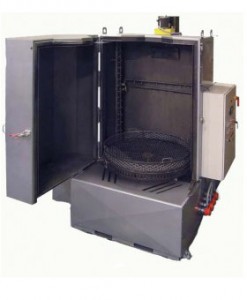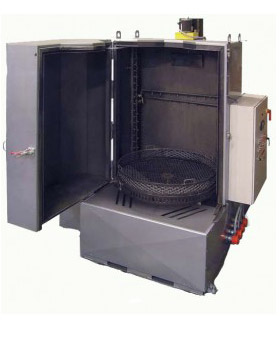 Still don't believe the quality and pricing differences after reading this parts washer comparison? Contact us and we will prove it!