Our F series industrial spray cabinet parts washer systems are engineered and built with far superior quality and features than competing spray cabinet washers. In the example below, we go head-to-head with the specs on our F3142 versus the G-2000 from Better Engineering.
Beyond build quality itself, the most important differences are work area and tank & weight capacity.
Below is a parts washer review of Better Engineering G-2000 vs. Our F series F3142 spray cabinet parts washers.
Better Engineering Parts Washer vs. Our Spray Cabinet Washer
Work Area Differences Explained
Better Engineering has a 27″ diameter turntable and a work area that is only 35″ tall and our F3142 spray cabinet washer has a 31″ diameter turntable and a 42″ tall work area.
This is important for 2 reasons:
More space. With our F3142 you are able to run more parts per load because you have so much more space. How much more space? Over 60% more space. Our F3142 has an internal volume of 18.4 cubic feet while the Better Engineering G-2000 is only 11.6 cubic feet.
Greater efficiency and reduced operating costs. More parts per load means fewer cycles need to be run per shift to clean the same number of parts. This frees up time for your employees to be tending to other tasks and means that the machine is running less so you are spending less on electricity, water, chemistry, etc.
Better Engineering Parts Washer vs. Our Spray Cabinet Washer
Solution Tank Capacity Differences Explained
Better Engineering is 55 gallons and our spray cabinet washer is 140 gallons.
This is important for 2 reasons:
The solution will keep its temperature much longer without needing more energy to heat the solution as the solution is only turned over 1 time every 3 minutes (50 GPM pump & 140 gallon tank) vs. Better Engineering where the solution is turned over more than once each minute. The quicker the solution is turned over, the more often the solution is in contact with non-heated/ambient temperature surfaces (parts, cabinet walls, etc); therefore, the more heat will be lost in the total volume of solution. The Better Engineering unit will cost considerably more to keep heated and operate.
How often you change out part cleaning solution is based on how much particulate (chips, debris, etc) and contaminants (water based machine coolants, true oils, grease, etc) are in solution. Our larger tank capacity will allow the solution to last over 2 times as long before needing to be replaced.
Better Engineering Parts Washer vs. Our Spray Cabinet Washer
Weight Capacity Differences Explained
The Better Engineering has a 500 lb. capacity and our weight capacity is 1000 lbs.
This is important for 2 reasons:
Even if you may not be planning on loading up the system with your application, the additional capacity for growth is a plus and our system is built much stronger to hold the additional capacity.
The turntable drive systems is also much different due to the weight capacity, Better Engineering uses a chain drive. Best Technology offers a positive engagement drive system, in which the turntable is a cog and the drive motor is a gear. This engagement will not wear out like a chain and allows for safety overrides.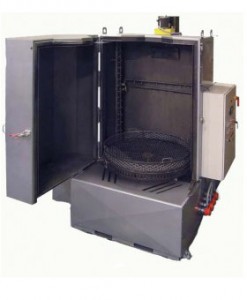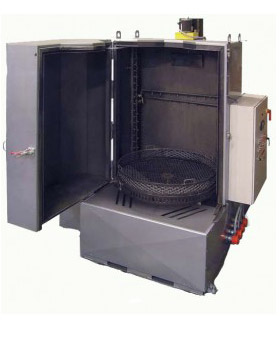 Greater capacity, larger tanks, increased efficiency, operational cost savings and yet, our price point is extremely competitive. Why pay more for less? Contact us today for your quote for an F3142 Spray Cabinet Washer.