Vertical door pass through spray cabinet parts washers offer the advantages of a multistage turntable spray cabinet washer while maintaining the benefits of  conveyorized inline pass parts washer.   These aqueous parts cleaner systems are also known as guillotine door parts washers. The vertical door parts washer cabinet allows for loading of parts from one cell and unloading cleaned, rinsed and dried parts into another cell of a cellular manufacturing production factory.
Vertical Door Spray Cabinet Aqueous Parts Washer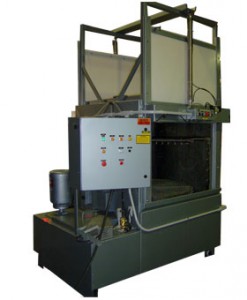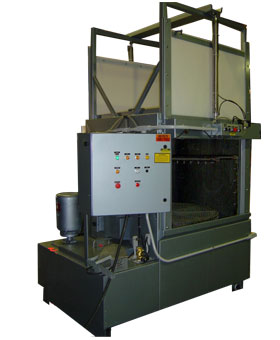 The spray parts washer cabinet with vertical doors allow easy loading of parts onto rotating turntable which allow for 360 degree spray coverage on parts. This aqueous parts washer system can also be combine with recirculated or fresh water rinse to ensure wash solution is removed from the part.   Regenerative heated dry stage is also an option to allow for automated wash, rinse and dry part processing with vertical pass thru doors.
Guillotine Door  Pass Through Spray Cabinet Aqueous Parts Washer
The detailed picture above shows the top, side and bottom spray nozzles to ensure complete part impingement with the part washing alkaline cleaner. The aqueous parts cleaner turntable rotates to further ensure complete part spray coverage.
Roller Conveyor Turntable
A roller conveyor on the turntable can be added along with load and unload roller conveyors to allow for easy automated load, processing and unloading of heavy parts.

Standard Aqueous Parts Washer Equipment
Mechanical
Gear Driven Turntable – no turntable slipping from poor quality belt, chain, rubber tire, brush wheel, etc engagement
Vertical Pump Systems – the ultimate in pump reliability
Mechanical Labyrinth Door Seals ~ No rubberized seals that will leak and need replacing!
Swing away Spray Manifolds – For better impingement on smaller parts
Large Swing-Out Doors for Full Access ~ there is not a more accessible turntable in industry.
Roll-out turntable design – <42″ turntables
V-notch door for >42″ turntables
Stainless Steel bushed nozzles
Option Ready – come ready for simple Plug-N-Play option installation in-field
Electrical
Watlow Heat Elements
Low Water Shut-Off – Protect your heat elements from low water conditions – no more burnt out heating elements from running the system dry
Industrial Control Panel ~ NEMA rated UL / ETL certified electrical panel closure featuring IEC components with rotary illuminated cam switches.
Various Voltages Available ~ 230v 1-phase, 208v 3-phase, 230v 3-phase, 460v 3-phase, 575v 3-phase, etc
Front Loading Spray Parts Washer Cabinet – Open
Optional Equipment:
Rinse stage: re-circulating and non-recirculating
Heated and non heated blow off stages
Stainless steel disc oil skimmer
Oil coalescing systems
Stainless steel construction upgrade – SS cabinet or all wetted components
Auto water fill – ensure the system always has enough water
Filtration system – particulate micron bag filtration
1 or 2 function timers
Sludge extraction systems
Steam exhaust systems
Pump upgrades – higher pressure, higher flowrate
Heat upgrades
Weight capacity upgrades
Energy saving gas and steam heat options vs. electric heat
Insulation packages
Electrical service disconnects
Dual stacking turntable options
Typical Vertical Door Spray Cabinet Industrial Parts Washer Configurations 
Even though the guillotine door pass thru parts washers are built specific to customer application, below are examples of sizing that can be achieved with these systems.  Turntable diameters up to 120" and weight capacities up to 50,000 pounds allow for one of the most diverse pass through spray cabinet parts washer offerings in industry.
 Turntable Diameter(in)

Inside Working Height (in)

 Weight Capacity (lb)

 Pump  (hp)

 Pump Output (psi/gpm)

Solution Capacity (gallons)

 Heat Source (kw)

Turntable Door Design

 Overall Dimensions

(l x w x h)

25

32

1000

3

52/35

95

9

Roll-Out

52 X 43 X 60

31

36

1000

3

52/35

140

12

Roll-Out

55 X 49 X 64

 31

 42

 1000

5

 80/85

 140

 12

 Roll-Out

 55 x 49 x 70

31

48

1000

5

80/85

140

12

Roll-Out

55 X 49 X 76

36

42

1500

5

80/85

180

18

Roll-Out

67 X 54 X 76

36

48

1500

5

80/85

180

18

Roll-Out

67 X 54 X 82

36

60

1500

7.5

75/120

180

18

Roll-Out

67 X 54 X 94

42

55

1500

7.5

75/120

240

18

Roll-Out

73 X 63 X 90

42

60

1500

7.5

75/120

240

18

Roll-Out

73 X 63 X 95

42

72

1500

10

75/150

240

36

"V" Notch tower

73 x 63 x 107

50

60

1500

15

75/200

300

36

V" Notch tower

69 X 81 X 95

50

72

1500

15

75/200

300

36

V" Notch tower

69 X 81 X 107

60

60

1500

15

75/200

400

36

V" Notch tower

79 X 91 X 96

60

72

1500

15

75/200

400

36

V" Notch tower

79 X 91 X 108

72

60

2000

15

75/200

550

36

V" Notch tower

91 X 103 X 97

72

72

2000

15

75/200

550

36

V" Notch tower

91 X 103 X 109