Best Technology offers the highest quality industrial parts washing machines in industry and the specifications below prove it. Whether your part cleaning application is very dirty parts with grease and grime or you are cleaning industrial machine components, these conveyor parts washers are able to wash, rinse and dry up to your most demanding parts washing applications.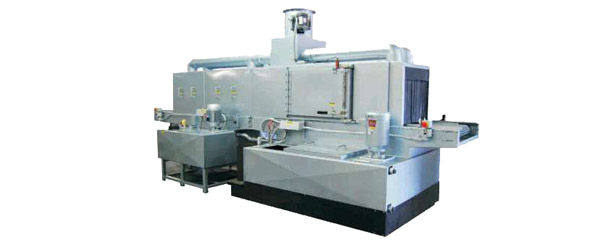 Standard Equipment for Inline / Pass Through Tunnel Conveyor Parts Washers
Mechanical-
Vertical Parts Washer Pump Systems – the ultimate in pump reliability
Galvanized 1″ x 1″ flat wire belt
Easy ergonomic loading
Large tunnel opening
24″ wide opening section
Variable speed conveyor
Lift-off tunnel access panels
Modular design – easily add rinse, dry sections
200 gallon solution tank
Fully insulated solution tanks
Low energy consumption design
Fork truck access openings
Drain and overflow ports
E-stop at load and unload
Option Ready – come ready for simple Plug-N-Play option installation in-field
Electrical-
Watlow Heat Elements
IEC relay logic controls
Low Water Shut-Off – Protect your heat elements from low water conditions – no more burnt out heating elements from running the system dry
Industrial Control Panel ~ NEMA rated electrical closure featuring IEC components with rotary illuminated cam switches. Meets NFPA wiring standards for numbering, sizing, color coding, and overload protection.
Various Voltages Available ~ 230v 1-phase, 208v 3-phase, 230v 3-phase, 460v 3-phase, 575v 3-phase, Canadian CSA standards and Industrial Upgrades.
Optional Inline Parts Washer Equipment:
Rinse stage: re-circulating and non-recirculating
Heated and non heated blow off stages
Auto loading and unloading
Stainless steel disc oil skimmer
Oil coalescing systems
Stainless steel construction upgrade – SS cabinet or all wetted components
Auto water fill – ensure the system always has enough water
Filtration system – particulate micron bag filtration
1 or 2 function timers
Sludge extraction systems
Steam exhaust and mist extraction systems
Parts washer pump upgrades – higher pressure, higher flowrate
Heat upgrades
Weight capacity upgrades
Energy saving gas and steam heat options vs. electric heat
Electrical service disconnects
Auto chemistry add systems
Standalone dryer and oven configurations
Common Applications for Inline Parts Washers
This superior line part cleaning, rinsing and drying action of our inline conveyor parts washers make them excellent industrial parts washing machines for many applications:
Removal of oil and chips from machined components, castings and housings.
Automotive engine and transmission rebuild and manufacturing cleaning
Cleaning prior to powder coating, welding, deburring, brazing, blasting or other surface cleanliness critical post process applications.
Industrial parts washing of castings, stamped parts, machined parts, and other parts with true oils or water soluble coolants
Typical Configurations (Custom Sizing Available) for Inline / Pass Through Tunnel Conveyor Parts Washers
With the below standard models to choose from and custom units with your specific requirements, you can choose from one of the most diverse inline parts washer offerings in industry.
| | | | | | | | | |
| --- | --- | --- | --- | --- | --- | --- | --- | --- |
| Model | Stages(s) | Weight Capacity (lb) | Pump (hp) | Pump Output (psi/gpm) | Solution Capacity (gallons) | Blower Size (hp) | Tunnel Dimensions (w x h) inches | Overall Dimensions (l x w x h) inches |
| 1000 | Wash Only | 1000 | 5 Vertical | 60/80 | 200 | N/A | 24 x 15 | 84 X 51 X 72 |
| 1500 | Wash/ Blow-Off | 1000 | 5 Vertical | 60/80 | 200 | 8.5 Regen | 24 x 15 | 132 X 51 X 72 |
| 1500H | Wash/Heated Blow-Off | 1000 | 5 Vertical | 60/80 | 200 | 8.5 Regen Heated | 24 x 15 | 204 X 51 X 72 |
| 2000 | Wash/Rinse | 1000 | 5 Vertical | 60/80 | 200ea | N/A | 24 x 15 | 168 X 51 X 72 |
| 3000 | Wash/Rinse/Blow-Off | 1500 | 5 Vertical | 60/80 | 200ea | 8.5 Regen | 24 x 15 | 216 X 51 X 72 |
| 3000H | Wash/Rinse/Heated Blow-Off | | 5 Vertical | 60/80 | 200ea | 8.5 Regen Heated | 24 x 15 | 288 X 51 X 72 |