Dry electropolishing is a revolutionary new surface finishing process for polishing metal parts. Dry electropolishing removes peaks of roughness from a metal surface, without affecting the shape or overall dimensions of the metal part. The resulting surface finish is shiny, smooth and ultra-clean.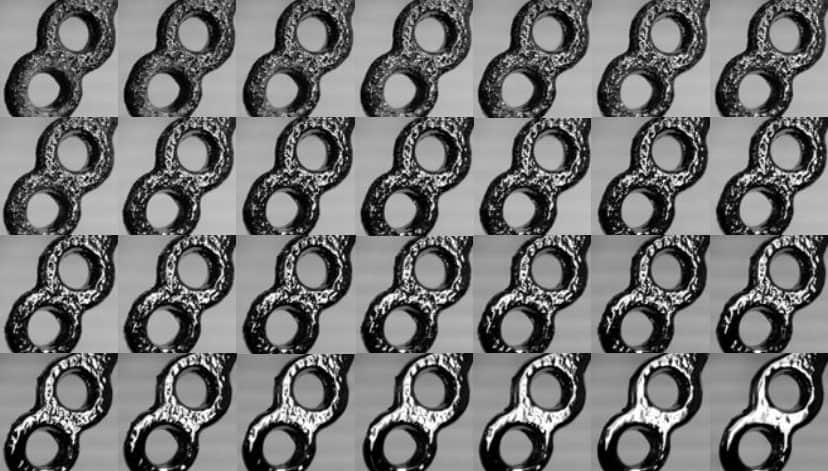 Dry electropolishing is a non-abrasive, electrochemical finishing process. As such it is particularly well-suited for polishing and deburring fragile parts, and for parts that have complex geometries. It offers mirror finishing for a broad range of machined, sintered and die-cast metals, including titanium and nitinol.
What makes dry electropolishing different?
Dry electropolishing uses electrolyte beads in place of liquid electrolyte solution.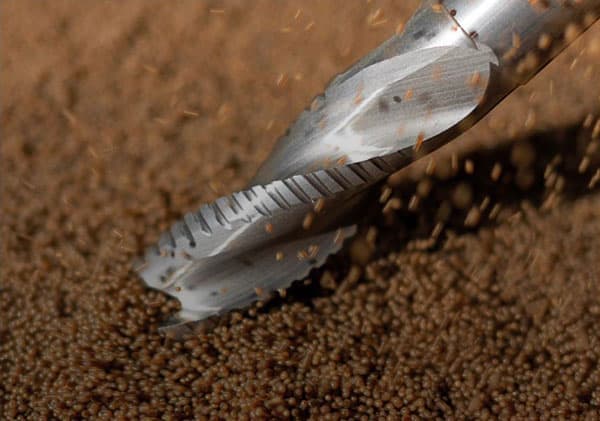 While traditional electropolishing uses a liquid electrolyte bath, dry electropolishing immerses metal parts in a drum of porous, sponge-like, solid electrolyte beads. These tiny beads range in size from 0.1 mm to 1 mm, depending on the application.
How does dry electropolishing work?
Dry electropolishing works on principles similar to those of traditional electropolishing, using electric current to dissolve or transport ions from the metal surface into an electrolyte.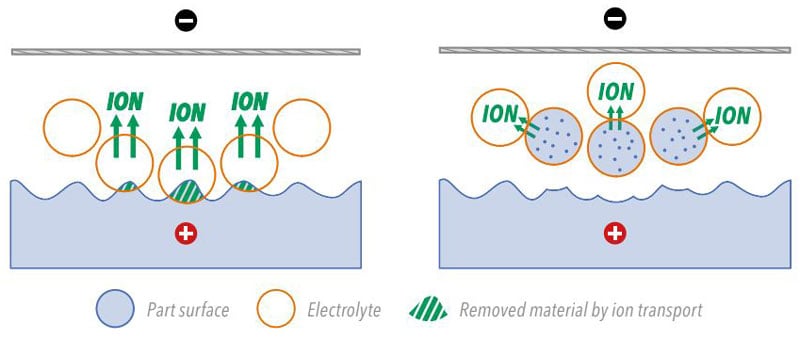 As with traditional electropolishing, the metal work-piece serves as the positively-charged anode in an electrolytic reaction. The drum containing the electrolyte beads serves as the negatively-charged cathode.
Metal work-pieces are attached to a clamp and then submerged in the drum with electrolyte beads. The positively-charged arm holding the work-pieces moves with a continuous planetary rotation action and vertical up-and-down movement to expose all areas of the work-pieces to the electrolyte beads evenly.
When electrical current is applied, it conducts from the anode to the cathode through the electrolyte beads. The electrical current causes ions on the surface of metal parts to oxidize and become absorbed by the electrolyte beads at the point of physical contact.
The process depends upon electrolyte beads physically contacting the peaks only, and not the valleys. The spherical shape and size of electrolyte beads ensure that only the burrs and other peaks of surface roughness receive electrical current, and not the valleys. The preferential removal of protruding portions of the surface structure leads to a smoother metal surface.


What is an electrolyte bead?
Electrolyte beads are the revolutionary alternative to liquid electrolyte. Electrolyte beads are tiny, porous, sponge-like solid spheres that entrap an electrolytic additive within.
Electrolyte beads are safer and less hazardous for workers to handle, providing a far better safety profile than the tank of liquid sulfuric acid and phosphoric acid used in traditional electropolishing.
Electrolyte beads range in size from 0.1 mm to 1 mm. The smaller the bead, the shinier the finish. If your metal part requires a mirror finish, you'll want to use the smallest electrolyte beads.
Smaller beads also provide better performance on parts with complex geometry. The smaller the bead, the more intricate the part geometry that can be polished.
Different metals require different electrolyte beads. Electrolyte beads are currently available in formulations designed for the following metals:
Electrolyte beads designed for
Will also work with
Cobalt chrome (CoCr)
Inconel
Copper alloys
Nickel alloys
Stainless Steel (SS)
Inconel
Copper alloys
Nickel alloys
Carbon steel
Titanium (Ti)
Nitinol
Hard Metals
Tool steel
Tungsten carbide
Top Benefits of Dry Electropolishing
1. Safe and environmentally friendly
The electrolyte beads used in dry electropolishing are safer and less hazardous for workers to handle. No special storage for hazardous chemicals is required. The operator typically has no direct physical contact with the electrolyte beads. But if a part falls into the electrolyte beads, then wearing rubber gloves to retrieve it is recommended, as prolonged skin contact can cause mild sensitivity.
Using electrolyte beads reduces risk and reduces the overhead of safety procedures and regulatory compliance associated with the chemistry of traditional liquid electropolishing. In addition, the risk of contamination of the environment is much lower with electrolyte beads than with the liquid electrolyte of traditional electropolishing.
Dry electropolishing does not require special ventilation, unless the room has unusually low airflow. Since ventilation can cost as much as the traditional electropolishing equipment itself, this benefit alone represents a huge savings over traditional electropolishing.
For medical device manufacturers, the dry electropolishing process offers proven biocompatibility. The dry electropolishing process can be considered non-cytotoxic, based on a study performed to the specifications of standard UNE-EN ISO 10993-5:2009, Biological evaluation of medical devices – Part 5: Tests for in vitro cytotoxicity (ISO 10993-5:2009). Manufacturers still need to perform due diligence to confirm that their specific parts are non-cytotoxic, but the process itself meets the stringent standards required for dental and orthopedic implants.
2. Delivers a mirror finish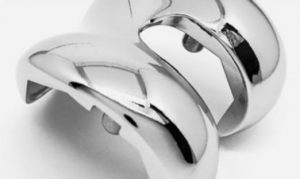 Dry electropolishing makes shinier parts possible. Dry electropolishing can improve surface roughness (Ra, or roughness average) by a factor of 10. So if you have a freshly-machined part with a surface roughness of 80 Ra, you can use dry electropolishing to get that part to a surface roughness of 8 Ra. In contrast, the best improvement possible with traditional liquid electropolishing is 50%, or 40 Ra in this example.
This improvement represents a huge leap forward in surface polishing effectiveness: The difference between 8 Ra and 40 Ra is a quality difference you can see.
Best of all, you can achieve a mirror finish in one step, rather than the multiple process steps typically required in mechanical or abrasive finishing.
3. Works where traditional electropolishing doesn't
The dry electropolishing process brings titanium electropolishing and nitinol electropolishing into reach for smaller manufacturers. Until now, titanium electropolishing and nitinol electropolish processing could not be accomplished without significant hazards and near-cryogenic process temperatures, since the electrolyte used in traditional liquid electropolishing for these metals is flammable at room temperature.
Dry electropolishing overcomes this barrier with its new electrolyte beads designed specifically for titanium and nitinol and requiring no special handling. Electrolyte beads for titanium may be used and safely stored at room temperature.
Dry electropolishing vs. Traditional liquid electropolishing
| | | |
| --- | --- | --- |
| | Dry Electropolishing | Traditional Liquid Electropolishing |
| Safety | Safe for workers to handle | Hazardous handling required for electrolyte |
| Ventilation | Additional ventilation rarely needed | Additional ventilation needed for most electrolytes |
| Biocompatibility | Biocompatible, non-cytotoxic process suitable for medical implants | Biocompatible, non-cytotoxic process suitable for medical implants |
| Smoothness | Improves surface roughness by a factor of 10; e.g., from 80 Ra to 8 Ra | Improves surface roughness by a factor of 2; e.g., from 80 Ra to 40 Ra |
| Titanium and Nitinol Compatibility | Compatible, no chillers required | Only compatible if using chillers to prevent combustion of electrolyte |
| Complex Geometries | Well-suited | Good, but may have difficulty with internal surfaces on very complex geometry |
| Fragile Parts | Well-suited | Well-suited |
| Fixturing | Can be complex | Can be complex |
| Surface Preparation | Basic cleaning to remove significant oils | Precision cleaning to remove all oils |
| Processing Time | Varies from 5 minutes to 1 hour | Varies from 10 seconds to 20 minutes |
| Material Removal | Removes only from peaks of roughness without changing overall dimensions. | Commonly removes 0.0003″ to 0.0007″. May remove as little as 0.0001" or as much as 0.005". |
| Over-Processing | Difficult to over-process | Easier to over-process and remove too much material |
| Size Control | Maintains thickness of work-piece | Can be used to intentionally reduce size of work-piece if needed |
| Post-Processing | Steam rinse after processing | Post Dip or Post Treatment required to remove residual electrolyte and prevent spotting |
| Corrosion Resistance | Excellent | Good |
| Environment | Less risk | More risk due to liquid electrolyte |
| Disposal | Reduced cost of waste disposal typically, due to smaller volume and weight of waste | Greater cost for hazardous waste disposal of used liquid electrolyte |
Dry electropolishing offers a more even, homogeneous polishing compared to traditional electropolishing. The flow of electricity is more diffused through the electrolyte beads, rather than the straight line taken through a liquid electrolyte. The result is a consistent surface finish across the entire work-piece.
Dry electropolishing vs. Mechanical polishing
Mechanical polishing, also known as abrasive polishing or tumbling or mass finishing, is a polishing process that erodes the surface of a metal part through friction. Examples of mechanical polishing include centrifugal barrel tumbling and vibratory bowl polishing.
Dry electropolishing, in contrast, polishes the metal surface electrochemically via ion transport rather than through friction.
| | | |
| --- | --- | --- |
| | Dry Electropolishing | Mechanical Polishing |
| Media | Uses electrolyte beads to facilitate electrochemical reaction | Uses tumbling media for abrasive action |
| Edge Integrity | Maintained | Rounded corners |
| Complex Geometries | Well-suited | Difficult to polish in small corners and internal cavities |
| Fragile Parts | Well-suited | Testing required to determine if compatible |
| Fixturing | Can be complex | None required |
| Quantities | Each part must be individually attached to a clamp for processing | Can process many small parts at once with minimal handling of individual parts |
| Processing time | Varies from 5 minutes to 1 hour | 15-20 minutes for centrifugal barrel tumbling |
| Post-Processing | Steam rinse after processing | Water rinse |
| Corrosion Resistance | Excellent | Degraded due to abrasive action |
| Safety | Safe for workers to handle | Safe for workers to handle |
Unlike mechanical polishing, dry electropolishing maintains the edge integrity of the work-piece through selective removal of rough peaks. By using electrolyte beads with a diameter greater than the peaks of roughness, material removal occurs only on the peaks of surface roughness and not the valleys. Corners remain sharp, not rounded. In addition, dry electropolishing does not generate dust or noise.
Electropolishing internal dimensions
Polishing the interior of a metal tube often represents a challenge. Mechanical polishing has difficulty applying enough pressure to the interior of a tube without over-processing the exterior surface. Traditional electropolishing requires precisely-placed cathodes in each individual metal part.
With dry electropolishing, an internal cathode (wire) is placed in the metal tube to allow direct conductivity. The distance of the cathode to the metal surface is less critical than with traditional liquid electropolishing. Dry electropolishing opens the door for stent medical device manufacturers, for example, to electropolish stents with greater ease. 
Even with the improvements offered by dry electropolishing, limitations still exist for electropolishing the interior diameter (ID) of a metal tube. Especially small tubes may not have enough room for electrolyte beads to enter. The geometry of the part may prevent adequate flow of electrolyte beads to the interior of the piece.
To learn if your metal parts will work with dry electropolishing, contact an applications engineer at Best Technology.
Dry Electropolishing Process Steps
What is the process for dry electropolishing? Because dry electropolishing is a new technology, no industry standard currently exists. The closest applicable industry standard is ASTM B912, Passivation of Stainless Steels Using Electropolishing. This standard specifies three phases, which can be applied as a framework for the dry electropolishing process:
Surface Preparation
Electropolishing
Post Dip, or Post Treatment.
1. Surface Preparation
In this phase, remove any significant oil and grease that may interfere with flow of electrical current to the metal surface. Parts need not be as clean as with traditional electropolishing, but all trapped water must be removed.
2. Electropolishing
In this phase, the actual electropolishing is performed to smooth, brighten and deburr the metal.
Affix the metal parts to the holder/fixture and attach the holder to the dry electropolishing machine.
Select a program from the available options, based on the material to be polished. For a higher-gloss mirror finish, use a smaller electrolyte bead for a longer time. The longer the processing time, the shinier the finish.

It should be noted that dry electropolishing is not completely dry. The electropolishing machine does spray a small amount of DI (deionized) water on the material during processing. The DI water softens the sponge-like electrolyte beads so that the electrolyte at the center is more uniformly applied to the metal surface. So in this context, "dry" is a relative term in comparison to a tank filled with liquid electrolyte.

Humidity is a key factor in the dry electropolishing process. The electrical current and the humidity are directly proportional. Every 2 minutes during the cycle, a humidity sensor on the holder evaluates the humidity. Too much moisture can make the material removal too aggressive and result in an inconsistent finish, so the machine adjusts for humidity level accordingly.

Run the cycle. Processing time varies from 5 minutes to 1 hour.
3. Post Treatment
Instead of an acid dip typically used after processing in traditional liquid electropolishing, a simple rinse is all that's needed to remove any residual electrolyte with dry electropolishing. The rinse can take any of the following forms:
Water rinse
Steam rinse
Ultrasonic water rinse.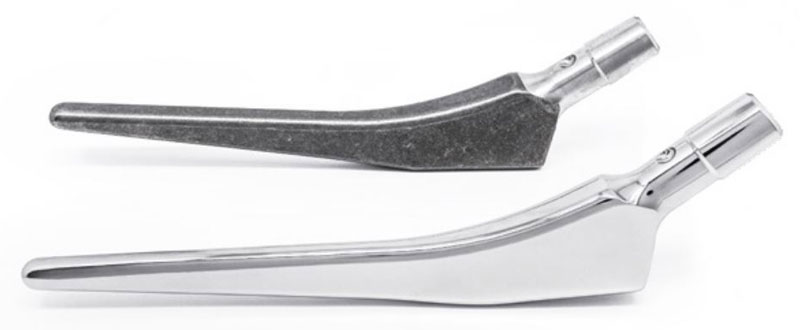 Common Applications
Dry electropolishing is compatible with a wide range of metals, including:
Stainless steel
Cobalt chrome
Carbon steel
Copper alloys
Nickel alloys
Carbides
Titanium
Nitinol
Dry electropolishing is particularly well-suited for manufacturers of medical devices such as orthopedic implants, dental appliances and stents, where dimensional tolerances require high-precision polishing. Common uses for dry electropolishing include:
Dental hardware
Surgical instruments
Orthopedic implants – Hip, knee and ankle joints
Skull, jaw and bone plates
Titanium bone screws
Nitinol stents
Dry electropolishing is also well-suited for the aerospace industry, where smoother surfaces are critical for performance. Dry electropolishing can achieve a roughness average (Ra) of 3.5 microinches, or 0.09 micrometers. The process delivers mirror finishes with predictable costs and repeatable industrial processes.
Tips for best results with dry electropolishing
Know your material. The composition of the metal is crucial in determining which electrolyte beads to use. In addition, know the manufacturing process used to produce the metal piece. A laser-sintered, additive-manufactured piece tends to be rougher than a cast piece, and therefore calls for a slightly higher voltage.
Know the surface roughness. Understand not only the expected surface roughness (Ra) of the finished piece, but also the surface roughness of the piece before you start. These factors affect the cycle time, voltage and electrolyte bead size needed for optimal results.
Recognize the geometry. Be aware that the size, shape and complexity of the metal work-piece can affect the flow of electrolyte beads and electricity through the part. The configuration of fixturing and racking is something of an art in electropolishing, and may require some experimentation to identify optimal setup for a new part type.
Titanium runs hotter. Electrolyte beads for titanium are consumed at about twice the rate of other metals due to the higher heat. For other metals, each drum of electrolyte beads runs for about 100 hours. For titanium, the average life of the electrolyte beads is about 50 hours. The increased heat causes the electrolyte beads to dry out faster.
Dry electropolishing equipment
Best Technology is among the first to offer dry electropolishing equipment in the United States. Our applications engineers bring over 30 years of experience in electropolishing to our recommendations for system design. We're ready to help your team integrate this new technology into your manufacturing plant.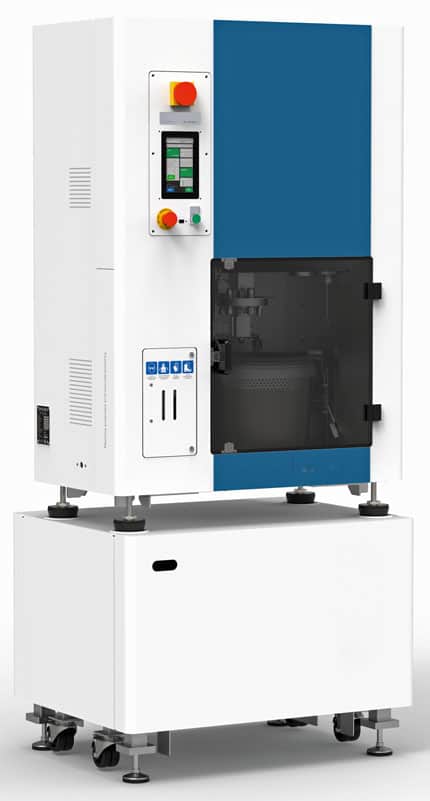 The 100H is a compact dry electropolishing machine designed for high-value, very small, fragile and delicate metal parts with high-precision surface finishing requirements. The system immerses parts in a 16-liter drum of electrolyte beads while applying electrical current. The arm holding the parts jogs them with a combination of planetary rotation and vertical up-and-down motion inside the drum.
To learn more, please see our Dry Electropolishing Equipment page, or contact us for more information.
Test your parts for free
Contact an electropolishing expert to learn how you can receive a test sample of your metal parts electropolished for free. See the quality difference, and learn how you can bring dry electropolishing to your company. Contact us today!