Electropolishing systems ensure repeatable, micro-tolerance surface roughness finishing for industrial, medical device and aerospace metal parts. Stainless steel electropolishing systems produce a bright, corrosion-resistant, highly-polished surface, reducing the expense and surpassing the quality of standard mechanical polishing.
Electropolishing systems are available in a variety of configurations:
Benchtop – Benchtop or tabletop electropolishing systems are well-suited for prototyping and smaller-scale lab work. For more details on this type of electropolish system, please see our page on tabletop electropolishing equipment.
Wet Bench – Electropolishing wet benches offer an integrated bench for wet processing and chemical handling with electropolishing. For more details on this type of electropolish system, please see our page on electropolishing wet benches.
Floor-standing – Floor-standing electropolish systems represent the largest scale of electropolishing systems available, and are best suited for large-scale production or when large parts need to be electropolished. On this page, we will be looking at this type of large-scale electropolishing system.
Video: Large scale electropolish system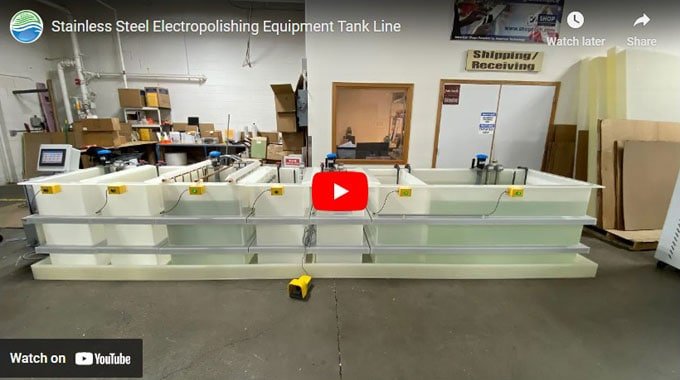 Equipment for electropolishing stainless steel
All electropolishing systems require the following equipment:
Electropolishing tank – Most tanks offered by Best Technology are polypropylene or coated stainless steel construction and can be made into any size from 1 gallon and up.
Power supply – The power supply for direct current is called a rectifier. Rectifiers for electropolishing systems can range from 12V dc to 50V dc or more, and systems we offer range from 10A to thousands of amps, depending on system requirements. The amount of voltage needed depends on the size of the tank, and the amps needed to electropolish the part.
Racks – Racks for an electropolishing system not only hold the parts in place during processing, but also provide an electrical connection to each part from the rectifier. Most often these custom racks are made of copper (or a copper core) and include titanium or similar clips for holding the parts in place. Because fixturing can be complex, Best Technology recommends that fixturing and racking be customer-driven on a per-part basis.
Copper Bus Bar with Stainless Steel Cathodes for Electropolishing System
Electropolishing, like most surface treatments, requires proper surface preparation prior to the process, and also requires rinsing and other steps following the actual electropolishing process. Typical systems include parts washing and rinsing stages prior to the electropolishing step, and multiple rinses as well as post-process acid dip. For example, one large-scale electropolish system utilizes the following process steps:
Alkaline clean
Ambient rinse
Electropolish
Boil-off spray rinse to evaporate rinse water and concentrate drag-out electrolyte for easy waste disposal
Neutralizing nitric/citric acid to neutralize any remaining electropolishing electrolyte on the part and prevent spotting
Ambient rinse
Heated cascade rinse to ensure quick flash drying of parts.
Large Scale Electropolishing System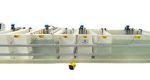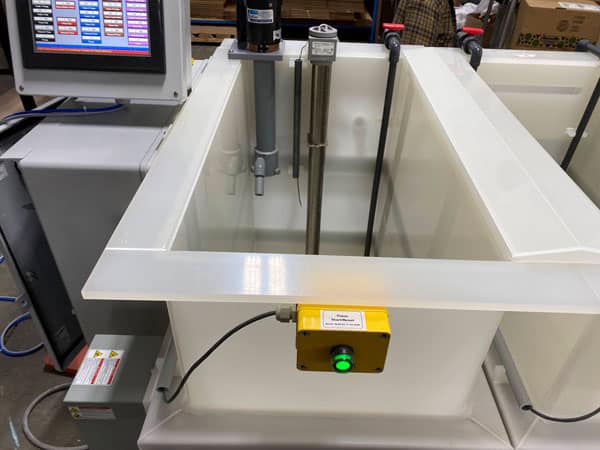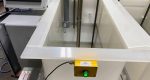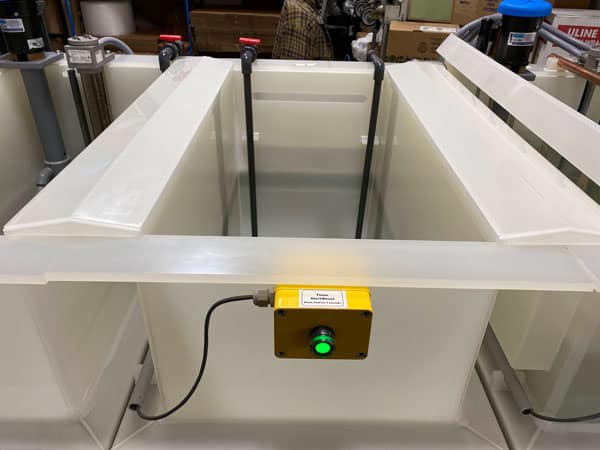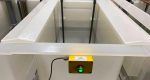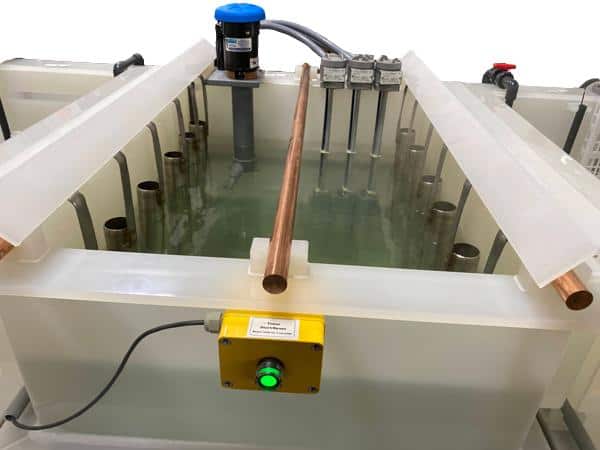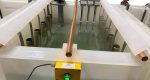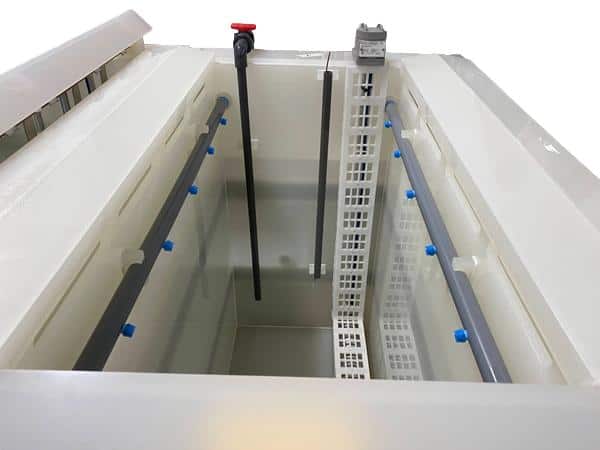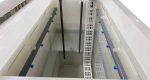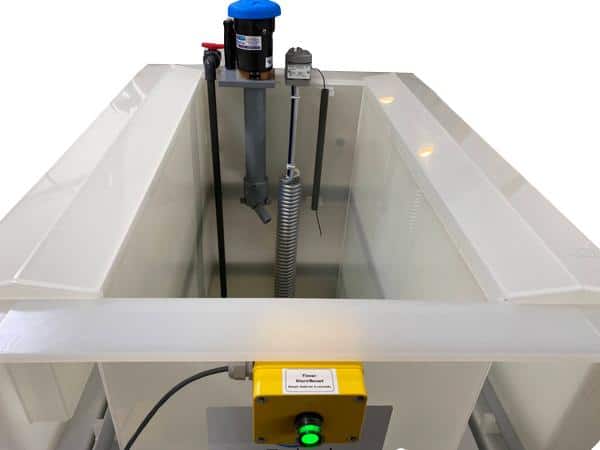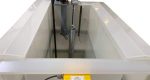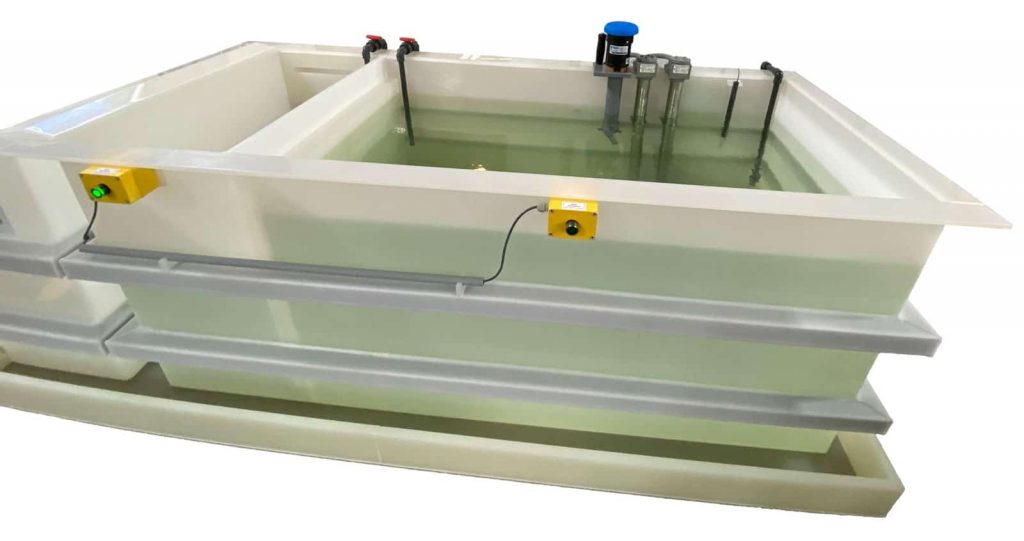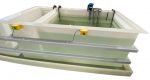 At Best Technology, each large-scale electropolishing system is custom-designed to fit the application and to best meet production needs. Popular options include:
Digital timers
Temperature controls
Drip-diverter covers
Covers for tanks when not in use
Flow restrictors for rinses
Some large-scale electropolishing systems use an overhead hoist or jib crane to transfer parts from one process step to the next. Best Technology does not supply hoists or jib cranes, and recommends working with local suppliers of overhead hoists or cranes when this is needed.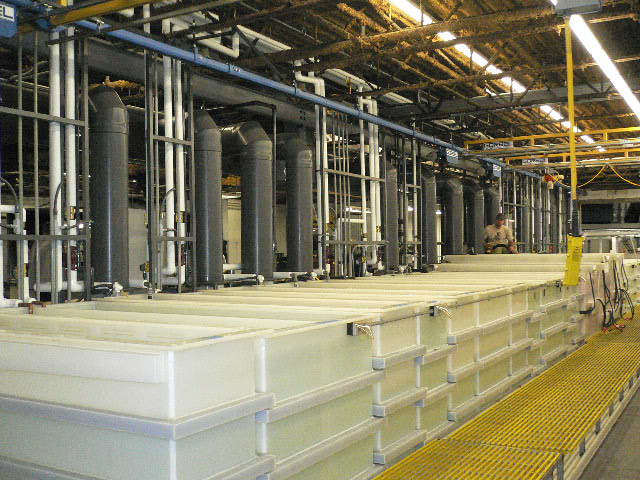 Common applications for large-scale electropolishing systems
Medical device polishing and deburring of stainless steel and cobalt chrome
Industrial stainless steel 300 series polishing to reduce surface roughness and burr removal
Reducing friction and ensuring top performance on flight-critical aerospace parts
For more about applications for electropolishing of stainless steel and other metals, see What is electropolishing?
How to identify when your company needs an electropolishing system
Many companies looking to purchase an electropolishing system are currently outsourcing their electropolishing to a service provider, and would like to bring the process in-house. This can occur for a variety of reasons.
Quality
Complexity of parts can make in-house electropolishing more cost-effective, as the fixturing required for complex geometry can become expensive. Other common issues with outsourcing electropolishing include rack marks, uneven finish, high rate of scrapped parts, and inadequate packaging that results in damage during transport.
An electropolishing system from Best Technology removes risk of damage by a service provider, and empowers you to apply your own business processes and quality procedures that ensure better quality results.
Lead time
Many companies start looking to purchase an electropolishing system when their service provider's slow lead time causes them to miss customer deadlines. Bringing the electropolishing process in-house eliminates transportation time to and from the service provider, and puts control of the electropolishing schedule back in your hands.
Volume
More and larger orders from customers is a good problem to have! For some companies, increased business and an increased volume of parts make the purchase of an electropolishing system the most cost effective option.
For companies already doing in-house electropolishing on a small scale, an increased volume of parts or larger-sized parts may mean it's time to make the move to a large-scale electropolishing system.
Video: Electropolishing equipment for stainless steel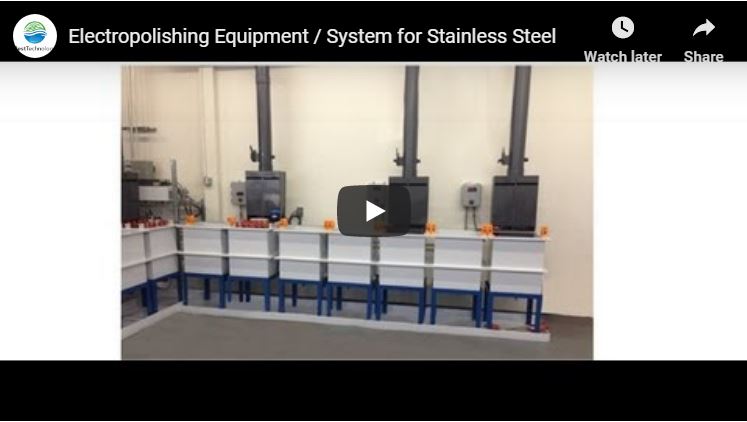 Specifications for designing an electropolishing system
When designing an electropolishing system, applications engineers need the following information:
Specific alloy of metal to be processed. If stainless steel, which type or types of stainless steel?
Electrolyte chemistry. The type of metal alloy determines the electrolyte chemistry, another required specification for designing an electropolish system. Electrolyte chemistry can be compared to fuel in a truck, with the electropolishing system as the truck. When building the truck, you need to know if it's expected to run on diesel or regular gasoline. In the same way, when building an electropolishing system, engineers need to know the electrolyte chemistry that the system will run on.
Total surface area to be processed at one time. This information contributes to the size of the rectifier, which in turn determines the size of the electropolishing tank.
Specifications or standards needing compliance. The most commonly used industry standard for electropolishing of stainless steel is ASTM B912. Compliance with this standard will contribute to defining which process steps to include in an electropolish system.
Cathode Hangers for Electropolishing Stainless Steel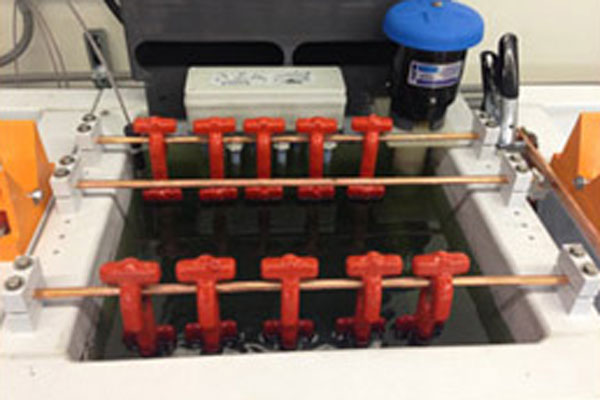 What to watch for when designing an electropolishing system
Heat displacement is the most overlooked point in system design. When sizing an electropolishing tank, engineers must be careful to take into account the heat displacement of the electrolyte solution. Electrical current applied to the electrolyte chemistry produces heat. A tank that is too small or a rectifier that is too big may boil the electrolyte or cause catastrophic damage to the tank, and thus endanger workers.
Part size creep is another challenge for system design. This occurs when trying to process larger parts than a system is designed for, or significantly greater quantities per cycle. This can result in much longer processing times and uneven quality. If a system is expected to handle larger parts in the future, it is better to design the system with that in mind than deal with unnecessarily long processing times later.
Electropolishing System for Stainless Steel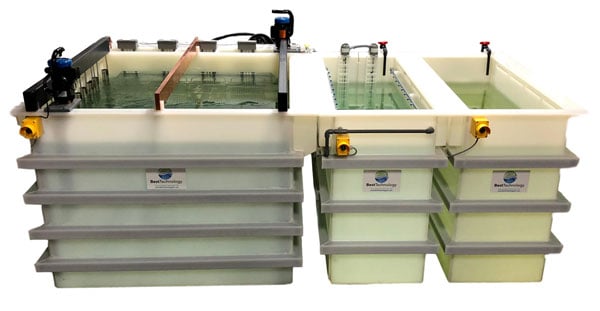 Contact an Electropolishing Expert
Ready to add an electropolishing system to your company's manufacturing floor? At Best Technology, our applications engineers have over 30 years' experience in designing electropolishing systems that integrate with existing workflows and allow for future expansions. Contact an electropolishing expert today to discuss your project and receive a free quote.