Application
The electropolishing wet bench has two CPVC lined polypropylene tanks to electropolish and spray rinse rinse for use with government and military research projects. This open top electropolish clean bench with fume extraction receives parts after cleaning via overhead jib crane hoist.
The wet process station has an external 18V, 500 amp rectifier power supply which connects to fixed, hanging titanium cathode terminal running along a copper buss bar.  A foot pedal activates the rectifier programmed recipe cycle.  A separate foot pedal allows for hands on rinsing in the rinse tank.
The page on How Electropolishing Works provides detailed explanation of electropolishing and the electro-chemical process used to uniformly remove material from stainless steel.
EP System Open Top Wet Process Station with Spray Rinse Video
Electropolishing Titanium Cathode on Copper Buss Bar with Integrated Fume Extraction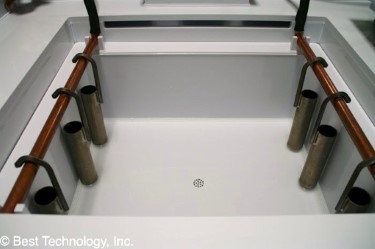 Removable hanging titanium cathodes allow for customization of tooling and easy replacement.
Spray Rinse Tank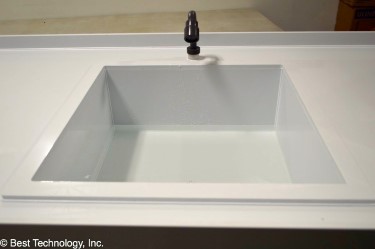 The retractable spray rinse header is long enough to spray off parts over the electropolishing tank and  complete coverage of the parts & fixture in the rinse tank.
EP System Recitifer Power Supply
The electropolishing clean bench is open top for easy overhead part loading, but the EP tank must be ventilated to ensure vapors do not come in contact with the operator or surrounding surfaces.
Although the electropolishing process technically removes free irons from the surface to the level that some would say the part is passivated, it actually removes not only free irons but also chromium and therefore, needs to be acid passivated to remove free irons while leaving chromium and forming a truly passivated layer.
Industry
Military and Government Research
Applicable Systems
Wet Benches for Electropolishing Stainless Steel