Electropolishing machines produce a bright, highly-polished, smooth finish on metal objects. Our electropolishing equipment offers the assurance of repeatable, micro-tolerance surface finishing for stainless steel, cobalt chrome and other materials. The high-quality, consistent results aid in process validation for regulatory and industry requirements.
Wet Bench Electropolishing Machines
Electropolishing wet benches offer the convenience and efficiency of an all-in-one, multi-tank system that combines washing, rinsing, electropolishing, and drying into a single, unified piece of equipment.
An electropolishing wet bench, also known as an electropolishing console, stands on the floor, in contrast to benchtop electropolishers that sit on a bench or table. With a wet bench, the bench is integrated into the equipment design. Lockable casters on the wet bench make it possible to wheel the entire system to another room if necessary, and then to lock the system in place so it doesn't move around during use.
Wet benches also provide the convenience of plumbing and electrical connections in one easy location, rather than wiring and plumbing each tank individually.
Electropolishing wet benches are intended for use in production, not just occasional laboratory use or for prototyping. Our electropolishing machines are built with sturdy materials to withstand the rigors of daily use in full-scale production.
Construction Materials for Electropolishing Machines
Typical construction materials are polypropylene for the electropolishing tank and stainless steel for the bench, but other configurations are available. Alternate construction materials for the electropolishing tank include PVDF (also known as Kynar®) and CPVC (also known as Chlorinated PVC or PVC-C), depending on the chemical-handling requirements for the electrolyte.
Our application engineers bring decades of experience to the design of each electropolishing system. Best Technology's electropolishing wet benches are custom designed according to each client's specific application, providing maximum flexibility. Custom specifications include:
Size of rectifier and amperage range
Tank volume and dimensions
Number and placement of cathodes.
Contact an electropolishing expert today to start designing your electropolishing wet bench.
Electropolishing Wet Bench with Ultrasonic Cleaning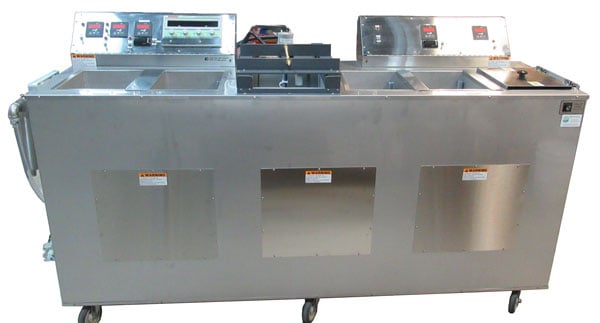 This all-in-one electropolishing wet bench incorporates 6 stations into a single console, to perform the following functions:
Ultrasonic Washing
Ultrasonic Rinsing
Electropolishing
Dead Rinsing / Static Dip
Ultrasonic Rinsing
Heated-Air Drying.
Tank capacity for each tank is 6 gallons, except for the electropolishing tank, which has a capacity of 11 gallons, to accommodate heat displacement of the electrolyte solution. Each ultrasonic tank has a watt density of 100 watts per gallon, or 600 watts per tank. Each rinse tank uses an overflow rinse to drain debris from the surface through an overflow standpipe.
Constant-Current Rectifier for Precision Polishing
With 200 amps of high-precision electropolishing power, the specialized rectifier on this unit provides true constant current or constant voltage to ensure precise, repeatable material removal for each workpiece. The rectifier can control the current from 0-200 amps, or it can control the voltage from 0-30 volts of DC power. The digital timer can control the electropolisher to a precision of 0.1 second.
The electropolishing tank includes a heater that can generate 1000 watts to heat the electrolyte solution to the desired range of 170 °F – 180 °F, and a digital temperature controller. For safety the heater has a high-temperature shutoff switch that turns off the unit in the event of overheating.
Electropolishing machines use inert materials for cathodes and anode (workpiece) holders. This machine features a titanium cathode and titanium clips for workpiece holding.
Lip Ventilation for Worker Safety
Many electrolyte chemistries use phosphoric acid and sulfuric acid and can pose a fume hazard for electropolishing equipment and operators. One method to contain electrolyte fumes is to use lip ventilation on the electropolishing tank.
Lip ventilation provides an air channel along the edges at the top of the electropolish process tank. The air channels connect to an exhaust vent at the back of the tank. By connecting this vent to customer-supplied blowers and ventilation, the fumes can be processed through facility exhaust, allowing the machine operator to safely electropolish parts in an open tank.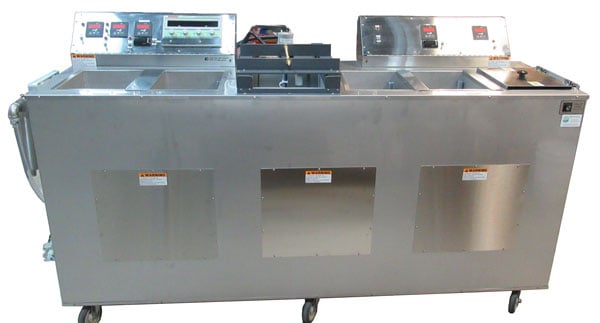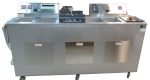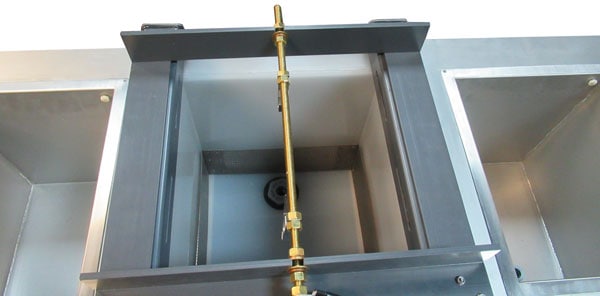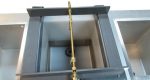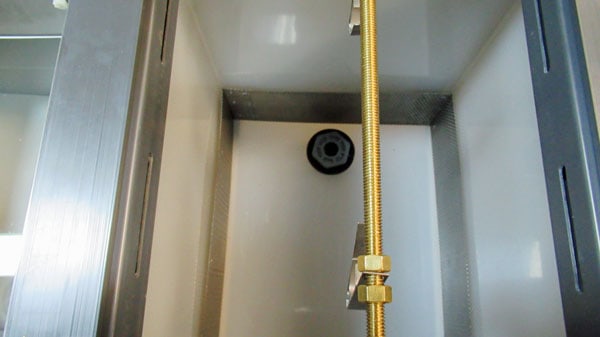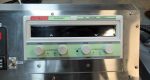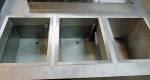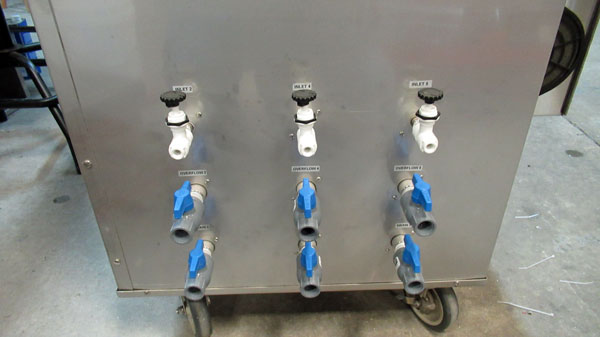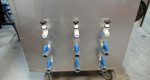 Example process steps for electropolishing equipment in a wet bench:
Ultrasonic alkaline cleaning – Remove any oils, grease, fingerprints, etc.
Ultrasonic rinse – Remove alkaline solution
Electropolish – Apply electrochemical polish process
Drag-out (Dip) – Remove drag-out electrolyte via overflow rinse; also known as dead rinse or static dip
Ultrasonic rinse – Remove additional electrolyte
Hot-air drying – Remove byproducts of sulfates, phosphates and chromates of heavy metals, which are difficult to remove by water rinsing alone.
Note that some electropolishing systems require the use of a dip tank or dead rinse, as in step 4 above. The dead rinse captures most of the used electrolyte solution. Because of the dissolved metal in the electrolyte, it must be disposed of safely by a service like Safety-Kleen, and not simply flushed down a drain.
For more information on ultrasonic cleaning and ultrasonic rinsing, please see our pages on How Ultrasonic Cleaners Work.
Need Larger Electropolishing Tanks?
Electropolishing machines on this page feature multiple tanks integrated into a single unit known as a wet bench or console. Some large-scale applications require a separate piece of equipment for each process step, with each tank a separate floor-standing unit and the series of tanks forming an electropolishing line.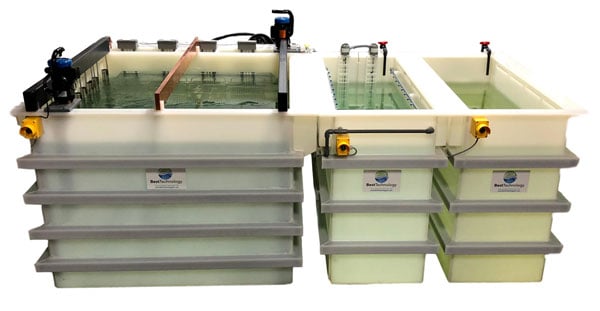 For more information on electropolishing lines, please see our Large Scale Electropolishing page.
Electropolishing Equipment & Process FAQs
No questions matching current filter
Common Applications for Electropolishing Wet Benches
Medical device stent polishing and deburring of stainless steel and cobalt chrome
Industrial stainless steel 300 series polishing to reduce surface roughness and burr removal
Reducing friction and ensuring top performance on flight-critical aerospace parts
Reducing friction, boosting performance and extending life on automotive and racing industry parts
Common Configurations
Electropolishing wet benches offer great flexibility in sizing. Although each unit is custom-built to the requirements of your application, below are a few common configurations for electropolishing wet benches. Other sizes can be customized to fit your application.
Liquid Capacity per Tank
(gallon)
Inside Working Zones
(l x w x h)
3.5
12″ x 10″ x 8″
5
14″ x 9.5″ x 9″
9
18″ x 10″ x 12″
18
20″ x 12″ x 18″
Rectifiers for electropolishing wet bench consoles typically run from 25 to 200 amps. Other ranges are available, and our large-scale electropolishing systems typically run from a few hundred amps to several thousand as dictated by the application. To estimate rectifier size requirements in amps for electropolishing stainless steel, visit our Electropolishing Cycle and Current Calculator.
Learn from an electropolishing expert
At Best Technology, our application engineers have over 30 years' experience in designing electropolishing systems for our customers. You can count on our experience for repeatable surface polishing and material removal for medical device and aerospace metal parts. Contact an electropolishing expert today to discuss your project and receive a free proposal.