Best Technology's comprehensive line of wet benches and ultrasonic cleaning tanks combine for the perfect combination of equipment for fire, smoke and mold contents restoration cleaning. Hand cleaning individual contents and wares are a thing of the past with insurance companies opting to pay for cleaning rather than content cash-out replacement. The sheer volume of contents does not allow for the inefficiencies of hand cleaning.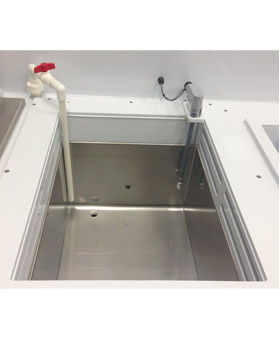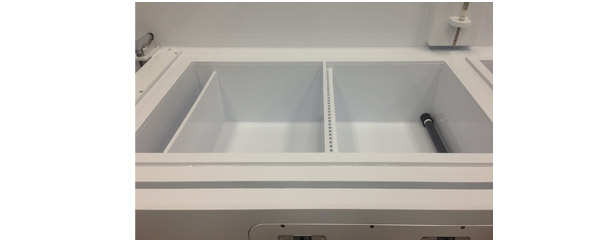 With a fully customizable, assembly line style layout, the contents restoration system can improve cleaning times and labor savings by as much as 75%.
The entire system is completely modular and can be configured to be a inline system or U shaped layout. The modular construction makes the system completely portable so it can easily be loaded and transported to a job site.
Ultrasonic technology has been around for years and recent advancements have allowed price points which allow for an ROI in as little as 6-12 months. Ultrasonic parts cleaners can easily clean various contents like ceramics and figurines, window blinds, dishes/china, precious metals like gold, silver, brass, glass chandeliers, various plastics and vinyls much faster and thoroughly than cleaning by hand. How do ultrasonic cleaners work? They utilize solution cavitation, which is able to uniformly scrub every part surface even those not accessible by hand. Because the cavitation molecule is so small, ultrasonic parts cleaners can easily and uniformly scrub and remove smoke residues on various surfaces, water damage and associated mold, carbons from smoke and burnt contents.
Contents restoration has become an important profit center for restoration contractors as the insurance industry has focused on restoring and cleaning existing contents vs. paying cash out for replacements.  Restoration professionals that are growing their business are keeping up with this industry trend with content restoration systems from Best Technology.
Content Restoration Process Flow Layout
All integrated into the same bench or multiple modular sections based on customer requirements:
Unpacking/Basket Staging – optional roller conveyor tables
Optional Spray Rinse Station – sink with spray off capable of handling multiple baskets at a time to initial spray off any
Prewash – Digital temperature controlled heated  agitated immersion tank with high flow tank turbulation / filtration (with hand spray) to ensure gross contaminants are removed before ultrasonic wash tank – Large dual canister filters allow for large and fine particulate filtration
Ultrasonic Wash – Digital temperature controlled heated stainless steel tank with high power density (watts/gallon) ultrasonic submersibles integrated into bench. Large dual canister filters allow for large and fine particulate filtration
Optional Cascade Overflow Rinse – optional digital temperature controlled heat
Spray Rinse Station – (Hot RO/DI Water Preferred for spot free finish)- sink with spray off capable of handling multiple baskets at a time in sink as well as large drip station which drains back into sink
Drying Station – contained area with downdraft to blow off parts and/or heated dry
Inspection and Packing
The Best Technology contents restoration system for mold remediation, fire and smoke damaged contents allows for custom customer application flexibility and precision and stable ultrasonic contents cleaning processing.  This system can be delivered fully turn key with onsite training, setup and process development support.