Application:
Small swiss machined parts with heavy true oils and small blind holes/cavities made of brass, aluminum, and stainless steel challenged the customer to find an alternative cleaning process.  The customer was previous cleaning with Stoddard solvent (mineral spirits or mineral turpentine), but large hazardous waste stream, flammability, long soak cycle times, and employee exposure had them seeking a water / aqueous based basket batch parts washing process.
Solution:
Lean manufacturing cleaning system overview video: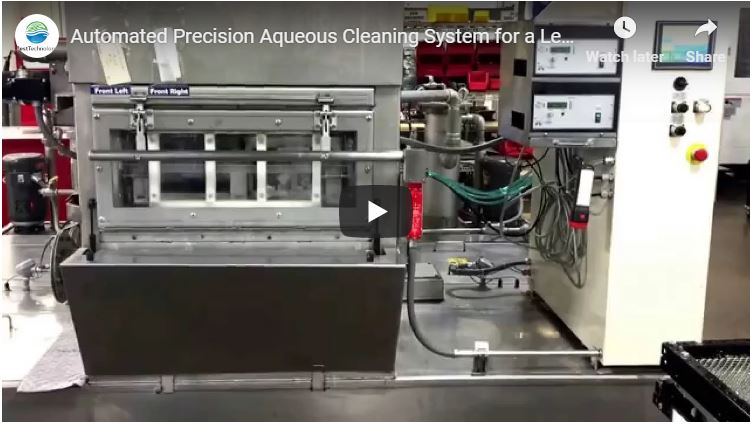 Since blind holes in multiple geometry planes are prevalent on most parts, it is necessary to rotate the parts to ensure the features are flushed with solution and rinsed clean.
Wash: Cleaning machined parts to remove true oil based contaminants requires an aqueous chemistry that remove the oils and phase separate or float them to the surface of the solution.  An oil coalescing system  extracts the oils from the solution and returns the pure oils to a waste collection container that can be mixed with other oils from the facility.
Rinse: The parts washer with agitator must clean all the oils, chips, fines, grinding powder and debris from the parts then fully rinse all the aqueous chemistry to ensure spot-free part surfaces.  The system can perform a final rinse with fresh DI or RO water or even a fresh tap water rinse after the standard recirculated rinse cycle.
Dry: A heated, regenerative dryer completes the process returning the operator, cleaned, rinsed and spot-free dry parts.
Cellular parts washer system operational video: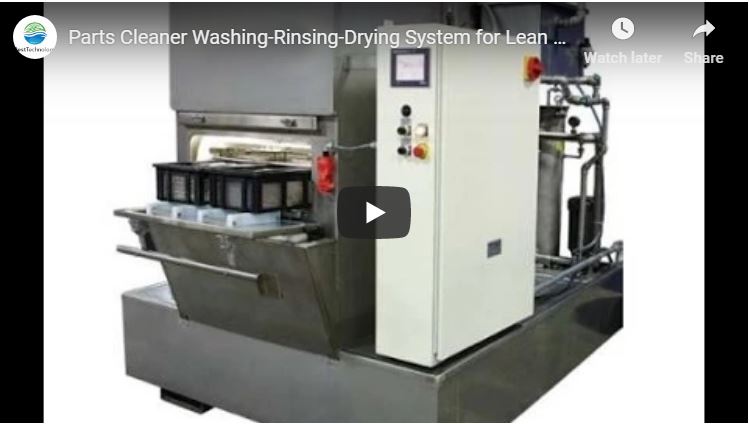 The parts washer with agitator uses a rocking motion, rotation, spray from above, spray under immersion from within the solution bath, cleaning the machined parts with outstanding ultrasonic performance and dries your parts all with the push of a single button.
The sketch above shows the principle features of this system.  The parts baskets are loaded from an ergonomic height and the PLC can be programmed to the precise recipe cycles needed for the different types of part variations including set to rotate the basket a full rotation or for more delicate parts provide a rocking action from 10-60º.
Result:
The customer is able to reduce cycle times of wash, rinse and dry to under 10 minutes vs. previous solvent soak times of 1-2 hours and eliminate hazardous waste disposal of used solvent resulting in a return on investment of capital to less than 1 year.
This system is built around flexibility and lean manufacturing principles of cellular manufacturing environments used in the medical device, aerospace and heavy manufacturing industries.
Precision cleaning in a lean design – another solution to today's manufacturing environment of cellular manufacturing without sacrificing big system features and cleanliness. See our cellular manufacturing precision parts washer for more details.