Medical Device Parts Deburring Application
The centrifugal barrel mass finishing system processes biopsy jaw medical device surgical parts to deburr the parts after they are stamped with a multistage progressive die.
Deburring medical device surgical parts that are highly complex and as small as the tip of your pinky finger would take hours if not days in other process equipment. Using the correct ratio of media, water and parts with a centrifugal barrel mass finishing system achieves uniformly deburred parts in less than 30 minutes, with lot-to-lot stability unparalleled in other equipment.
As a deburring machine, the centrifugal barrel mass finishing system generates significantly more mass-finishing energy delivered to the part, due to the barrels (blue in picture below) rotating while the center turret (purple in picture below) rotates as well. This rotation combination effect can decrease cycle time on parts by as much as 30 times vs. conventional vibratory bowl finishing equipment.
Centrifugal Barrel Mass Finishing System Diagram Explanation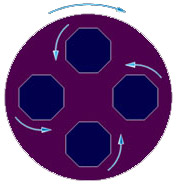 This "dueling" rotation causes various types of media inside of the barrel (blue in picture above) to rub against the parts under pressure due to high "G" force from these centrifugal forces. The high-pressure sliding of media and parts performs the surface finishing (polishing, deburring, etc.) of the parts and reduces finishing time to just a few minutes, instead of many hours.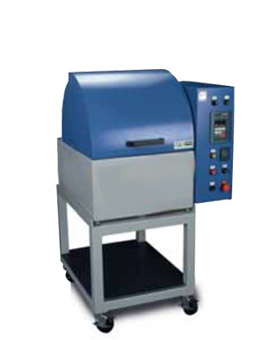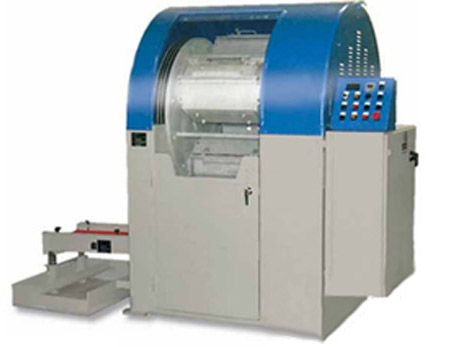 Industry
Medical device, surgical, orthopedic implant and medical instrument
Applicable Systems
High Energy Centrifugal Barrel Metal Finishing Machines