Application for Heated Acid Passivation and Rinse Polypropylene Tanks
Recently Best Technology was contacted by a customer who manufactures and installs stainless steel piping into underground water distribution systems. Once buried, the pipes need to have a very long life. The customer uses stainless steel fittings and junction pieces throughout their buried systems. The fact that the parts are stainless steel gives them much longer life than similar parts fabricated from mild steel. However, even stainless steel will rust over time – especially when buried underground. One solution that will greatly enhance the life-span of the parts is to passivate them.
The customer already had a system in place to clean the parts, but needed to add the ability to passivate their parts after they were washed. These parts tend to be large and irregularly shaped.  The customer needed a system large enough to handle the variously shaped parts, but also needed to be mindful of costs. 
Video: Polypropylene Heated Acid Passivation and Rinse Tanks
The answer was to fabricate a two-tank passivate and rinse system using polypropylene tanks.  The poly (polypropylene) tanks are less expensive than steel tanks yet still offer the ruggedness needed for daily usage in a plant floor environment. Best Technology was able to fabricate the polypropylene tanks and add custom controls for heating the solution (heat speeds the passivation process) and circulate the citric based solution to insure both a continuous flow of the solution around and through the parts and maintain a uniform temperature of the solution in all parts of the tanks. The constant flow of the solution also eliminates the possibility of stagnation adding to the overall useful life of the chemistry.
Polypropylene Heated Acid Passivation and Rinse Tank System Features: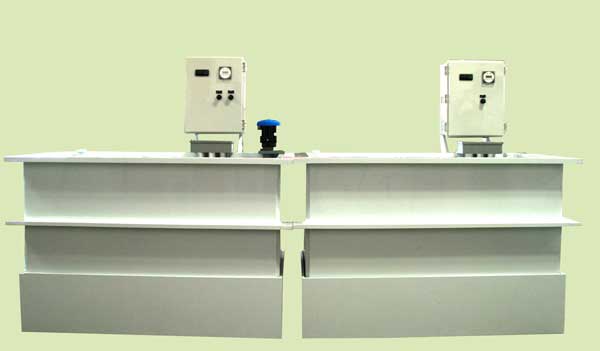 The left tank is for citric acid (Citrisurf 2050) and right tank is a cascade overflow DI water rinse tank.
Electrical Controls and Panel
The electrical controls feature switches to turn on/off digital temperature heat controller and pump circulation. Also mounted on the electrical box exterior is a 24 hour 7 day programmable timer to turn on the heaters at preset times to allow for polypropylene tank pre-heat to be done without operator waiting.

Electrical panel is wired compliant to UL508A and UL Listed Enclosed Industrial Control Box.

In-Tank Heaters and Pump Circulation
Process Technology 3S 6kW electric 316 stainless steel immersion heaters combined with digital temperature controller allow for stable tank temperatures.  
Flo King BX1200 pumps provide constant circulation for the citric acid passivation tank to inhibit/reduce organic growth and maintain consistent tank solution temperatures.
Industry
General parts cleaning & passivation – above application passivation of stainless steel pipe components,  medical device, aerospace
Applicable Systems
Wet Bench and Polypropylene Tanks  for Electropolishing, Citric / Nitric Passivation
Electropolishing Equipment Wet Benches