Application
Electronic cigarettes or e-cigarettes (ecigs) have become extremely popular alternative to smoking especially with Clean Air Act smoking bans in most restaurant, bars and other public areas.  With this new trend of popularity, people want to differentiate themselves by nice looking pen cigarettes that are sparkling, shiny and highly polished.

Most ecigarettes are made on a lathe than turns the part in a cylindrical manner leaving a finished part having milling/machining lines that are undesirable aesthetically.  Many vaping / e-cigarette manufacturers attempt  to polish by hand, bead blast or even in a vibratory bowl, but this process takes a lot of labor / time and still does not achieve a uniformly polished ecigarette.
Our customer was in fact polishing these parts by vib bowl finisher which was taking nearly 2 days to achieve a highly polished e-cigarette.  As their company grew, this cycle time was unacceptable and they turned to Best Technology to help find a faster process.  We were able to reduce their cycle time to 30 minutes using our centrifugal polishing machine.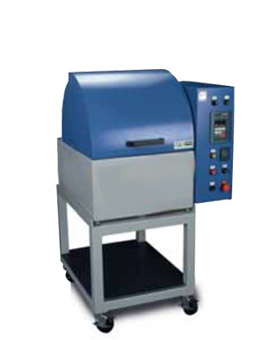 The centrifugal finishing machine processes ecigarette parts via mass finishing in 70-90% less cycle time than other polishing methods. Using the correct ratio of polishing media, water and parts with a centrifugal barrel mass finishing system achieves uniformly polishes and smooths parts in less than 30 minutes with lot to lot stability unparalleled in other equipment.
A centrifugal barrel mass finishing system is able generate significantly more polishing energy to the parts due to the barrels (blue in picture below) rotating while the center turret (purple in picture below) rotates as well.  This rotation combination effect can decrease cycle time on parts by as much as 30 times vs conventional vibratory bowl finishing equipment. Many parts can be put into the same barrel of the metal polishing machine without concern for part on part contact damage/marking.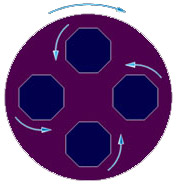 This "dueling" rotation causes various types of media inside of the barrel (blue in picture above) to rub against the parts under pressure due to high "G" force from these centrifugal forces. This high pressure / force sliding of media and parts against each other performs means that this metal polisher machine reduces the surface finish polishing to just a few minutes from many hours.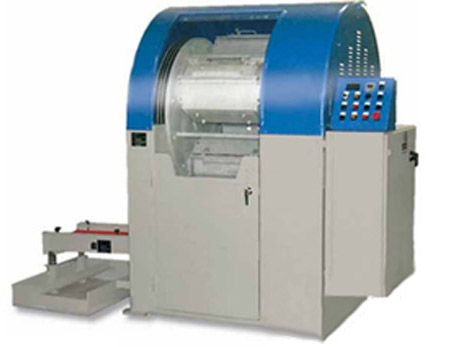 The vaping industry is now using centrifugal barrel mass finishing systems to achieve various finishing surfaces from matte to highly polished e-cigarettes. See how our metal polishing equipment can help your business today.
Industry
Electronic cigarette manufacturing
Applicable Systems