Manufacturing of bone screws requires ultra-tight tolerances on many geometric features, but inevitably bone screws, internal fixation, bone plates and orthopedic/surgical implants have burrs from CNC, swiss machine, EDM and other machining processes which need to be removed.

While there are many technologies to remove such burrs, bone screws are typically made in large quantity production. Individually processing the parts via precision electropolish equipment and industrial electropolishing systems can take considerable time. Often material composition of the bone screws (titanium for example) inhibits use of various electropolishing chemicals by common methods.
Centrifugal Barrel Finishing Machine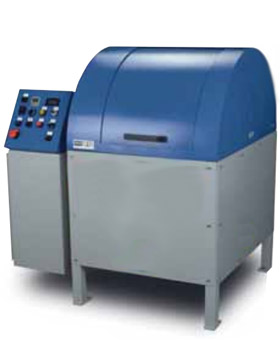 Mass finishing and centrifugal barrel finishing are often the preferred methods for bone screw deburring equipment since the process is performed in mass quantity vs. individual part processing. Another advantage of deburring equipment is to not only remove burrs but also polish the parts to various medical device polish specifications.
Advancements in polymers and bioabsorbable materials have driven injection molding, FDM – 3D Printing and other technologies requiring final deburring, smoothing and polishing.
Best Technology can test virtually any deburring machine or part and material for debur and polishing. Our barrel finishing and harperizing page describes the various size systems available.