The automated ultrasonic cleaning system washes, rinses, and dries various sizes of injection molds to remove resin gas buildup formed during plastic injection molding. The system is capable of processing 250 lb molds with additional capacity of overhead hoist to hold the molds during cleaning.  The injection mold cleaner system consists of a 70 gallon, 31″x22″Wx25″D, ultrasonic processing chamber with 90 gallon storage tanks with oil belt skimmers to hold alkaline cleaning solutions and rinse water with rust inhibitor. The ultrasonic transducer and generator in this system are oversized to deliver higher watts / gallon or watt density to ensure even ultrasonic energy transmission even when large plastic injection molds are being cleaned in the tank.
Video: Automated Ultrasonic Mold Cleaning System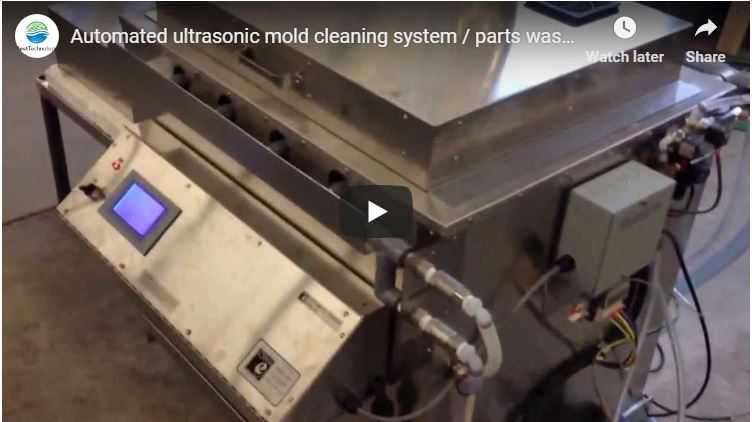 Pictures:Automated Ultrasonic Injection Mold Parts Washer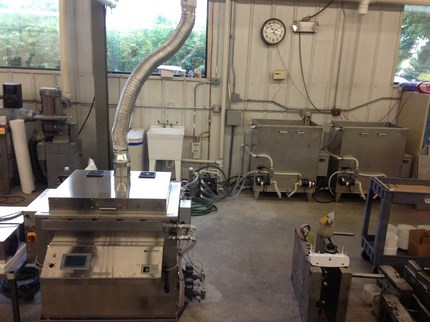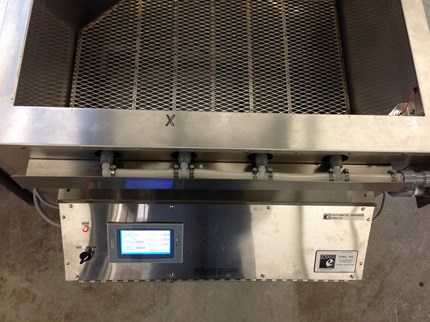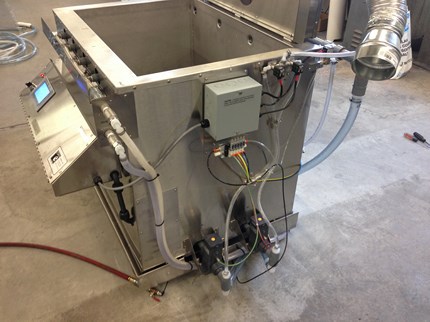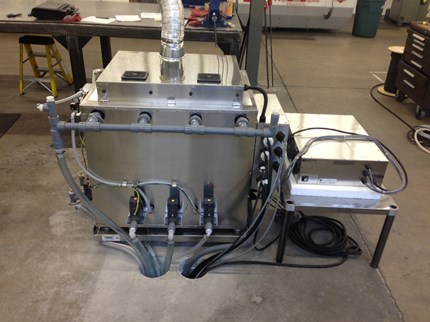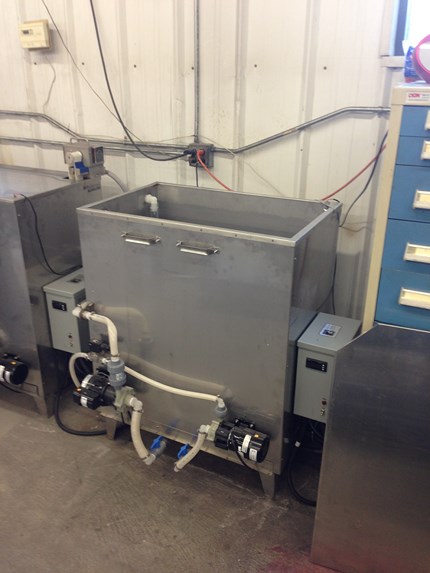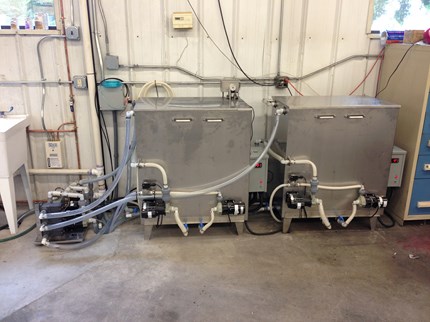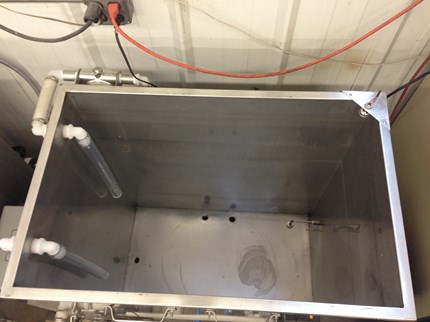 Animation of Process Fluid Flow of an Automated Ultrasonic Cleaning System
The automated ultrasonic cleaning system consists of an ultrasonic process tank and 2 or 3 storage tanks to hold various solutions.  Animation below shows an acid passivation storage tank as well.
Traditional automated cleaning and passivation systems move the parts from processing tank to processing tank which expose operators to fumes from cleaning and passivation solutions and also dramatically increase the cost of the system because it requires multiple ultrasonic processing tanks and overhead automation.
This automated ultrasonic cleaning system is a sealed system which moves the liquid solutions from filtered heated storage tanks in and out of the main part processing chamber instead of moving the parts from tank to tank so the operator places dry parts in the process chamber, presses cycle start and then comes back at the end of the process to remove the cleaned, rinsed and dried parts.

Industry
Medical device extrusion molds
Aerospace part blow and injection molds
Automotive plastic injection molds
General parts cleaning
Applicable Systems
Automated Ultrasonic Cleaning Systems – note system can be made into any customer desired size with minimal to no custom costs
The 992 system is very popular in the industry because it is a closed loop, hands-off system that requires very little operator interaction for plastic injection mold cleaning besides placing dirty parts and/or molds in the tank and removing clean, dry parts and/or molds at the end of the cycle.