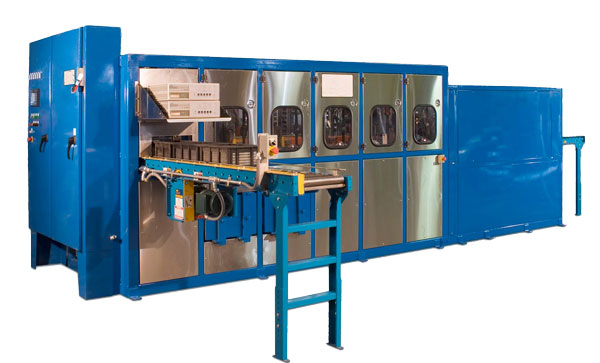 Plant floors can be a dangerous place, but there are lots of ways to reduce exposure to risk. The Fully Automated Enclosed Immersion Parts Washer pictured above not only provides an exceptional method for cleaning manufactured parts, but it also does so in a way that reduces employees exposure to several potential hazards.
This system cleans manufactured parts (swiss machine true oils in this customers case) and protects employees via a single lifting of the parts basket to the in-feed conveyor. This is an enclosed design of the machine to eliminate exposure, splashing, or vapor.  There is an automated transport system built in,  eliminating the need for personnel to move the baskets from tank to tank to tank, or removal of a basket from the out-feed conveyor that is already dry,  With the oil coalescer/skimmer and evaporative tower built on to the rear of the machine, it does a great job of protecting the environment, too!
Video: Automated Enclosed Immersion Parts Washer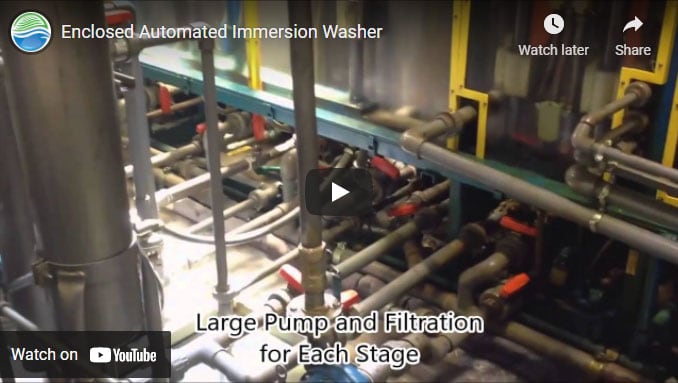 Once placed on the in-feed conveyor, the baskets are transported into a high agitation wash station –the aggressiveness of the agitation cycle is fully adjustable to suit your specific needs.  From the wash tank the basket is then moved to the first rinse tank, then on to the second rinse tank and from there it is transferred through a series of heated blow off dryers, finally being sent out to the out-feed conveyor with no need for personnel to move the baskets or be exposed to the processes.
When a basket is full of parts an operator places it on the in-feed conveyor and returns to their normal job.  The basket of parts is then returned completely washed and dried on the out-feed conveyor, without any further interaction needed by the operator.
In this enclosed automatic parts washer, the customers parts are swiss machined parts each step features full rotation of the baskets to insure that all sides and features of the parts are washed, rinsed and dried.  In addition, the rotation insures that small burrs or chips on the parts from the manufacturing process are removed before the parts are sent on to final packaging.
Oil Coalescer – High Efficiency Oil Removal System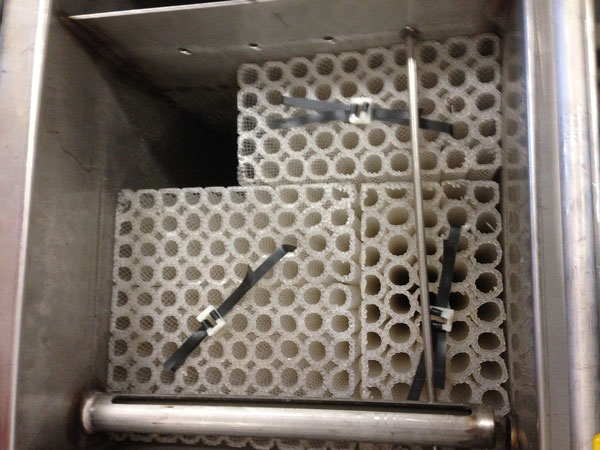 One common concern with some automation is that it can be unreliable or subject to early failure.  At the time this video and these images were shot, the machine featured here had been in service for 14 years and had already cleaned 100's of millions of parts.  At Best Technology we have the capability to customize the immersion cleaning equipment to your specific need and application.  This ensures longer life, correct sizing and fewer headaches.  Give us the opportunity to engineer a solution for your cleaning, passivation or electropolishing needs and discover why Best Technology isn't just our name.  It's also our promise.