Application
The Best Technology chromate conversion coating system allows for flexible manufacturing of many chem film and Alodine® needs. System can also be designed and built for both MIL-DTL-5541 Type 1 hexavalent chromium and Type 2 hexavalent chrome free processes.  System tank configuration is dictated by Type 1 or 2 classification.
MIL-DTL-5541 Type 2 hexavalent chrome free equipment
This particular system for the aerospace industry is a hexavalent free, trivalent chrome line using TCP-HF (hex free) coating.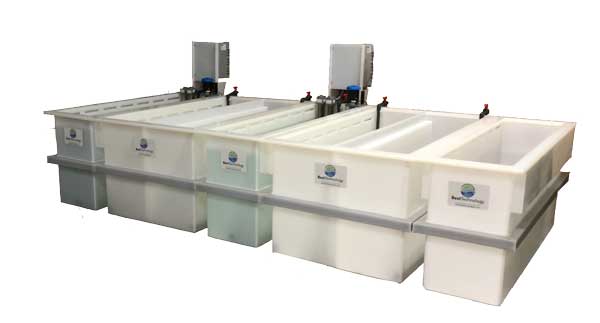 Type 2 Hex-Free chem film surface conversion process with TCP-HF, using Acid Clean process (typically 5 steps):
Acid Clean – A general washing in a cleaning solution takes place as a pre-process step. This ensures that dirt, oil, and any residue formed from prior manufacturing or packaging processes is removed before the coating begins. Then a rinse and dry takes place.
Rinse – cascade counterflowing – Ensure any detergents are removed from the part. A water-break-free test is often performed.
Trivalent chromium, hex-free chrome coat – The surface conversion process takes place when the aluminum is immersed in the tank. The chromate conversion coating gets applied immediately. The period of time that it remains in immersion varies based on the method of the application, the composition of the film and the composition and size of the part itself.
Rinse – cascade counterflowing
Second Rinse is used in the type 2 method of surface conversion coating known as TCP-HF.
Video: Alodine Line for Hex-Free Chromate Conversion Coating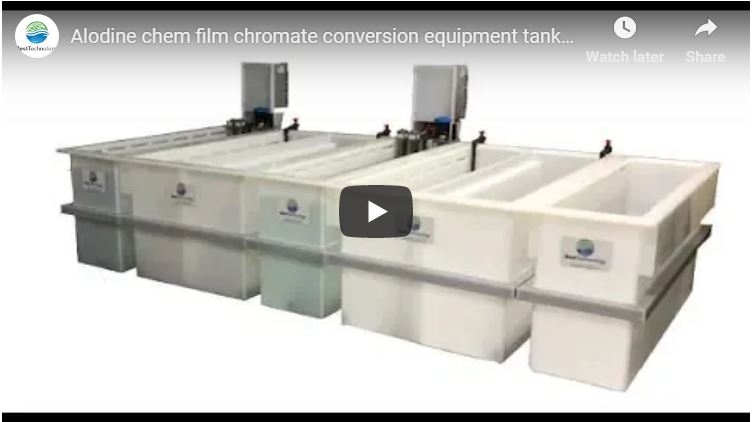 MIL-DTL-5541 Type 1 hexavalent chromium chromate conversion coating line
For MIL-DTL-5541 Type 1 hexavalent chromium lines, the Alodine coating tank configuration is designed and built with typically 9 chem film tanks which are commonly at elevated temperatures.
Type 1 hex chrome conversion coating process (typically 9 steps):
Clean – similar to Type 2 above
Rinse
Etch – If there are any areas that the chem film should not be applied to, the etching process covers those areas.
Rinse – Ensure any etching chemistry is rinsed to stop the etching process.
Deox –  Deoxidation of the part occurs next, to remove any excess materials and oxides, contaminants and chemicals.
Rinse – Remove any deox solution.
Chem film coat
Rinse
Warm rinse.
Video: Chem Film Type 1 and Type 2 Chromate Conversion Coating System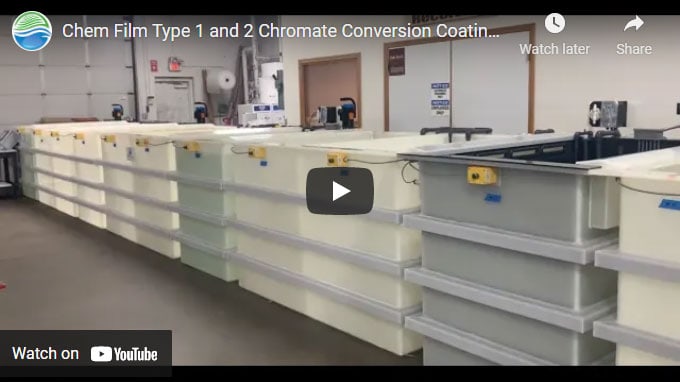 Typical Chem Film Line and System Configurations (Custom Sizing Available)
Since each customer's application is unique, the chem film and Alodine coating equipment is designed to specific and to order. In general tanks ranging from 12″ x 12″ x 12″ to 96″ x 144″ x 96″ can be built with various materials from metals, plastics and polymers as well as hybrids. Based on chemicals used in the wash and chromate conversion coating system, various polymers are used for tank materials but most often polypropylene.
Chem film / Alodine Equipment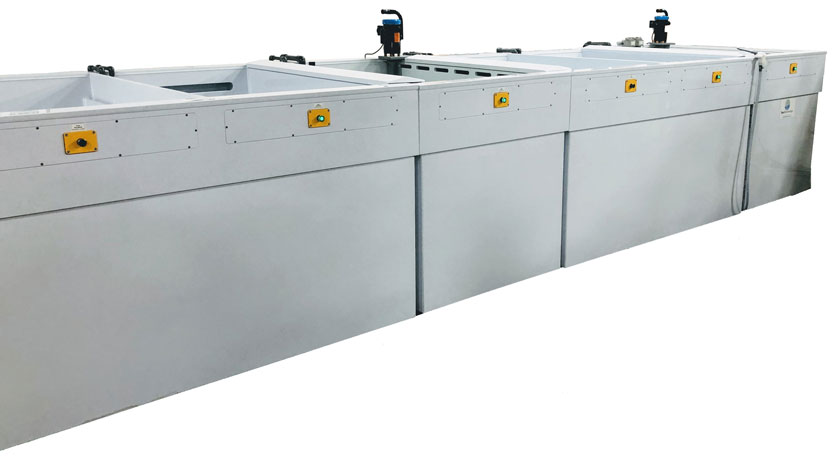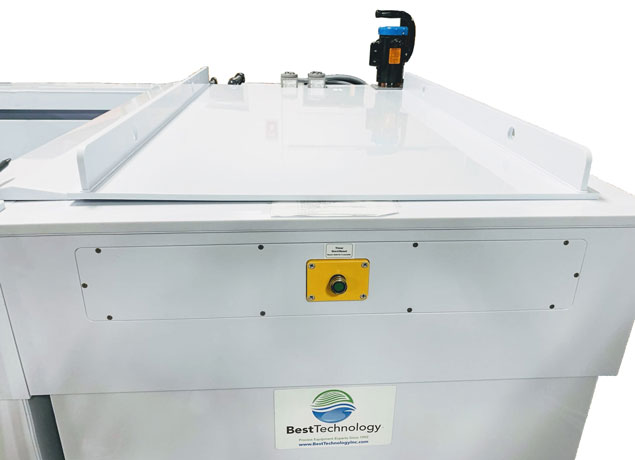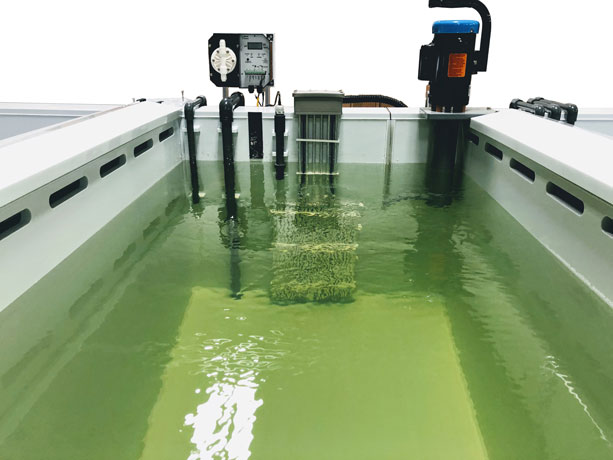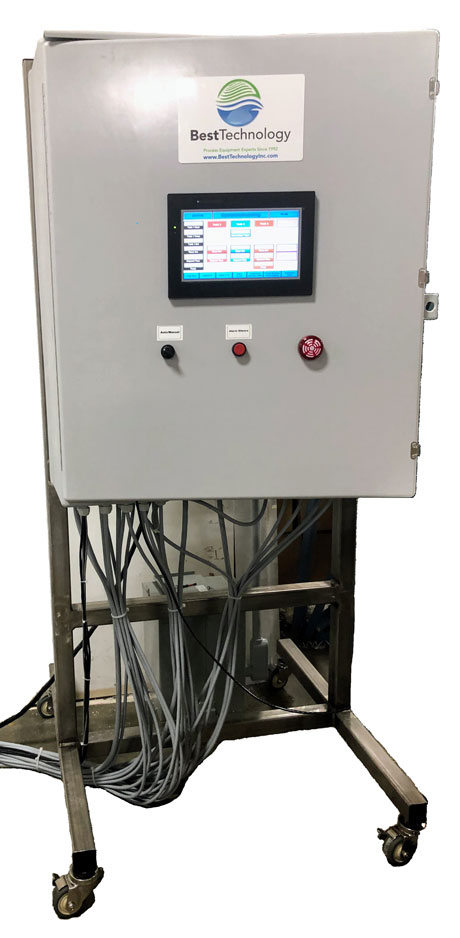 Chem Film Alodine Tank Line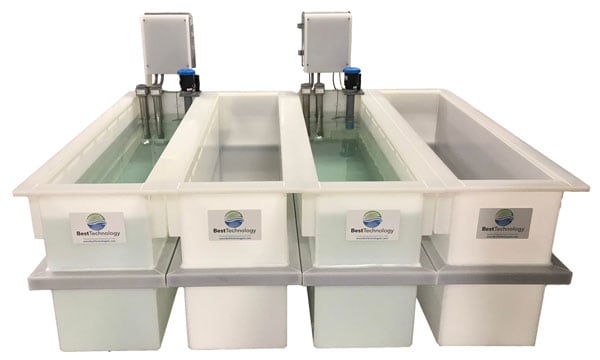 Chromate Conversion / Alodine line with covered tanks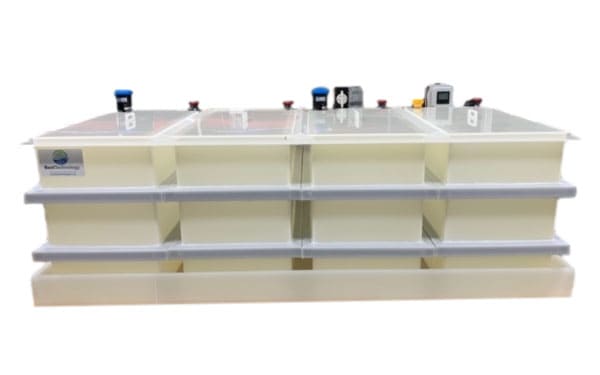 Best Technology has the experience and the resources to build chromate conversion coating systems for Alodine / chem film applications both large and small. Let our application engineers design an Alodine line for your products. Contact us to learn more and start your project today!