Application
The booming industry of 3D printed parts or FDM (Fused deposition modeling) for rapid prototyping and, in some cases, final use requires post processing of the parts to remove the support structure that is also printed to support the printed parts during printing.  Our bench top ultrasonic cleaners and systems – in combination with the right solvent and aqueous chemistries – provide an excellent means for removing supports from 3D printed material, while leaving the finished part intact and cleaned. This dissolving and cleaning of FDM parts is accomplished by cavitating the cleaning solution with ultrasonics causing a micro-scrubbing of the part surface.
Understanding how ultrasonics work is essential to achieving the desired results because not all ultrasonic tanks are created equal.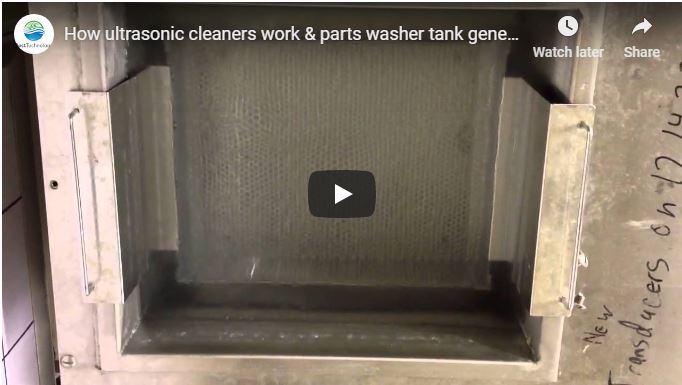 Ultrasonic Power Density Best Practice for Plastic / Polymer Parts
The cost of an ultrasonic cleaning tank is primarily in the electronics and ultrasonic transducer itself.  Ultrasonic energy is measured in Watts, specifically the distribution of Watts per volume of the tank.  That measurement or specification is the key differentiator in ultrasonic tanks from various manufacturers.  Maintaining a high power density (Watts/gallon) is essential when working with materials like plastic that absorb much of the ultrasonic energy.  In traditional cleaning applications where metal parts are being cleaned, this specification is less critical.  Metal parts have a hard surface, and this allows the majority of the ultrasonic energy to cavitate on the surface. Plastic parts have a softer surface so some of the energy from the cavitation is deflected into the part. Typical materials that are used in 3D Printing which absorb ultrasonic energy are:
ABS plastics
Polycarbonate plastics
Polycarbonate/ABS polymer blends (PC ABS)
Nylon blends
Stratasys Polycarbonate-ISO (biocompatible – used in food service & medical fields)
This means that ultrasonic cleaning tanks which have costs reduced by having a low power density (Watts/gallon) will have a significant degradation of cleaning and support dissolving performance due to the plastics/polymers absorbing the ultrasonic energy.  At Best Technology, our benchtop ultrasonic cleaning tanks are targeted for 100W/gallon of ultrasonic power density. Many tank manufacturers target ultrasonic ratings of 50W/gallon or less.  As the saying goes, you certainly get what you pay for and this could not be more true than in this instance.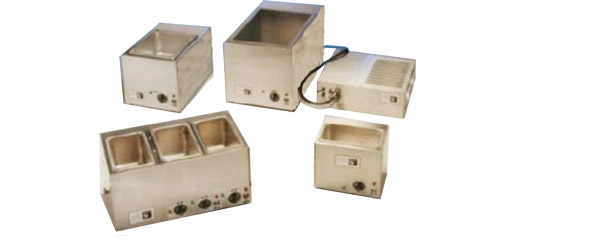 Processing 3D Printer FDM Parts In Ultrasonic Cleaners
3D printing support material removal typically requires a solvent or aqueous cleaning solution, elevated temperatures and mechanical agitation to accelerate the cleaning and support dissolving process. Stratasys and 3D Systems are the large players in the 3D printed FDM part industry and both have similar recommended methods for removing support material.  It is important to note that many FDM parts will float or partially float in solution so a basket design with lids is essential to ensure full submersion in the solution. The growing industry of rapid prototyping with 3D printed plastics has led to yet another use for ultrasonic cleaning parts washers. Depending on the size of the 3D printer, we can easily make any tank configuration sizing required with little to no additional custom size pricing.  Below are a few common configurations.
Model Series
Liquid Capacity
(gallon)
Inside Working Zones
(l x w x h)
283
1.25
9.5″ x 5.5″ x 6″
888
3.5
12″ x 10″ x 8″
499
5
15″ x 10″ x 8″
598
7.5
36″ x 8″ x 6″
188
9
18″ x 12″ x 10″
487
12
24″ x 12″ x 10″
300
15
24″ x 24″ x 6″
592
18
24″ x 14″ x 12″
1001
26
25″ x 18″ x 14″
29
29
36″ x 14″ x 14″