3M™ Novec™ Availability
3M™ Novec™ 7200 – In Stock
3M™ Novec™ 7300 – In Stock
3M™ Novec™ 7500 – In Stock
3M™ Novec™ 71IPA – In Stock
3M™ Novec™ FC-40 – In Stock
3M™ Novec™ 73DE – In Stock
3M™ Novec™ 72DA – In Stock
3M™ Novec™ 649 – In Stock
3M™ Novec™ 612 – In Stock
3M™ Novec™ 1230 – In Stock
Availability varies on other fluids. Contact us for more information.
3M™ Novec™ Phaseout Notifications
Want to receive a notification when new updates on the 3M™ Novec™ phase-out, alternatives and replacements are available? Sign up here!
Many modern manufacturing and technology practices require managing excess heat, or thermal management, with fluids such as 3M™ Fluorinert™ and 3M™ Novec™. For manufacturers of semiconductor wafers, controlling process temperatures is critical. For data centers, getting rid of excess heat through immersion cooling can dramatically lower operating costs.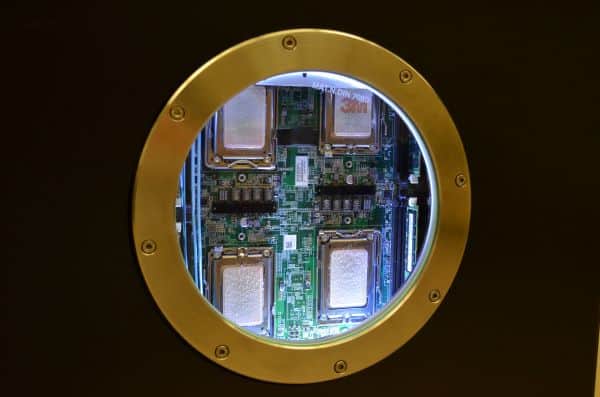 3M™ Fluorinert™ and 3M™ Novec™ fluids are dielectric and non-flammable, which means they are suitable for direct contact with live electronics. They offer a low-maintenance, low-mess alternative to other coolant fluids such as water, water glycol or oils used for heat transfer. These 3M™ thermal management fluids work in many applications, from cold plate cooling for semiconductors, to immersion cooling for data centers, to spray cooling for avionics, to reliability testing for electronics.
3M™ thermal management fluids deliver excellent cooling performance in a wide range of operating temperatures, without compromise on worker safety or environmental sustainability. These fluids from 3M™ provide a wide margin of worker safety. Use of the correct thermal management fluid improves reliability, addresses environmental concerns, and lowers overall operating costs.
Fluorinert™ vs. Novec™: What's the difference?
Best Technology is a U.S. nationwide authorized distributor of 3M™ engineered heat transfer fluids for thermal management. These fluids are sold under two brands:
3M™ Novec™ Engineered Fluids
3M™ Fluorinert™ Electronic Liquids
Though both are used for thermal management, the Fluorinert™ brand is distinct from the Novec™ brand, as they use different chemistries. While Novec™ is based on hydrofluoroether (HFE) chemistry, Fluorinert™ Electronic Liquids are part of a family of fully-fluorinated compounds known as perfluorocarbons, or PFCs, and feature different chemical properties from the presence of fluorocarbons.
| | |
| --- | --- |
| Brand | Chemistry |
| 3M™ Novec™ Engineered Fluids | hydrofluoroether (HFE) |
| 3M™ Fluorinert™ Electronic Liquids | perfluorocarbon (PFC) |
Originally used for direct contact cooling due to their stability, Fluorinert™ Electronic Liquids helped enable the development of dense electronics, such as supercomputers and power converters. Fluorinert™ liquids are premier heat transfer fluids, and have long been used as heat transfer media for extreme cooling applications. Their exceptionally high dielectric strength makes them ideal for sensitive applications.
Benefits of 3M™ Specialty Fluids for Thermal Management
Novec™ and Fluorinert™ liquids share many of the same advantages for thermal management. These fluids require little maintenance and provide dependable performance. They have high resistivity and will not damage electronic equipment or integrated circuits in the event of a leak or other failure.
Both brands of 3M™ thermal management fluids offer products with good pour point properties that keep them from freezing at temperatures well below O° C. Novec™, however, has superior pour properties that extend beyond -130° C for some products.
The chemical inertness and non-corrosive nature of both brands of 3M™ thermal management fluids make them safe for workers to handle. However, Novec™ and Fluorinert™ differ when it comes to global warming potential (GWP).
Benefit
3M™ Novec™
Engineered Fluids
3M™ Fluorinert™
Electronic Liquids
Excellent dielectric properties
✔
✔
Wide range of boiling points
✔
✔
Low viscosity
✔
✔
Good materials compatibility
✔
✔
Low toxicity
✔
✔
Nonflammable
✔
✔
Zero ozone depletion potential (ODP)
✔
✔
Low global warming potential (GWP)
✔
As shown in the chart, the 3M™ Fluorinert™ Electronic Liquid product line does not have low global warming potentials (GWP) and and does have long atmospheric lifetimes. Because emission of materials with these properties could impact the environment, users must carefully manage and minimize emissions by implementing recovery, recycling and/or proper disposal procedures. Use of Novec™ Engineered Fluids is a great alternative to Fluorinert™ Electronic Liquids for most applications and eliminates issues with GWP and long atmospheric life.
Properties of 3M™ Fluorinert™ and Novec™ Thermal Management Fluids
Not sure which 3M™ thermal management fluid will work with your application? Use the charts below as a guide to operating temperature ranges and boiling points for each 3M™ Fluorinert™ and 3M™ Novec™ product. Our applications engineers are also available to discuss unique temperature range requirements.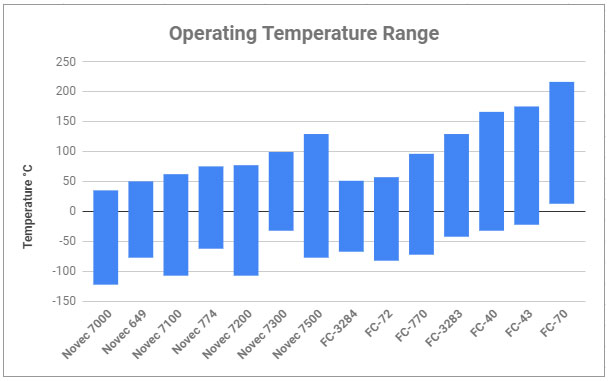 Data source: 3M
Operating Temperature Range and Boiling Point for 3M™ Novec™ and 3M™ Fluorinert™ Fluids
Here are the recommended operating temperature ranges for pumped, single-phase immersion cooling systems. For two-phase systems, the boiling point of the fluid should be close to the target temperature.
Product
Operating
Maximum °C
Operating
Minimum °C
Boiling Point °C
Novec™ 7000
25
-120
34
Novec™ 649
40
-75
49
Novec™ 7100
50
-105
61
Novec™ 774
65
-60
74
Novec™ 7200
65
-105
76
Novec™ 7300
85
-30
98
Novec™ 7500
115
-75
128
FC-3284
40
-65
50
FC-72
45
-80
56
FC-770
85
-70
95
FC-3283
120
-40
128
FC-40
155
-30
165
FC-43
165
-20
174
FC-70
205
15
215
Please note that Novec™ 774 is not readily available through Best Technology at this time; however, either Novec™ 7200 or FC-770 can be considered as the closest comparable alternatives to Novec™ 774.
Comparison of Kinematic Viscosity vs. Temperature in 3M™ Novec™ Fluids
Here is a comparison of the relative kinematic viscosity vs. temperature among several 3M™ Novec™ Engineered Fluids. Kinematic viscosity is important for understanding fluid flow and resistance at a particular temperature.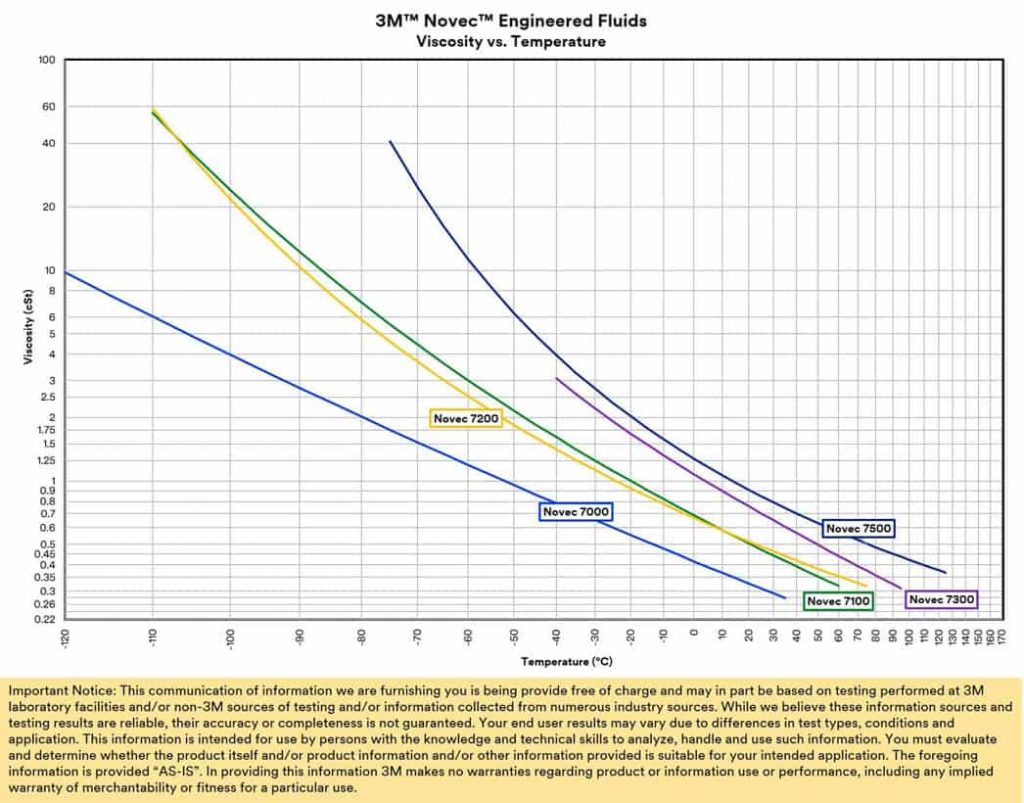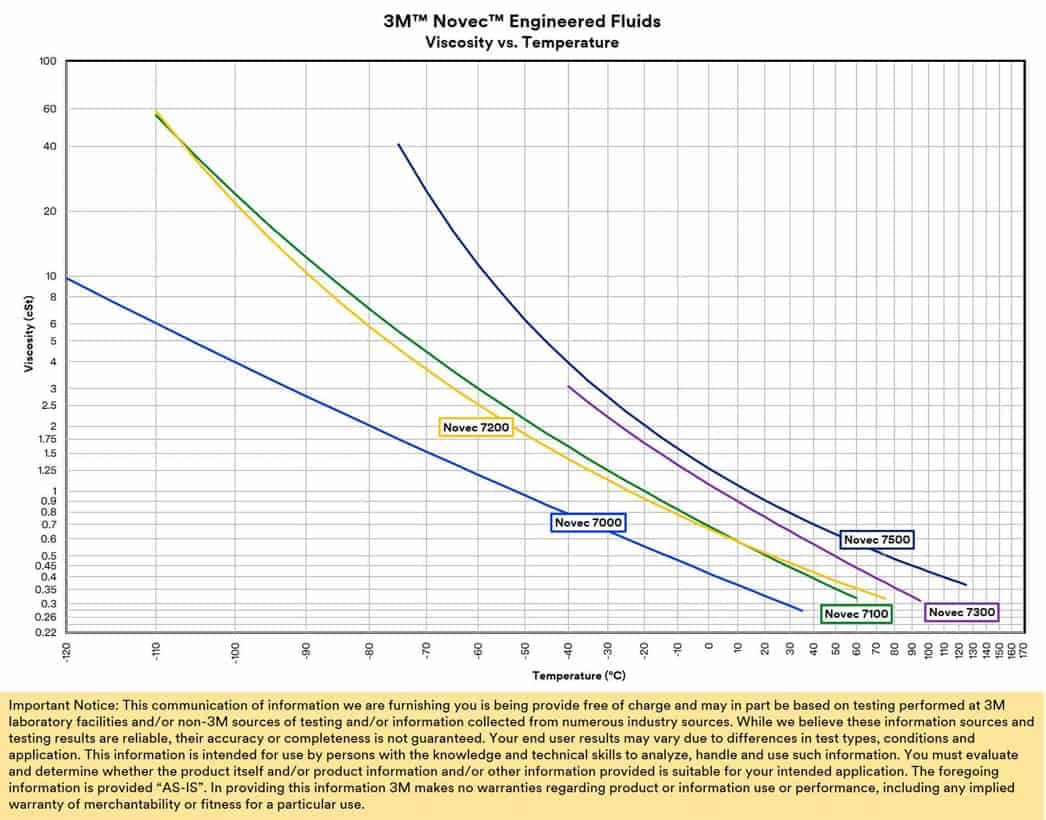 Material Compatibility for Thermal Management
3M™ Fluorinert™ Electronic Liquids and 3M™ Novec™ Engineered Fluids are compatible with a wide array of materials used in heat transfer.
Polymers – Most of the materials commonly considered "hard" plastics will perform well with both Novec™ fluids and Fluorinert™ liquids.
Elastomers – Elastomers should be limited to those that are not heavily plasticized. 3M™ engineers can assist with testing specific compounds.
Users should note that Novec™ Engineered Fluids have slightly higher solvency compared to Fluorinert™ liquids. It is recommended to confirm materials compatibility for items that come in direct contact before use.
For more details on 3M™ Novec™ Engineered Fluids materials compatibility, check out the materials compatibility section of Solvent Cleaning with 3M™ Novec™ Engineered Fluids.
What is immersion cooling for IT and data center equipment?
Immersion cooling is a process in which servers, computer components, and other IT hardware are immersed in non-conductive fluids such as 3M™ Novec™ Engineered Fluids. Heat generated by the electronic components is transferred to the 3M™ cooling liquid, reducing the need for active cooling components, such as interface materials, heat sinks and fans that are common in air cooling.
By using immersion cooling, data centers can improve energy efficiency and reduce size to keep up with the data demand. Liquid immersion cooling in data centers offers a unique opportunity to reduce cooling costs by 95% and reduce data center size by up to 10 times.
Other power electronics that benefit from 3M™ coolant liquids include power inverters, thyristors and variable-speed drives. For these applications, 3M™ thermal management fluids provide the precise control needed to efficiently and uniformly cool these devices.
Whether for single-phase or two-phase immersion cooling systems, 3M™ has a broad range of thermal management fluids available for high-performance computing applications.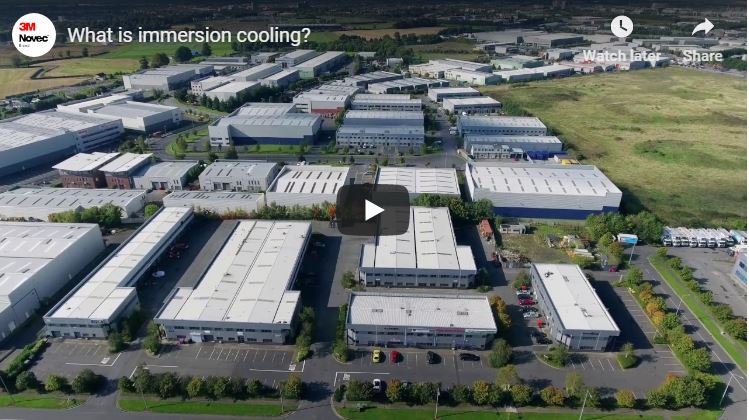 Electronics reliability testing with 3M™ Fluorinert™
Immersion is not just for cooling of electronic components, it's also used in testing the reliability of electronics. With properties that include high thermal stability and dielectric strength, inertness and non-corrosiveness, Fluorinert™ Electronic Liquids are ideal for reliability testing. Components can be tested both physically (leak testing) and electrically while immersed in the liquid. Tested devices will dry quickly with no residue or post-test cleaning required.
Two tests that commonly use 3M™ Fluorinert™ liquids are Gross Leak tests and Thermal Shock tests. Both of these tests are part of the military standard MIL-STD-883, a standard that establishes controls and procedures for testing microelectronic devices for use within military and aerospace systems.
Gross Leak Testing with 3M™ Fluorinert™
Gross Leak Testing is a non-destructive test for leaks in hermetically sealed packages. In Gross Leak Testing, also called Gross Leak Seal Testing, electronic components in hermetically sealed packages are placed in a vacuum chamber, then a fluorocarbon fluid such as 3M™ Fluorinert™ Electronic Liquid is pumped in and immerses the package. Item passes the test if no bubbles are detected; hence another name for this test is "bubble test." Fluorinert™ liquids used for this test include FC-72, FC-40, FC-43, or FC-770, depending on the testing protocol used.
Thermal Shock Testing with 3M™ Fluorinert™
Thermal Shock Testing tests the reliability of electronics that rapidly move between extreme temperatures like missiles. Electronic components are cycled rapidly between hot and cold baths of fluorocarbon fluid such as 3M™ Fluorinert™ Electronic Liquid. Afterward, visual examination and electrical testing are performed to detect failures.
Other uses of 3M™ thermal management fluids
Semiconductor manufacturing – Stability and consistency in temperature and performance in heat transfer are key for semiconductor manufacturing. 3M™ thermal management fluids are engineered to remain stable over time; plus they offer wider operating ranges than aqueous coolants like deionized (DI) water.
Military and aerospace – Mission-critical electronics for military and aviation require cooling that is top-performing and reliable. 3M™ thermal management fluids meet the challenge with less mess than oil-type coolants, and are used in high-end avionic spray cooling systems.
Pharmaceutical and chemical processing – Secondary loop and freeze-drying processes used in the pharmaceutical and chemical industries can benefit from thermal management fluids. Unlike solvents and oils typically used, 3M™ Fluorinert™ and Novec™ fluids are non-flammable and have a high safety margin for workers.
3M™ Medical Device Policy
Note that 3M™ thermal management fluids are not intended, nor approved, for incorporation into pharmaceuticals, cosmetics or medical devices. 3M™ will not support such applications.
Thermal Management Fluids Available
For Best Technology's stocking information and data sheets, please see the 3M™ Fluids for Thermal Management stock chart.
In the interest of product stewardship and ensuring responsible use of 3M™ products, you will be asked about the expected application of 3M™ specialty fluids when you place your order.
3M™ Fluorinert™ Price and Ordering
For 3M™ Novec™ and 3M™ Fluorinert™ price and ordering information, contact our chemical sales department using our web contact form, or call 612-392-2414, ext. 2.