3M™ Novec™ Phaseout Notifications
Want to receive a notification when new updates on the 3M™ Novec™ phase-out, alternatives and replacements are available? Sign up here!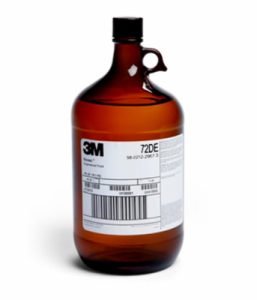 3M™ Novec™ 72DE Engineered Fluid
For manufacturers of electronic components or precision parts, having an effective cleaning solvent is a must. 3M™ Novec™ 72DE Engineered Fluid offers heavy-duty cleaning performance in a variety of industrial applications, including vapor degreasing and immersion cleaning. Its low toxicity, high chemical stability, and ability to dissolve a wide range of substances make it a versatile and eco-friendly alternative to traditional solvents.
The proprietary blend of hydrofluoroether (HFE) and trans-1,2-dichloroethylene (t-DCE) is specifically designed to replace traditional cleaning solvents like TCE and nPB, which have been linked to health and environmental hazards. Compared to other solvents, Novec™ 72DE has a very low global warming potential and is not considered an ozone-depleting substance. This makes it an attractive option for companies looking to reduce their environmental impact. Additionally, Novec™ 72DE is non-flammable and odorless, making it a safer option for workers and reducing the risk of fire or explosion.
As a cleaner, Novec™ 72DE works quickly, evaporating faster than water, and leaving behind no residue. Its low boiling point of 43 degrees Celsius lets you clean and dry parts quickly.
With its high solvency and low surface tension, Novec™ 72 DE is especially effective for immersion and vapor degreasing applications. It is also well-suited for coating and lubricant deposition applications that require increased solvency, allowing for complete coverage on complex geometries.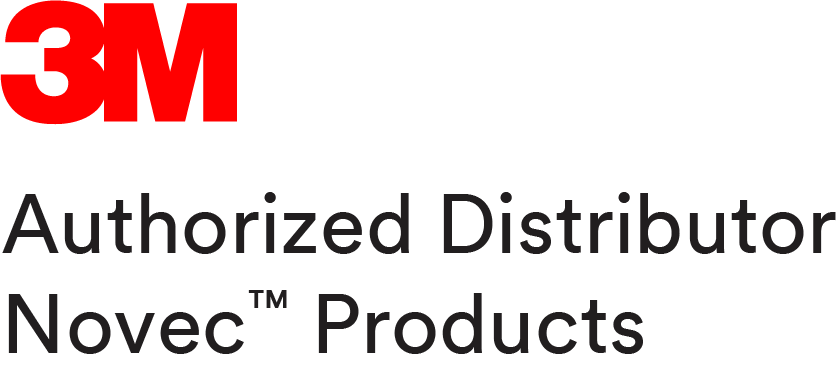 What is Novec™?
Novec™ is a brand of engineered fluid developed by 3M™ for use in vapor degreasing and precision cleaning. Novec™ fluids use hydrofluoroether (HFE) chemistry, and are non-flammable, low toxicity replacements for CFCs, HCFCs, HFCs, n-propyl bromide (nPB) and chlorinated solvents.
What is Novec™ 72DE? – Features & Benefits
3M™ Novec™ 72DE is based on a blend of azeotropes designed for heavy-duty vapor degreasing or immersion cleaning of metallic parts. It is also suitable for oxygen system cleaning. Novec™ 72DE features high solvency, low surface tension, non-flammability and fluid stability. The stable blend has essentially constant vapor and liquid composition at its boiling point, and can be used in a variety of vapor degreaser types.
Novec™ 72DE offers high-performance cleaning quality in a solvent with an excellent safety profile. Its benefits are particularly useful for cleaning medical device parts, electronics and aerospace parts during production.
Effective in cleaning greases, oils and waxes
Stable, azeotropic solvent blend
Low global warming potential (GWP)
Zero ozone depletion potential (ODP)
Non-flammable
Low toxicity makes it safe for workers and the environment
Low surface tension allows it to penetrate tight spaces on delicate or intricate objects
3M™ Novec™ 72DE Data Sheets
What is Novec™ 72DE Compatible With?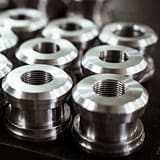 Novec™ 72DE engineered fluid is ideal for heavy-duty vapor degreasing operations and immersion cleaning. It is compatible with a wide range of metals, and some plastics and elastomers.
Learn more about materials compatibility on our Solvent Cleaning page.
3M™ Novec™ Voluntary Phase Out Announcement
On December 20, 2022, 3M™ announced plans to exit per- and polyfluoroalkyl substance (PFAS) manufacturing and work to discontinue the use of the PFAS in its product portfolio by the end of 2025.
As an authorized 3M™ Engineered Fluids distributor, Best Technology remains committed to our customers throughout this transition and continues to receive 3M™ Novec™ products. We will continue to advocate for our customers to fulfill current orders as well as secure products for future orders.
3M™ Novec™ 72DE Replacement Fluid – BestSolv™ Echo
Realizing our customers must transition away from 3M™ Novec™ 72DE, Best Technology offers BestSolv™ Echo as a Novec™ 72DE alternative. BestSolv™ Echo solvent fluid is formulated as a drop-in 3M™ Novec™ 72DE replacement fluid based on the 3M™ announcement of the Novec™ fluid phase out in 2022.
Learn more about the BestSolv™ product line of 3M™ Novec™ replacements.
3M™ Novec 72DE vs. BestSolv™ Echo
| | | |
| --- | --- | --- |
| Property | 3M™ Novec™ 72DE | BestSolv™ Echo Engineered Fluid and Cleaning Solvent* |
| Composition | Hydrofluoroether (HFE) blend with 1,2 trans DCE | Hydrofluoroether (HFE) blend with 1,2 trans DCE |
| CAS # | #156-60-5 – trans-1,2-Dichloroethylene | #156-60-5 – trans-1,2-Dichloroethylene |
| Cleaning Performance | Heavy Duty | Heavy Duty |
| Boiling Point | 109 °F / 43 °C | 108 °F / 44 °C |
| Stability | Near Azeotrope | Near Azeotrope |
| Vapor Pressure | 350 mmHg | 368 mmHg |
| Liquid Density | 1.28 g/cm2 | 1.30 g/cm2 |
| Surface Tension | 18 dynes/cm | 18 dynes/cm |
| Kauri-Butanol Value | 52 Kb | 74 Kb |
| Global Warming Potential (GWP) | Low | Low |
| Ozone Depletion Potential (ODP) | None | None |
| Volatile Organic Compound (VOC) Designation | Yes – 1,2 trans DCE is a VOC. | Yes – 1,2 trans DCE is a VOC. |
| Flash Point | None | None |
| Exposure Guidelines (TLV/TWA) | 200 ppmv | 200 ppmv |
*Note: Information is provided by Best Technology, not 3M™. 3M™ does not endorse or recommend any alternative material. As such, the customer is responsible for evaluation of the material's various properties when looking at alternatives.
3M™ Novec™ Price and Ordering
For purposes of product stewardship, 3M™ Novec™ fluids cannot be sold directly online and are available for customers in the United States only.
Please contact our chemical sales department for a quote by clicking the "Get a Quote" button, or call 612-392-2414, ext. 2.