In the August 2015 newsletter, we look solvent recovery and recycling equipment, a case study of an automated catheter cleaning system and at part clean specification: "how clean is clean? "
Solvent Recovery Equipment and Chemistry Waste Disposal Recycling Systems
Solvent recovery and chemical disposal can become an expensive yet unplanned cost for solvent processes like vapor degreasing especially in today's age of much safer, yet costly engineered solvents and fluids. Solvent recycling equipment can separate and remove soils, debris and oils from solvent reducing solvent purchases by up to 95% and chemical waste disposal cost by 90%+.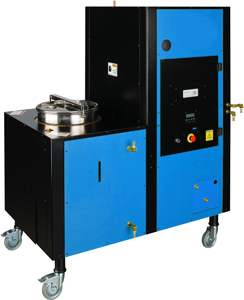 Automated Ultrasonic Medical Device Catheter Cleaning System
Medical device industry requires catheter cleaning during manufacturing to ensure extrusion molded surfaces are cleaned of soils and any polymer particulate (flash, dust, etc).With the side mounted flushing feature, the automated wash-rinse-rinse-final rinse system is able to clean the catheters in a combine bundle rather than separated individually.
How clean is clean? Clean specification test methods for parts cleaning
Best Technology often asks "How clean do your parts need to be?" but many times our customers just know they need to be "clean".  Since clean is relative for every application, it is important to understand part cleanliness and various clean test specifications.  Read the article here